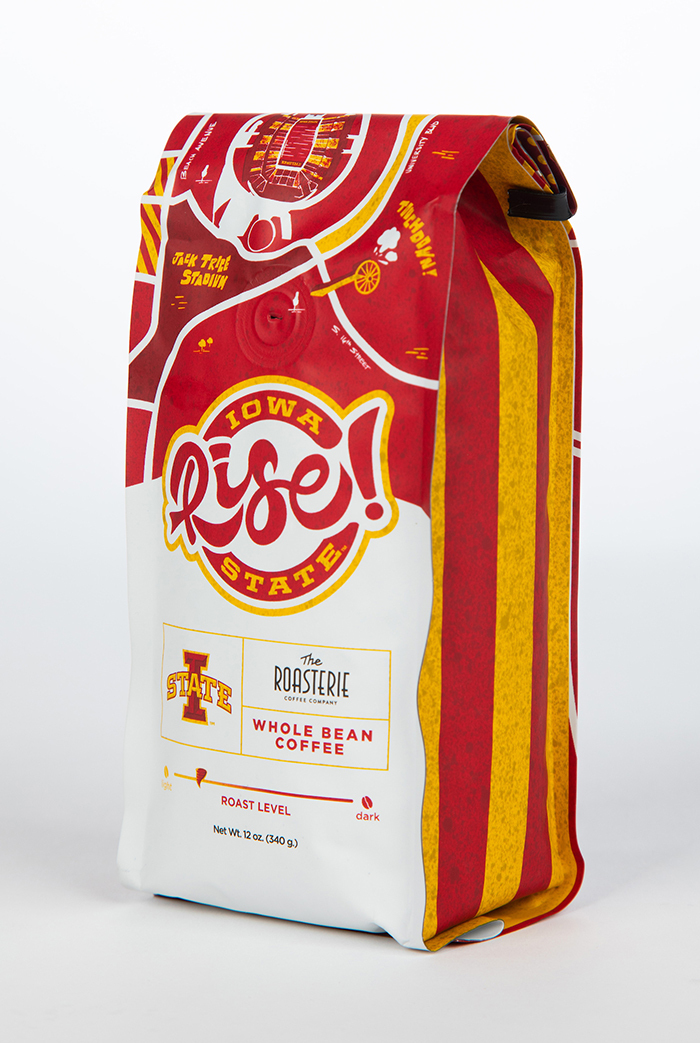 Loyal coffee customers at several of ISU Dining's campus cafés have been enjoying a new blend from Kansas City-based Roasterie this month. "Rise Iowa State" -- or Rise for short, is a light roast that's replacing 1858 coffee in the five cafes that feature Roasterie coffee: Business, Design, Bookends in the library, Gentle Doctor at Veterinary Medicine and the Hub.
While the Roasterie has provided Iowa State-inspired coffee to the campus since 2004, this one is a little different because it's the first blend officially licensed through Iowa State's trademark licensing office. Cardinal and Gold, sold from 2004 to 2012, and 1858, which has been in campus cafés since 2012, simply were sold under an ISU Dining contract with The Roasterie.
Dennison native and 1983 alumnus Danny O'Neill owns The Roasterie and developed the earlier blends for ISU.
Try Rise: Sampling events
Sept. 23, noon-3 p.m., main entrance to ISU Book Store, cold brew and hot coffee
Sept. 24, 8-10:30 a.m. while supplies last, ISU Book Store tailgate trailer near Alumni Center, cold brew, hot coffee and donuts
Trademark licensing director Leesha Arunsiripate Zimmerman said her team approached O'Neill two years ago about developing another coffee blend for the university, this time licensing it "so it's recognized by the university as an official Iowa State product." The company agreed and completed the process of taste testing several options to develop the new blend. Collegiate Licensing Co. (CLC), Iowa State's licensing partner, helped develop the name and packaging for Rise Iowa State. (Yes, it's a nod to the college era song, "Rise, Sons of Iowa State." )
Because the new blend is covered by a license agreement, The Roasterie pays a 12% royalty on its sales of Rise Iowa State, both retail sales through its website and wholesale prices to retailers. There are no royalties on brewed coffee sold on campus. After trademark licensing and CLC recoup their administrative costs, net royalties support the Cyclone athletics department.
How can I try it?
In addition to the five ISU Dining cafés that sell brewed cups, the ISU Book Store sells Rise Iowa State in 12-ounce whole bean or ground bean bags, and the Hub's Roasterie retail location will soon, too. It's also available on the Cyclone Fanatic Shop website and at Rally House, a Jordan Creek Mall store in West Des Moines, with an Ames store scheduled to open this year. Look for it later this fall at Fareway, Hy-Vee and Scheels stores in Iowa.
Additionally, the bookstore will host two sampling events this weekend, Friday afternoon in the store and Saturday morning outside the Alumni Center prior to the Iowa State-Baylor football game (see box).
Campus cafés offering Roasterie coffee will continue to sell "Dark Mojo" as a dark roast option as well as seasonal flavored coffees.