The ISU police department, like many across the nation, is searching for qualified individuals to fill open positions. In March, the department began hiring for a new role: public safety officer.
Public safety officers do jobs the public expects ISU police to do but take away from other important law enforcement responsibilities, police chief Michael Newton said.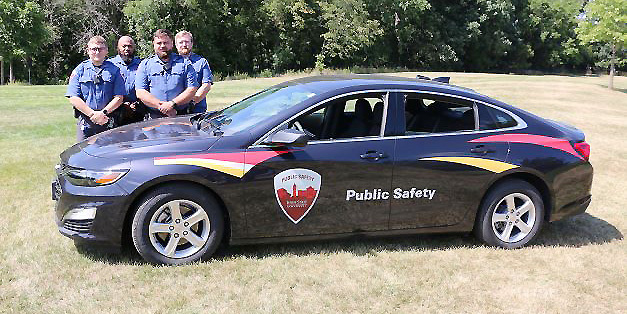 "We discussed how we could get our officers to focus on the things we need them to and still have an employee that can do the other things the community wants from us," he said. "The safety and security of the campus is paramount to us. We had to find something to fill the voids and give time back to our police officers."
There are five public safety officers on staff with a goal of adding one more. They do not carry guns -- just pepper spray -- and their duties include unlocking cars, patrolling buildings, assisting at events and helping during traffic accidents.
"Police officers are sworn and have the ability to arrest, while the public safety officers are civilian, non-sworn officers who provide additional safety and security," assistant chief Carrie Jacobs said. "The safety officers help police officers relieve the load a little bit as it relates to nonenforcement calls for service."
How to spot a safety officer
The safety officer uniforms are distinct from police officers, with a medium blue shirt and charcoal gray pants with a university-designed red and gray patch featuring the landscape of campus. The officers drive cars striped in ISU colors clearly identified as public safety.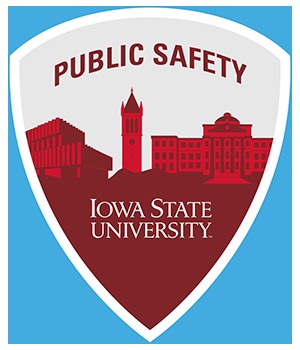 Public safety officers must have two years of experience in security and safety, or a year of post-high school education related to security and safety and one year of experience in the field. Their training is a multistep process that includes defensive tactics and de-escalation, mental health first aid, CPR, geography to become familiar with campus and orientation at Mary Greeley Medical Center.
"We have a contract with Mary Greeley to staff the emergency department and other areas of the hospital. With the addition of the public safety officers, we can have them there instead of a police officer," Newton said.
Safety officers also must obtain Certified Protection Officer certification through the International Foundation of Protection Officers -- required by the state Board of Regents -- within the first six months of employment, Jacobs said.
Newton hopes the program will produce future ISU police officers.
"Some of them have stated an interest in eventually becoming a police officer," he said. "There is not a better way for us to get a feel for them and for them to get a feel for the community."
Campus safety ambassadors
Campus safety ambassadors is a student-run program that also contributes to the safety and security of the campus community. It began when a group of students was chosen in spring 2021 to help with COVID-19 mitigation strategies for a semester.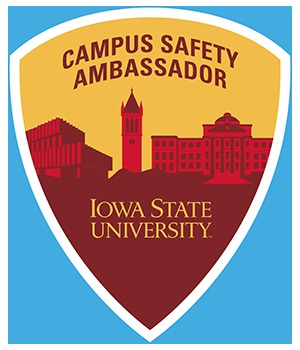 "Before this, we had community service officers who only worked at night, and the ambassadors were working during the day," Newton said. "We got a lot of good feedback about having these students walk around campus, and university leaders wanted to have the ambassadors continue their work."
The ambassadors combined with the community service officer program -- a longtime student program -- and work in concert with public safety officers. Ambassadors are on campus 24/7 and perform duties from locking and unlocking buildings and cars to fingerprinting. They also are responsible for the SafeRide program.
Their uniform is a light gray shirt with "Campus Safety Ambassador" on the back and navy blue pants. They also have a yellow and red patch on the sleeve of the shirt and carry a radio.
Newton said the ambassadors get a chance to see how the department works, and his officers benefit from hearing student perspectives.
"We really want to make students part of our team when it comes to campus safety," he said. "Having student employees helps us stay in touch with what is happening within the community."
The ambassador program -- which hopes to have 30 students -- is run by four student coordinators who are responsible for recruiting, training and scheduling. Seniors Karley Janecke, Rachel Overla and Delaney Murphy and graduate student Brody Norton coordinate the program, which draws a range of majors from across campus.
"Each coordinator takes a fourth of the ambassadors during a shift that includes day, afternoon, night and Vet Med," said police officer Allison Bell, a mentor to the program. "They ensure everyone is properly trained, handle issues that come up during their shifts and submit proposals to improve the program."
Janecke said interacting with ISU police officers has helped prepare her for a career in law enforcement, but it is an experience any student can learn from.
"You really make a lot of connections doing this job, and a lot of people who interview have been here for a few years and want to be able to give something back to the community," she said. "A lot of students want to be part of something that makes others feel safe on campus."