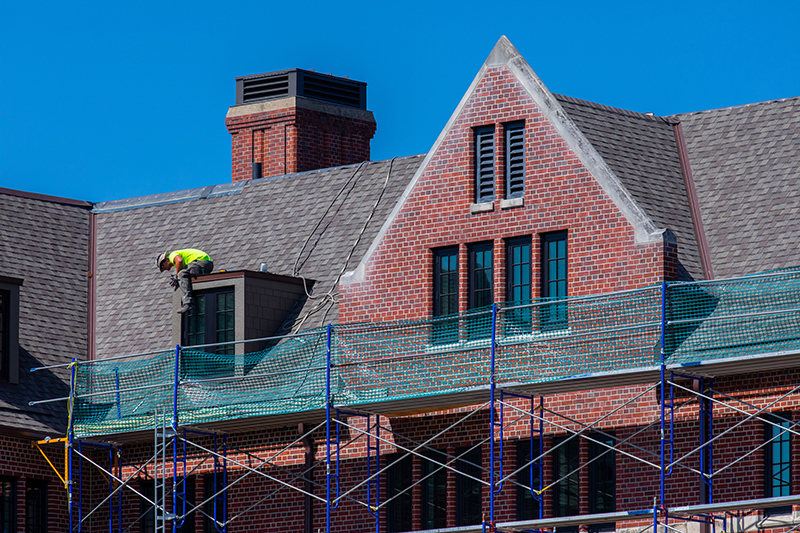 August's arrival means the window for summer construction projects will close soon. University photographer Chris Gannon captured images last week from a few project sites around campus.
(top)
2022 is the second of a two-summer project to replace Friley Hall's slate roof with asphalt shingles and replace gutters and downspouts. This project included flat rubber and metal roof areas and all work on Friley's classic top floor dormers -- window replacement, roof and siding. This summer's phase started in the vicinity of Friley Windows dining center and continued north to the end of the residence hall. With the exception of some accessory parts that are delayed, the project will wrap up next week.
(middle)
The athletics department is building a 337-stall RV lot for football gameday tailgaters east of University Boulevard. It's tucked between the southeast recreation fields and Coldwater Golf Links. Concrete parking pads and electrical service bases are in; crews currently are laying sod and installing electric boxes at each site. Behind creekside vegetation south of the RV lot, this project includes a pedestrian bridge over Worle Creek and trail to the University Boulevard bridge to provide safe stadium access to fans who park in lots near the Veterinary Medicine college and a second access to the tailgate area for emergency vehicles. The first home football game is Sept. 3.
(bottom)
Also an athletics department-funded project, small lots on the north and west sides of the Iowa State Center are being connected and enlarged this summer. About 325 stalls -- roughly 10% of them ADA compliant -- will be added to the 150 stalls in the former lots, more than tripling the parking in this area of the center. Crews are pouring concrete curbs and cutouts; the parking surface will be asphalt.