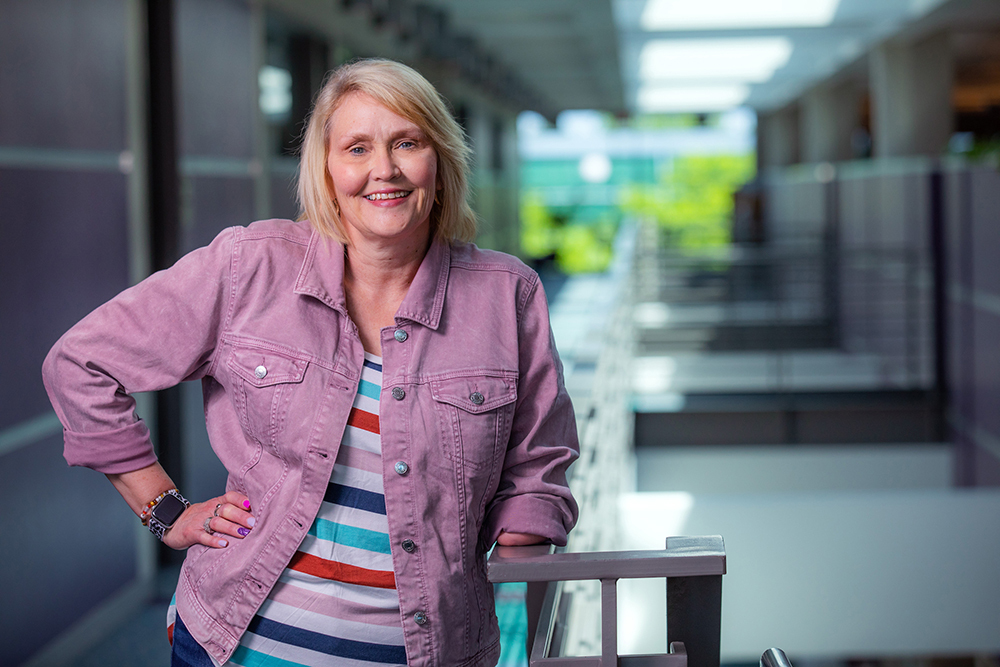 When Gov. Kim Reynolds signed a proclamation April 26 making April "Limb Loss and Limb Difference Awareness Month" in Iowa, the chief proponent behind that special order was payroll coordinator Debbie Roberts. Following six years as Mary Greeley Medical Center's sole payroll coordinator, Roberts joined Iowa State's payroll team last fall.
She self identifies as a congenital amputee, born in 1965 with a left arm that ends just below her elbow. She grew up in the small community of Paton, attending Paton Churdan schools. When she was 14 and against her wishes, a surgeon removed five tiny fingers "the size of Rice Krispies" on her left arm.
According to the Centers for Disease Control and Prevention, about 1,900 Americans each year are like Roberts, born with a limb either missing or reduced in size. And approximately 185,000 Americans each year lose a limb -- or part of a limb -- primarily due to blood circulatory problems, accidents or cancer. Combined, that's more than 2 million Americans living with a limb loss or limb difference.
Building awareness
The April proclamation, Roberts said, really is about awareness.
"I think people who aren't missing a limb just need information so they're more comfortable. They don't have to be scared and they don't need to stare," she said. "My own preference is that people ask me questions. I let them touch my arm or mess with my prosthesis."
Her interest in advocacy emerged over the last five years as she joined organizations full of people like her: the Lucky Fin Project (named by a young mom for Nemo in the 2003 Disney movie), Iowa chapter of the Amputee Coalition and the annual EmpowerFest -- support and practical skills for amputees, including advocacy training she completed.
"As a kid, I never thought my situation was horrible. But in my small town, I just didn't think anyone else was born like me," Roberts said. "The only thing that came close was farmers who lost limbs in accidents.
"So, it's quite an emotional experience to be in a room with 700 people all born without their arms, to have so many adults you can relate to and so many kids you can help," she said.
All those new relationships inspired her to do more.
'There's no reason you can't'
But even before the new friendships, Roberts credits her family -- parents, older sister, younger brother -- with her can-do spirit.
"I never felt like I couldn't do something. They told me, 'You're fine. Go do it. There's no reason you can't,'" she recalled.
When her kindergarten teacher informed her she'd be excused from phys ed class because she didn't have two hands, her parents were at the school the next morning to correct that decision.
For much of her life, she despised the words "handicap" and "disability." Now, she said she recognizes that a limb difference is a disability.
"My disability is that I had to learn how to do all these things a different way than other people do -- with one hand instead of two."
And she developed her way to do lots of things: Tie shoestrings, stay in a swing, swim, dive, certify as a pool lifeguard, play competitive volleyball and basketball, care for animals, cheerlead, bowl, shovel snow, drive a car, waitress, change diapers, put socks on a toddler, cut hair.
Her prosthetic arm popped off anytime she tried to play on the monkey bars in elementary school, she concedes she's not great at braiding hair and she's been advised she'd golf better with a left-handed club in her front right hand. But there's very little she won't try.
Growing up, her dad insisted she wear a prosthetic arm, and she did through high school. When the choice was hers, she lived and worked without a prosthesis for nearly 35 years. Five years ago, she met Miss Iowa 2013, Nicole Kelly, also a congenital amputee, who wore a device with a bionic hand "that was very functional." Roberts was interested, in part due to the wear on her right shoulder from decades of doing nearly everything with one arm.
Earlier this month, she received approval for her third bionic arm. The sophisticated devices cost more than $230,000, but warranties of just one or two years give the prostheses impossibly short lives, she said. However, repair costs outside of a warranty are prohibitive. Using a smartphone app, she calibrates the device for up to 40 different functions, for example gripping a key. Her brain trains arm muscles to stimulate electrodes in the upper shell of the device.
Up next
Roberts said she finds satisfaction in helping others, whether it's assuring parents of a newborn child with a limb difference, testing products for prosthetic companies or making how-to videos to share online.
With limb difference friends from Oregon and Texas, she runs a Facebook site, the Up Nub Club, on which they post videos and links to helpful stories for people missing a limb. The trio's long-term wish is to develop a school program for children about limb loss and tour with it.
Roberts identified another need, a people-finder website or smartphone app to help amputees who live in proximity connect with each other -- and not have to rely on state or national conferences to meet. It would take funding to develop, but she has thought through the concept and found a website developer who would help.
"I never expected I'd get this involved, but I love it. If I could focus on this full time, I would. It keeps me learning."