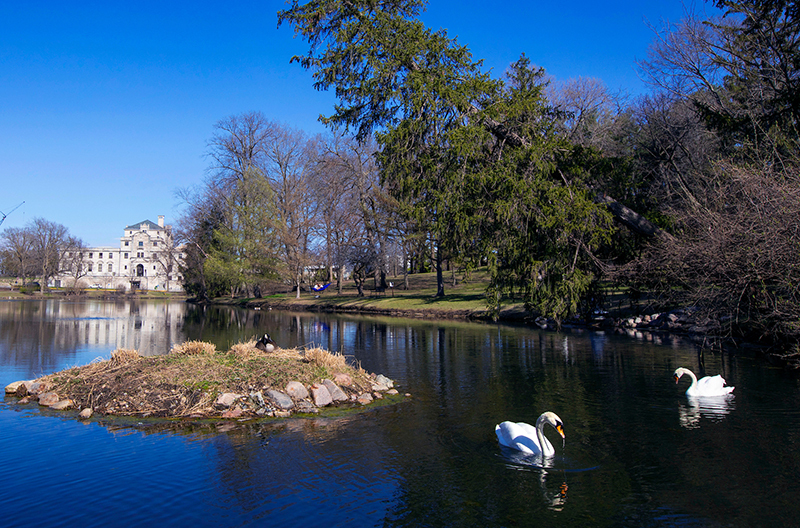 One of campus' iconic swans was found deceased Monday of this week. The set of mute swans had made its home on Lake LaVerne since 2003, so the death is believed to be from natural causes, said campus planner Chris Strawhacker, facilities planning and management (FPM).
He said the lone swan will remain on the lake while an FPM team investigates best options for introducing one or two swans to the lake and the timing of any changes. The group is consulting with others on campus, including wildlife specialists.
By design, both swans were female, so it's difficult to say which bird died, Lancelot or Elaine.
Lancelot and Elaine through the years
Iowa State's first pair of swans, also mute swans, was introduced onto Lake LaVerne in 1935. Their names, Lancelot and Elaine, reference lovers in the narrative poem "Idylls of the King" and emerged from a naming contest that spring. Regardless of the era, the swans have kept those names.
In 1995, the state Department of Natural Resources asked the university to try trumpeter swans as part of its efforts to reintroduce the once-native bird to Iowa.
Iowa State discontinued its use of trumpeter swans four years later because of their wandering and aggressive nature, including indifference to vehicle traffic. Mute swans, which tend to spend more time on the water, returned. Nonbreeding mute pairs are used to prevent reproduction of the non-native species. The female duo arrived in 2003 when the 1999 male pair developed aggressive tendencies as they matured.