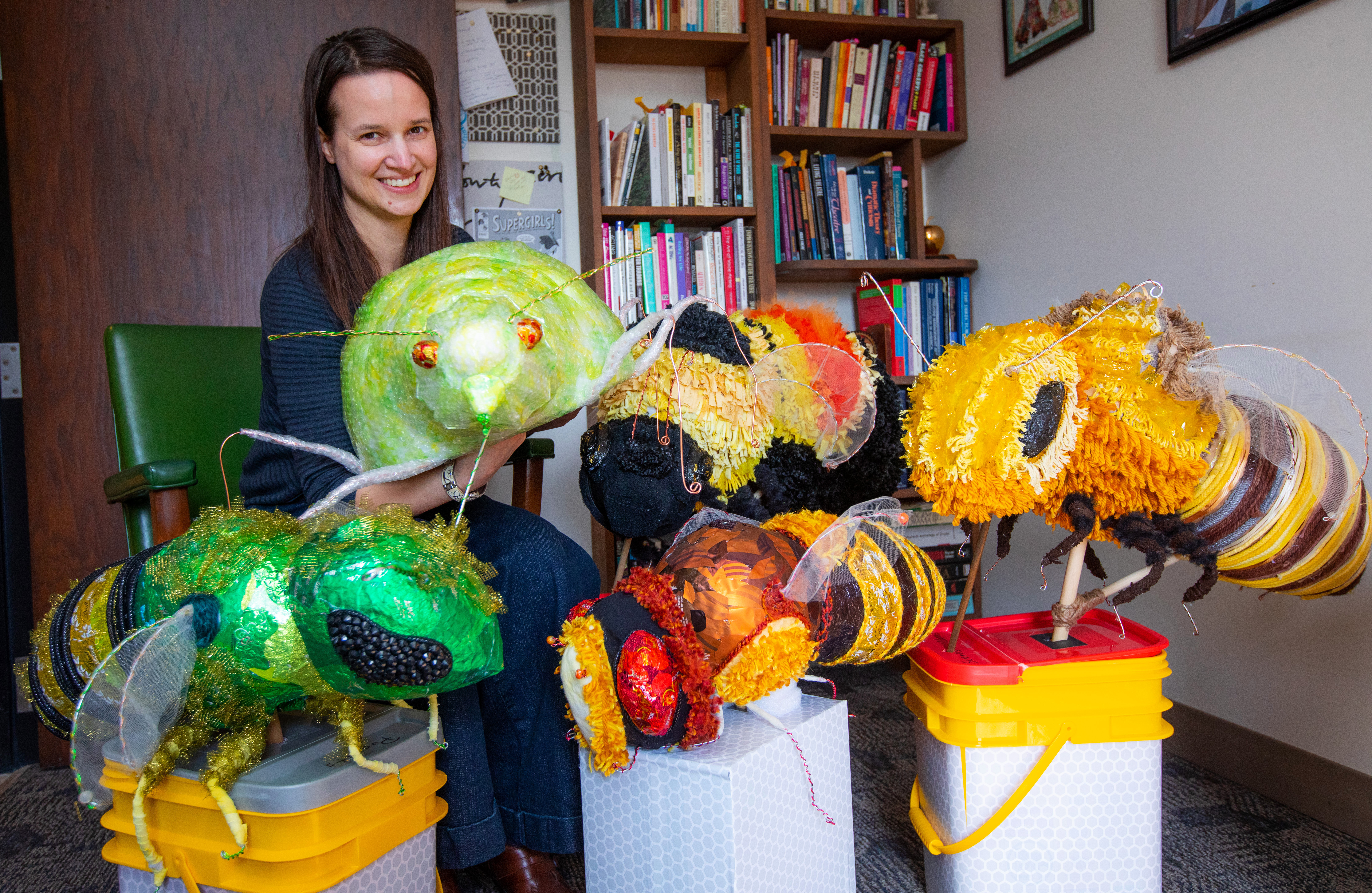 On a Saturday morning in Carver Hall, student stage manager Ashley Oxenreider calls out, "Places. Cuing music," before hitting the play button on her laptop. A jazz drummer's brushes swirling a snare cause several larger-than-life bees to vibrate into existence at the front of the classroom.
Puppeteer Piper Smith lifts and lowers a large dowel that's supporting the rusty patched bumble bee's torso. She twists another to turn the pollinator's head from side to side. A closer inspection reveals the bee's gleaming black eyes are coils of beaded necklaces and the bright stripe that gives the rusty patched bumble bee its name is shredded plastic netting that once held oranges.
The students' rehearsal was for the upcoming performances of Iowa Insect Pageant on central campus (April 28, 6 p.m.) and at Bandshell Park (April 30, 2 p.m.). Free and open to the public, the pageant is intended to "delight and awe" audiences and bring attention to the fascinating and complex world of insects, said Amanda Petefish-Schrag, associate professor of theatre.
"This is an outdoor performance that really leans into the pageant structure. Different Iowa insects will be featured with a focus on their unique 'talent' or beauty," said Petefish-Schrag, a puppeteer and playwright.
The production is a collaboration between arts and sciences, with original music composed by teaching professor of music Mike Giles and performed by the ISU jazzONE ensemble he directs; insect expertise and guidance from entomology professor Matt O'Neal; and Petefish-Schrag's team of puppets and puppeteers.
Bring trash to life
Along the sides of the rehearsal space, dozens of puppets -- some the size of platters, others larger than coffee tables -- lie motionless. Petefish-Schrag said good puppetry creates an ongoing contradiction in the performance.
"You see a manipulated object that you know isn't alive, yet you respond to it as though it is. There's something both strange and a bit magical about seeing a familiar object or collection of materials suddenly gain personality and essence," she said.
Several staff and faculty, a few community members and more than two dozen students designed and constructed the giant insect puppets over the fall and spring semesters using discarded materials. Petefish-Schrag said working with plastic, food wrappers and other "trash" made the puppet-building process more challenging but also pushed puppeteers to think about what a material is and what it could be. Andes Mint wrappers mimic the sweat bee's green metallic sheen and bubble wrap fills the aphids' semi-translucent bodies.
"And since this project specifically deals with ecology, there is also an added element of commitment to repurposing and recycling, recognizing that the material choices puppeteers make have impacts not just on the puppets, but on the community itself," she said.
Smith, the company member who brought the rusty patch bee to life, said she likes the challenge of upcycling materials.
"It makes me think about how much we throw away and how we utilize resources. Using it is a restriction, but I think that makes us more creative," said Smith, a senior in performing arts.
Telling a bug's story
Initial discussions about the Iowa Insect Pageant started a year ago when Petefish-Schrag approached O'Neal. The entomologist said he didn't need much convincing to collaborate on the project. He had seen some of Petefish-Schrag's previous theater productions and puppets and was thrilled for the opportunity to contribute.
O'Neal visited several of Petefish-Schrag's classes early in the process to help the students learn more about the insects they would highlight through puppetry and a script with unique facts about each specimen.
"We reviewed the basic taxonomy of insects -- what morphological features make an insect an insect. But we also talked about other ways to classify insects, based on where they live, what they eat, how they reproduce and how they survive the winter," said O'Neal, who brought in other entomologists and pinned specimens for the students to draw inspiration.
Alex Brown, senior in performing arts and puppet captain for the pageant, said he appreciated learning about the "billion bug highway" used by insects migrating to warmer weather and the iterative script writing process.
"At the beginning, we were given a sheet of facts about the insect we were talking about in that section. We would then work together by splitting into groups and improvising our way of telling the facts. From there we would sit and talk about what worked well, and then once a written part of the script was handed to us, we started to cement those ideas," he said.
Inspired by insects
Last fall semester, Giles began composing original music for the project based on conversations with O'Neal about particular insects and their life cycles.
"Everything I learned from Matt -- and then swished around in my head for a little bit -- helped narrow the compositional focus. For example, the melody call and response heard in the song 'She'll Be So Proud' uses the syllabic rhythms of both the common name and species name of three different types of bees," he said.
Giles said he also wrote the music in a way to play up the strengths of the 17 student musicians in ISU jazzONE, the university's top big band.
Near the end of the rehearsal, the stage manager plays a recording of "The Mixtape Effect," which Giles wrote to tell the story of the Monarch butterfly's 3,000-mile migration. Two puppeteers expand the accordion-like body of a yellow-, white- and black-striped caterpillar as it eats a milkweed leaf. After the caterpillar is wrapped in a green cloth and carried off stage, three new puppeteers enter, slowly lifting and dipping a giant butterfly through the air.
The performance is a welcome celebration after a long winter and a reminder to marvel in the insect life that will become more active with each day of spring.