Iowa State University of Science and Technology today announced it has concluded its membership in the Association of American Universities (AAU).
The decision to end AAU membership is driven by Iowa State's commitment to its mission, strengths and impact. While the university's core values have not changed since joining the association in 1958, the indicators used by AAU to rank its members have begun to favor institutions with medical schools and associated medical research funding.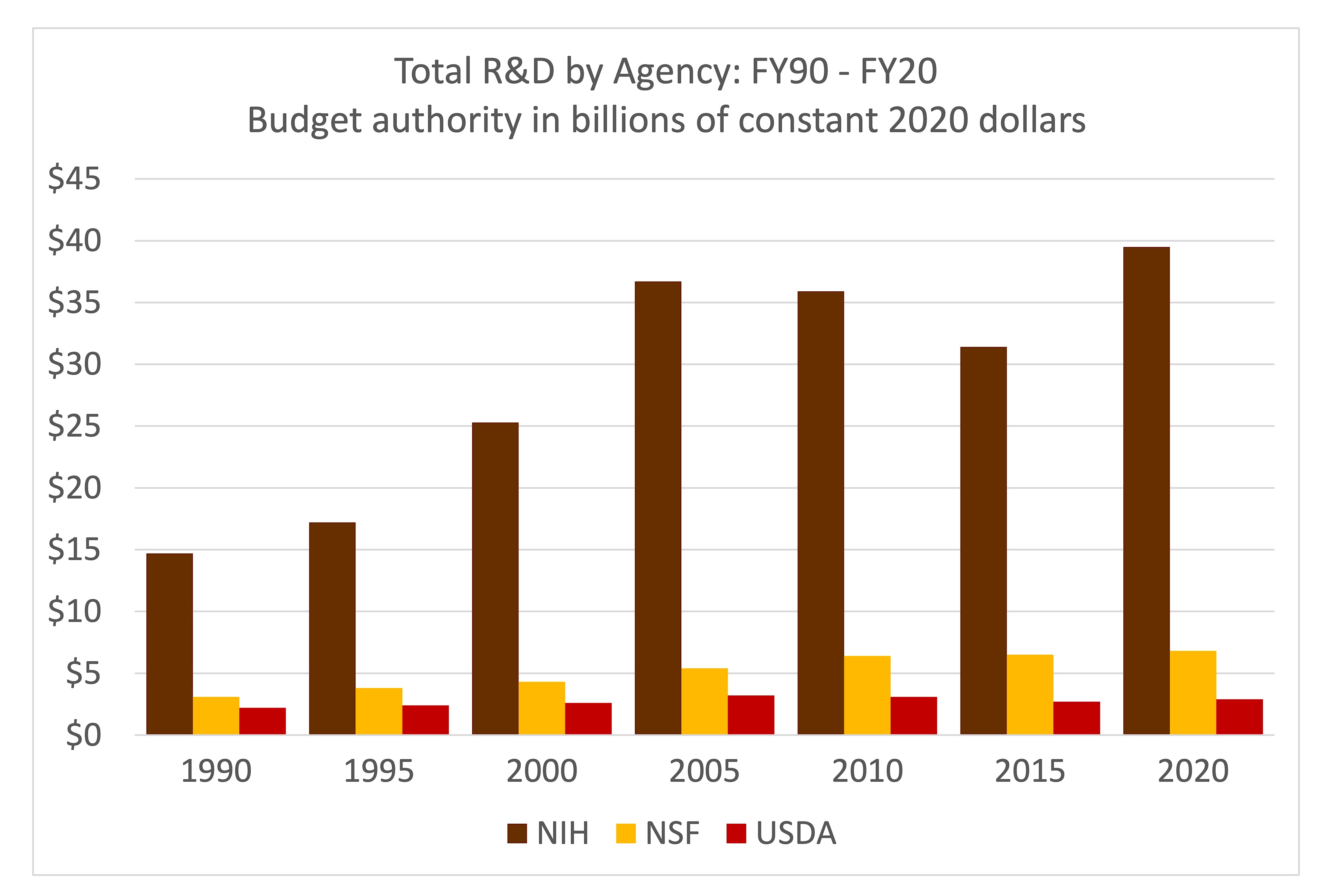 This year, the National Institutes of Health (NIH) alone will provide more than $40 billion in medical research funding, compared to $14.7 billion in 1990. The dramatic rate of increase in NIH funding over the last 30 years has far outpaced that of the USDA or National Science Foundation (NSF). (see graph)
Still, Iowa State ranks 16th in federal research expenditures among nearly 500 U.S. universities without a medical school and ranks in the top 10% in many key areas. (see sidebar) Iowa State faculty and staff earned a record $559 million in external funding in FY21, of which $231 million was research funding. When all research funding is considered equally, Iowa State ranks among the top 71 (or top 11%) of 655 U.S. research institutions and is among the top 100 worldwide receiving U.S. patents, again a testament to the innovation of its faculty and staff.
Iowa State also is one of only four universities contracted to manage a U.S. Department of Energy national laboratory. The Ames Laboratory, specializing in materials development, is also the only program physically located on a university campus.
Research rankings
Iowa State ranks in the top 10% of U.S. research universities for funding in many key areas.
Federal agency funding:
Top 2% - Department of Agriculture
Top 4% - Department of Energy
Top 9% - National Science Foundation
Total and federally financed funding by discipline:
Top 2% - Mathematics and statistics research
Top 7% - Engineering research
Top 3% - Non-science and engineering fields*
*Includes business, communications, education, humanities, visual/performing arts, and other areas
Source: National Science Foundation Higher Education Research and Development
"Iowa State has always been and will continue to be a renowned research university," said President Wendy Wintersteen. "As the university known for 'science with practice,' our faculty perform cutting-edge research in diverse areas such as materials science, nanovaccines, genetics, cybersecurity, agricultural engineering and more. We remain committed to our land-grant mission of creating a world-class educational experience for our students and providing research and technical expertise to benefit society and Iowans in every corner of the state.
"Ultimately, our efforts are measured by the success of our students, the innovation of our faculty, and our service to Iowa and the world," Wintersteen said. "These metrics are not exclusive to any one institution or group of institutions."
Focusing on our strengths
Iowa State remains notable in several important areas not prioritized by the AAU, such as affordability, student engagement, student retention, post-graduation employment, first-generation students and accessibility.
Iowa State's students place the university in the top 50 nationally for student engagement in the Wall Street Journal/Times Higher Education rankings. The university's first-year retention rate of 88% is more than 20 points above the national average of 65%. Similarly, the Princeton Review ranks Iowa State's undergraduate entrepreneurship programs 11th, a strong endorsement of the university's "Innovate at Iowa State" brand.
As one of America's first land-grant universities, Iowa State stays true to its founding principles of being welcoming and accessible to all students: 23% of Iowa State students are the first in their family to attend college and attain the benefits of a college degree, and 19% are Pell-eligible, meaning they have exceptional financial need. Students come to Ames to experience Iowa State's unique blend of practical and critical thinking skills, which leads to 95% of graduates becoming employed or pursuing an advanced degree within six months of graduation.
The AAU, founded in 1900, is composed of 65 research universities distinguished by the disciplinary breadth of their graduate education and research programs. Membership is by invitation only. Iowa State had been an AAU member since 1958.
AAU's membership indicators include Phase 1 metrics such as federal research and development expenditures, members of national academies, honors and awards, citations and books published. Phase 2 metrics, which carry less weight, include USDA, state and industry funding; doctoral degrees; and post-doctoral scholars.
An Iowa State education is also affordable -- the university's tuition rate has long been among the lowest of its AAU peers, making a world-class education more attainable for students and their families.
Evidence of Iowa State's innovation and entrepreneurship ecosystem can be found in the ISU Research Park, which includes nearly 100 tenants and start-up companies that employ more than 2,500 Iowans, and support hundreds of student interns each year. Iowa State leads the nation in career fairs for companies recruiting students in agriculture, business, and engineering. The university has received three Innovation and Economic Prosperity awards in the last five years from the Association of Public and Land-grant Universities (APLU).
Iowa State has a presence in all 99 Iowa counties through ISU Extension and Outreach, which brings the university's scholarship and innovation directly to Iowans in the areas of agriculture and natural resources, community and economic development, human sciences and youth leadership.
Iowa State is a Carnegie R1 "very high research activity" university and is active with leading higher education organizations, including the APLU, American Council on Education, Association of American Colleges and Universities, University Innovation Alliance and other scientific and research societies.