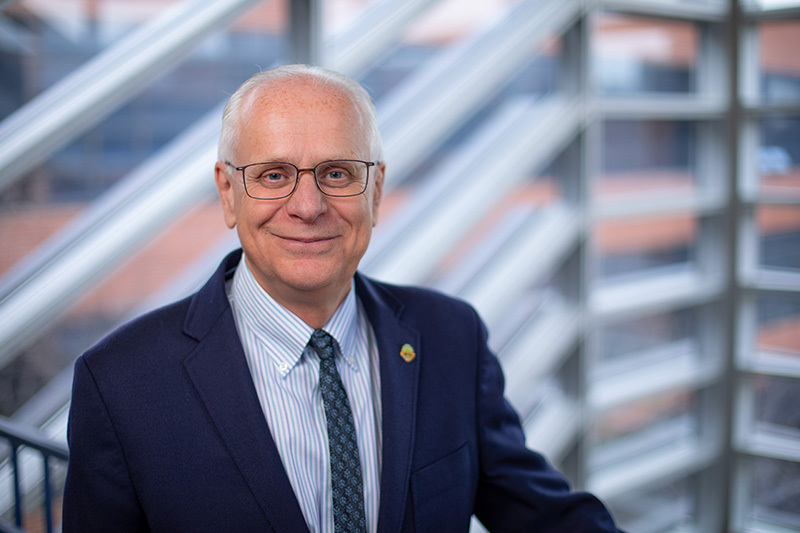 Lee Burras is a self-described introvert who finds satisfaction in helping his agronomy students discover their passion. He was named a Morrill Professor in 2020, which recognizes faculty whose professional work demonstrates outstanding success in teaching and learning. Burras said the honor is important because he wants his teaching and research to impact people at Iowa State, across the nation and in other countries. His research has led to partnerships in other countries, including Uruguay, and provided opportunities for students.
Name: Charles Lee Burras
Position: Morrill Professor in agronomy
Years at ISU: 27
Education: Bachelor's in agronomy and master's in soil science from Iowa State; Ph.D. in agronomy and soil science from Ohio State University
Burras is one of 20 current Morrill Professors at ISU. The title was first awarded in 2013.
What do you enjoy most about teaching?
I am naturally curious, and I find it exciting when I learn new things. Part of the fun of teaching is that if you are excited about something and you work with students, they want to learn, too. It's a way of sharing knowledge and getting them excited about something. That certainly gives me energy because I am learning from them just like they are learning from me.
What makes you successful as an instructor?
I do everything wrong. I use a whiteboard or chalkboard and I pose a question to the class about what I want them to think about that day. I don't use a lot of visual aids, but I try to use verbal examples and verbal images to get them to see in their mind and have it be dynamic. I see my job as a faculty member being able to pull them into what I am doing and talking about.
How did you land in agronomy?
I was encouraged to think about college because of a Navy ROTC scholarship that I ended up not using. I came to Iowa State undecided my first year and, I am embarrassed to say, I didn't even know that agronomy was an option as a major. I grew up in Iowa on a farm and didn't realize people studied soils in a serious way. The summer after my freshman year I needed a job, and a corn breeder in the agronomy department hired me. That's how I learned about agronomy, and I have been learning ever since. I love science, but it all really happened by chance.
How did you connect with a university in Uruguay?
About 20 years ago, a student came to Iowa State to work on his Ph.D., and I got to know him. He already was a faculty member in Uruguay. He asked me to do some research with him, and I asked him if he would be willing to do the study abroad opportunities we now offer our students. I have been to Uruguay a couple of times, and in the next year I will travel there and do a two-week field course with Uruguayan students at the university. I will be in the field explaining what I see to them, and they can tell me what they see.
What advice would you give new faculty?
Do the things, from a technical point of view, that you are really excited about. There will be a need for that knowledge, and if you are excited, you will be able to communicate it to other people. People want to listen to others who find what they do interesting. Also, always be a good citizen because Iowans are counting on us to advance knowledge, and a big part of that is sharing it with our students and stakeholders across the state.