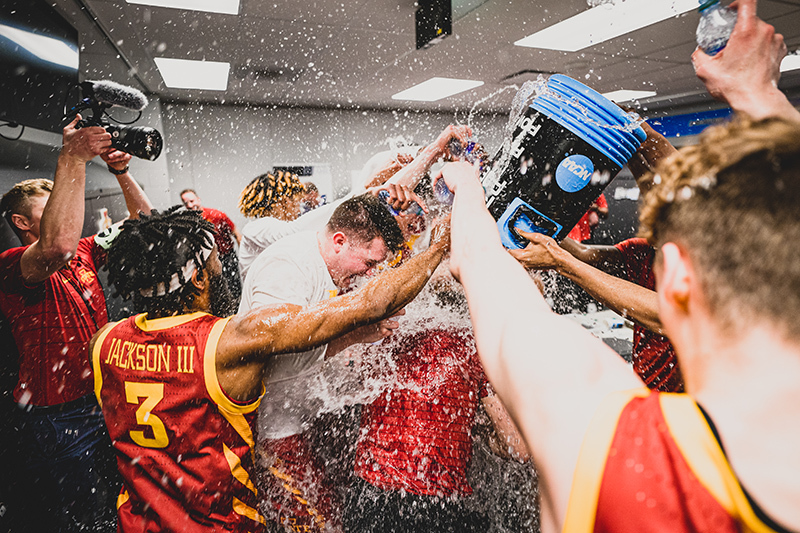 Following an unpredictable first weekend of NCAA basketball national tournament play, Iowa State's men's and women's squads advanced to the round of 16 on March 25. The feat is not a first for the university; both teams also made the Sweet 16 in 2000, when the men advanced to the Elite Eight. It is the sixth NCAA Sweet 16 achievement for both programs. But as women's head coach Bill Fennelly noted in post-game interviews March 20, the accomplishment never gets old.
"This is a unique place with unique people. Anytime Iowa State is on a national stage like this, in the biggest sporting event in the world, in my mind, and both teams are doing what they're doing, that's advertising that would be really expensive to buy, I would guess," Fennelly said. "It's a tribute to how our school runs its [athletics] department and all its sports. There are limitations we have here, but we don't have any limitation in people and in purpose. It's a proud moment for all of us."
Cyclone pep band members donned an unfamiliar color and quickly learned a new fight song to serve as DePaul's tournament band for the March 16 NCAA women's play-in game at Hilton Coliseum.
President Wendy Wintersteen agreed.
"Cyclone Nation could not be prouder of our men's and women's basketball teams," she said. "Coach Fennelly and his team are setting new records with every game, and Coach [T.J.] Otzelberger and his team have exceeded all expectations for this season, showing us the athletics version of 'Innovate at Iowa State.'"
A weather event?
The success of the men's team is an undeniable surprise in the first year of Otzelberger's tenure as head coach. The men were 2-22 last season. The goal for this year, Otzelberger said after the victory over Wisconsin in the round of 32, was to establish the right work habits and restore pride to the program. As a former assistant under three Cyclone head coaches spanning eight years and the husband of three-time All-Big 12 Cyclone basketball star Alison Lacey, he's keenly aware of the historical significance of the season.
"I'm really happy for everybody. I'm happy for our alums, our former players, these young men -- it's just a team win across the board. It's a surreal feeling," he said.
Hang on to your hat if you're heading to Chicago Friday (8:45 p.m. tipoff, TBS), where the Cyclone men will take on the Hurricanes from the University of Miami, the No. 10 seed in the Midwest regional led by a super senior named McGusty. It's a matchup "just as Mother Nature planned it," according to one post earlier this week. Iowa State is the region's No. 11 seed.
Worn-out weather jokes aside, the Cyclones and Hurricanes have earned the other's respect. Between the two squads, they knocked out the No. 2, 3, 6 and 7 seeds to earn their spots in the Sweet 16.
Sweet Carolin-a
The Cyclone women, seeded No. 3 in their region, head to Greensboro, North Carolina, Friday night to play the Creighton Bluejays (8:30 p.m. tipoff CST, ESPN2), who upset the second-seeded Iowa Hawkeyes to qualify for the Sweet 16. The other two teams at the regional are North Carolina and South Carolina, which spent the entire season atop the Associated Press national women's poll.
So, lectures program director Amanda Knief accepts she may be outnumbered by fans with "Carolina" on their T-shirts, but she's traveling and undaunted. Knief's freshman year at Iowa State (1995-96) also was Fennelly's first year as head coach, and she rarely missed a home game during her student years. She's a loyal season ticket holder these days (row four in section 130) and calls this year's team "a joy to watch.
"The heart they show, the way they support each other, in any game any player can shine," she said.
Her chance to cheer for them another weekend "is providence." A planned trip to visit a friend in Raleigh suddenly dovetailed with Cyclone basketball when the tournament assignments were announced March 13. So, the friends will be spending less time in Raleigh -- and Knief can't wait.
"I love sharing this team with people. They play with so much class and integrity," she said.
Student athletes
Success on the court isn't the only way these Cyclone teams will be remembered. The men's team recorded the highest team GPA on record for the program, and the women's team placed seven members on the women's basketball Academic All-Big 12 Conference Team, said Tim Day, University Professor of molecular pharmacology and Faculty Athletics Representatives Association president.
"Making it to the Sweet 16 aligns with the academic success of those programs. Coach Otzelberger and Coach Fennelly really want their players to be as good as they can be at everything they do," Day said. "They see academic and athletic success complimenting each other, not in competition with each other.
"Both teams have really bought into the value of daily discipline and working for each other," he added.
A triple double
With 351 universities sponsoring men's and women's Division 1 basketball, incredibly Iowa State is one of three universities -- joining North Carolina and Michigan -- to have both of its teams reach the second week of the tournament.
"Not very many Cyclones fans could in good conscience say they have had any disappointment with how things have gone," said Dr. Bill Hoefle, professor of veterinary clinical sciences and a season-ticket holder for both teams, dating back 52 years for the men (row three in section 132).
Perhaps the only disappointment has been the tournament scheduling. In the first two rounds, the men and women essentially played back-to-back. On Friday, the time slots for their games overlap almost entirely.
If the schedule allowed, Hoefle would have been figuring out how to shuttle between Chicago and Greensboro to catch both games. Instead, he'll be at the United Center to watch the men, cheering for an outcome similar to what he was on hand to enjoy in Milwaukee last weekend.
"I'm just grateful for this season we're having," he said.