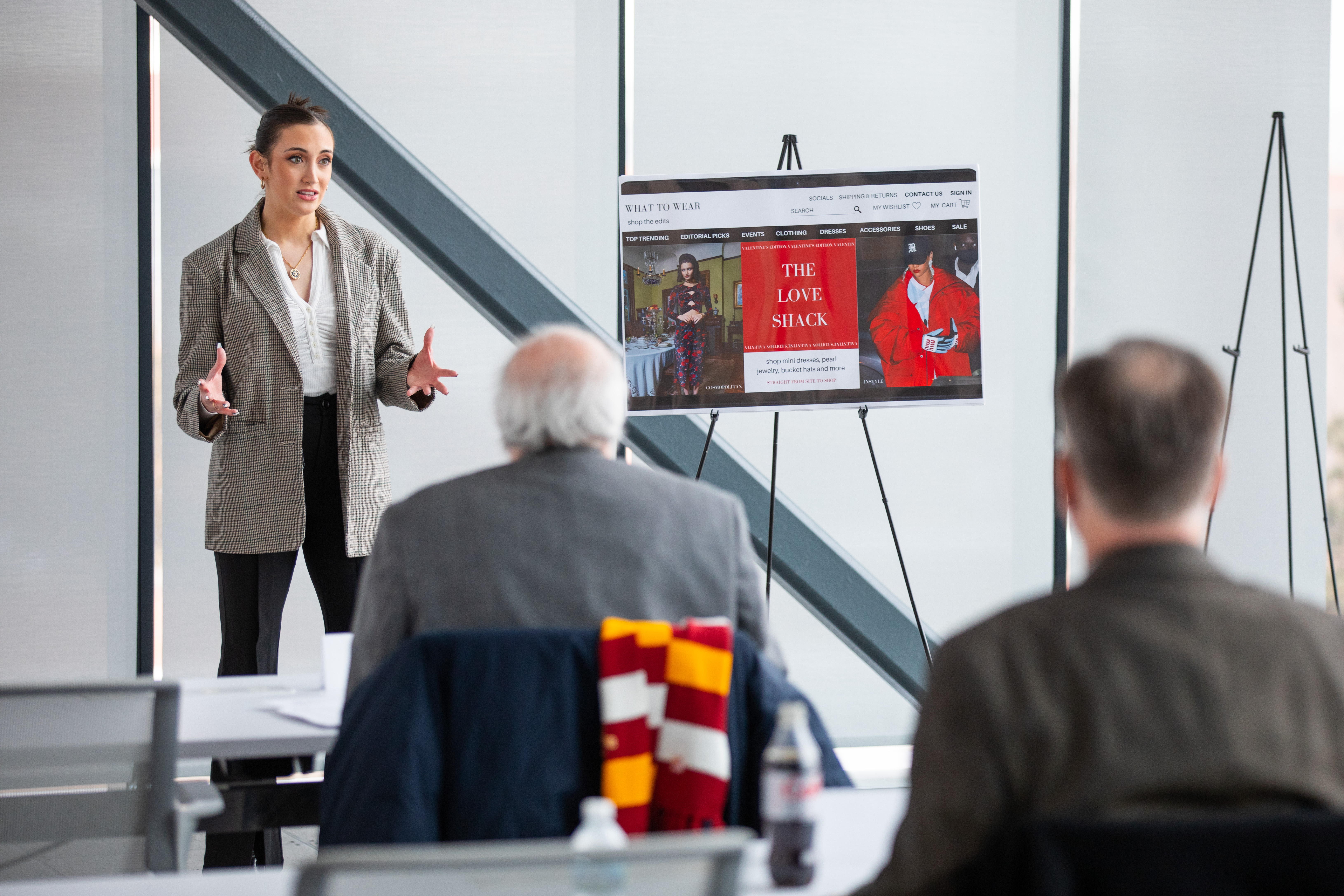 The fifth annual college-by-college pitch off wrapped up this week with the campuswide finale, capping off two weeks of students stepping up to make the case for their innovative ideas.
The pitch off series begins locally, as students compete against fellow classmates in their college for first- and second-place prizes of $250 or $500 in one of two categories: new idea or existing business idea, for plans that have already moved past the concept stage. They get 90 seconds to make their pitch, with two minutes allowed for follow-up questions by the judges.
Nearly 100 students gave it a shot this year. Here's a college-level breakdown of participation:
Business (25, the maximum allowed)
Engineering (22)
Liberal Arts and Sciences (15)
Design (12)
Human Sciences (10)
Agriculture and Life Sciences (7)
Veterinary Medicine (5)
Four prizewinners from each college faced off in the Feb. 22 finale at the Student Innovation Center, with the winners in each category taking home $5,000. Second-place finishers received $2,500 awards, and prizes of $1,000 to $2,000 were given at the discretion of the judges: Ivy College of Business dean and interim vice president for economic development and industry relations David Spalding, former Workiva senior vice president and current venture capital investor Dave Tucker, ISU Startup Factory director Peter Hong and Iowa Small Business Development Center director Lisa Shimkat.
The overall winner for best existing business idea was Jassma'ray Johnson, a senior in psychology who founded Simply Samone, an affordable lip gloss line that focuses on Black women and uses organic, vegan and cruelty-free products.
The best new idea winner was Alyssa Brascia, a senior in apparel, merchandising and design who proposed a website called What to Wear that offers affiliate links to clothing items promoted in fashion magazines.
Other pitch off prize winners included:
New ideas
Charles Yang, second place
Jessica Meseck, third place
Chloe Grote, honorable mention
Joel Houge, honorable mention
Existing business ideas
Tyler Heintz, second place
Miranda Keith, third place
Brynn Sweere, best presentation
Arilyn Tegtmeier-Oatman, honorable mention
Justin Kirschner, honorable mention
Sam Blythe, honorable mention