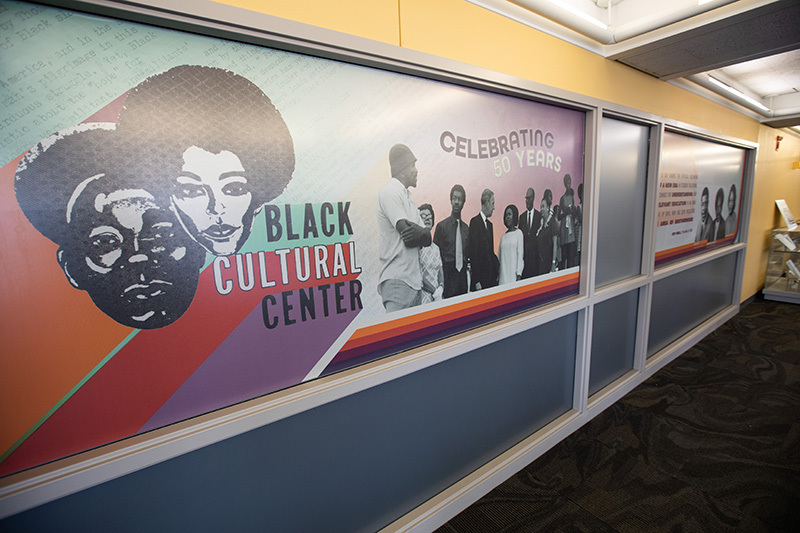 Parks Library has an exhibit on the founding of the George A. Jackson Black Cultural Center that will continue through the end of spring semester. Jackson was the first director of what today is the office of multicultural student affairs.
The exhibit is split between the first and fourth floors of the library and accessible in a digital version.
The pandemic disrupted the timeline for the exhibit, which was to coincide with the 50th anniversary of the center in 2020. It covers the struggle to establish the center in the 1960s, the effort to find funding and the formalizing of a relationship between the center and ISU. The center was rededicated in 1997 and 2007.
"All of the material for the exhibit is out of our archival holdings," said university archivist Greg Bailey. "It is a story that is tied to a wider movement across the United States in the 1960s at a lot of universities trying to establish Black culture centers."
February is Black History Month and here are four more items, selected with help from Bailey, that may pique your interest to make an appointment to visit the library's special collections and university archives.
MLK Jr. at ISU
Martin Luther King Jr. visited on Friday, Jan. 22, 1960, as part of a "Religion in Life Week" event. The library has the program from the event and a transcript of his speech, "The Moral Challenges of a New Age," which he gave in the Memorial Union's Great Hall.
Jack Trice letter
See the letter the university's first Black athlete wrote the night before his 1923 football debut against Minnesota -- a game in which he sustained fatal injuries. Iowa State is the only major college football program to name its stadium after a Black man. Bailey said the actual letter is rarely put in public view because of its significance. The library's collection of Trice items features several photos, including one from his funeral held on central campus Oct. 9, 1923.
George Washington Carver
The library's digital collection has numerous photos and letters between George Washington Carver and Louis H. Pammel, starting in the late 1890s through the 1920s. Carver was Iowa State's first Black student when he enrolled in 1891. He learned from and worked with Pammel, a botany professor. As a graduate student, Carver was an assistant botanist working with Pammel in the College Experiment Station.
Speaking at ISU
The university archive also includes recordings from these campus guests who spoke on race relations and civil rights: