President Wendy Wintersteen has reappointed senior vice president and provost Jonathan Wickert to a third five-year term, effective July 1 and pending approval by the state Board of Regents.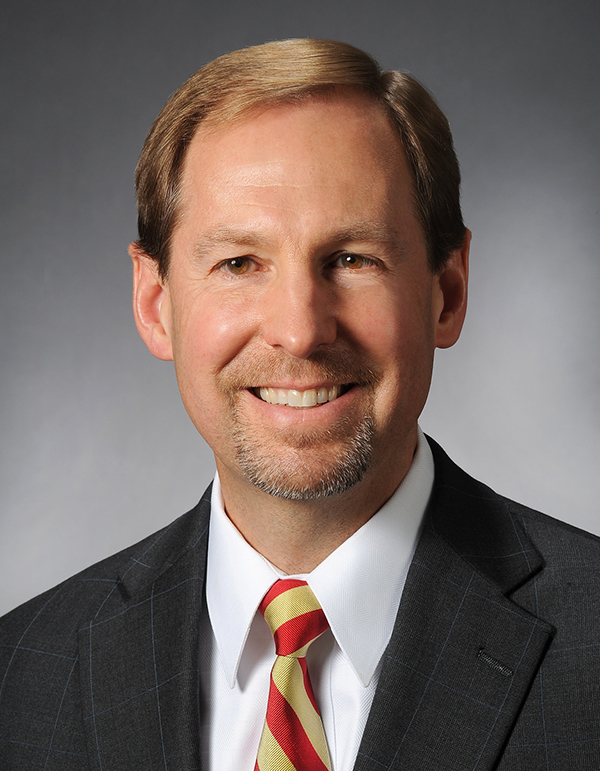 Wickert's reappointment follows the Faculty Senate's 2019 comprehensive review of the office of the senior vice president and provost that included a survey completed by more than 1,000 faculty and staff. In addition, this fall, the provost's direct reports and office staff, senior administrators and presidents of the Faculty Senate and Professional and Scientific Council were asked to complete an administrative survey of Wickert's performance.
Collectively, they noted successes in promoting all areas of Iowa State's mission, championing inclusion and diversity across the university, supporting interdepartmental and interdisciplinary collaboration, providing transparent communication, improving professional development opportunities and advancement guideance, and leading new initiatives.
"Provost Wickert has done an outstanding job bringing forward innovative ideas, collaborating across campus and leading efforts that strengthen Iowa State's academic programs, support the scholarship and creative activities of our faculty and improve student outcomes," said Wintersteen. "I'm so pleased he will continue in this key leadership role to help advance Iowa State as a top land-grant university."
Wickert's accomplishments during his second term include:
Restructuring the academic affairs division to add the offices of admissions, student financial aid and registrar in order to streamline enrollment management with the colleges and align with national best practices.
Strengthening efforts to recruit and retain diverse faculty, expanding online education opportunities, and enhancing high-impact educational practices that engage students outside the classroom.
Maintaining strong support for faculty scholarship through the office of the vice president for research, including several years of record or near-record external funding, and supporting Extension and Outreach in its mission to serve Iowans in all 99 counties.
Providing exceptional leadership for the university's comprehensive response to COVID-19.
Maintaining a strong commitment to shared governance and transparent communication with the Faculty Senate and Professional and Scientific Council.
Working with the academic colleges and Board of Regents to add numerous degree programs that meet student demand while addressing Iowa's workforce needs.
Fundraising, visioning and administrative oversight of the Student Innovation Center, which opened in 2021.
In 2020, Wickert was installed as the inaugural holder of the Presidential Professorship. That position, made possible through a gift from an anonymous alumni couple, provides resources for strategic initiatives in the division of academic affairs. As one example, Wickert directed resources to the COVID-19 Exceptional Effort Awards for 52 individuals or teams of faculty, staff and graduate students.
"I am grateful for the opportunity to continue serving students and colleagues across campus," Wickert said. "Working with President Wintersteen and her leadership team to advance Iowa State's academic mission, particularly during this challenging and historic time, is a great privilege and responsibility."
Wickert joined the Iowa State faculty in 2007 as chair of the mechanical engineering department. From 2009 to 2012, he served as dean of the College of Engineering before being appointed provost in July 2012 in a national search. He is the longest-serving provost at Iowa's regent universities and in the Big 12 Conference.