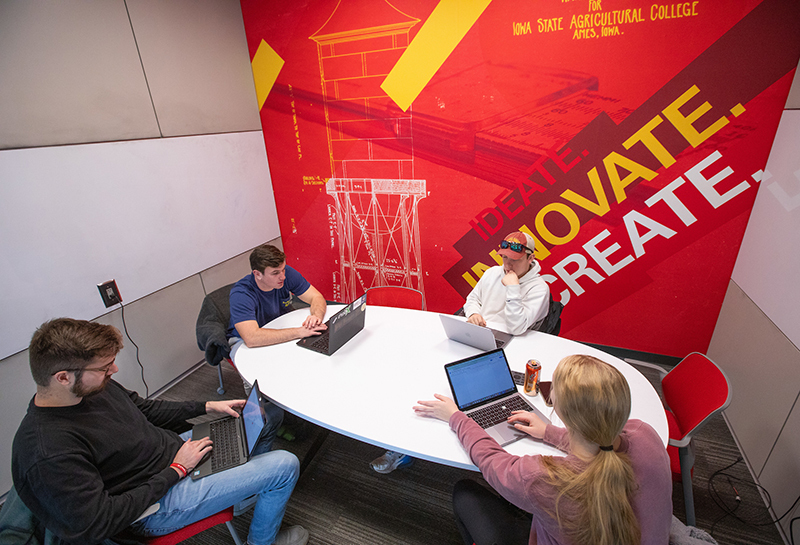 Seven student study rooms on Parks Library's main floor got a colorful new look this fall. The room branding was a collaborative project by university marketing, university library and several library donors, nearly all of whom are former Iowa State students. The strategy was to connect photos from the library's special collections and university archives (SCUA) with donors' interests. Library director of development Rachael Karriker worked with donors to identify themes for each space. External relations director Nacuya Rucker worked with the special collections staff to identify photos that correlated with those interests and captured different aspects of Iowa State.
Here are a few details about five of the rooms and who they're named for:
Lois and John Mather. Lois is passionate about education and mentorship. She earned a bachelor's degree in education and retired as an elementary school counselor. The room highlights the mentor relationship between George Washington Carver and Louis Pammel, Carver's professor. SCUA holds many of the original letters shared between the two.
Steven and Carrie Naber. Both served on the VEISHEA and homecoming committees during their Iowa State years, and Carrie also was a member of the marching band. Images depict tuba players from the band and the old VEISHEA office sign in the Memorial Union, with lyrics from the ISU fight song.
Linda Shallcross Soukup. The room features Linda's photo in the Bomb and the spines of the yearbooks published while she was here. She's also a former library student employee.
Richard Soukup. Richard earned a bachelor's degree in civil engineering. The room features a blueprint of the Marston water tower, paired with innovation-focused messages.
Beth McNeil. Former library dean McNeil (2015-19) is passionate about teamwork and bringing people together. This wall space is narrow and simply reads, "If you want to go fast, go alone. If you want to go far, go together."
Two unnamed rooms feature photos of Parks Library's central staircase and current and past photos of the library, originally housed in Old Main. Iowa State students may reserve the group study rooms online.