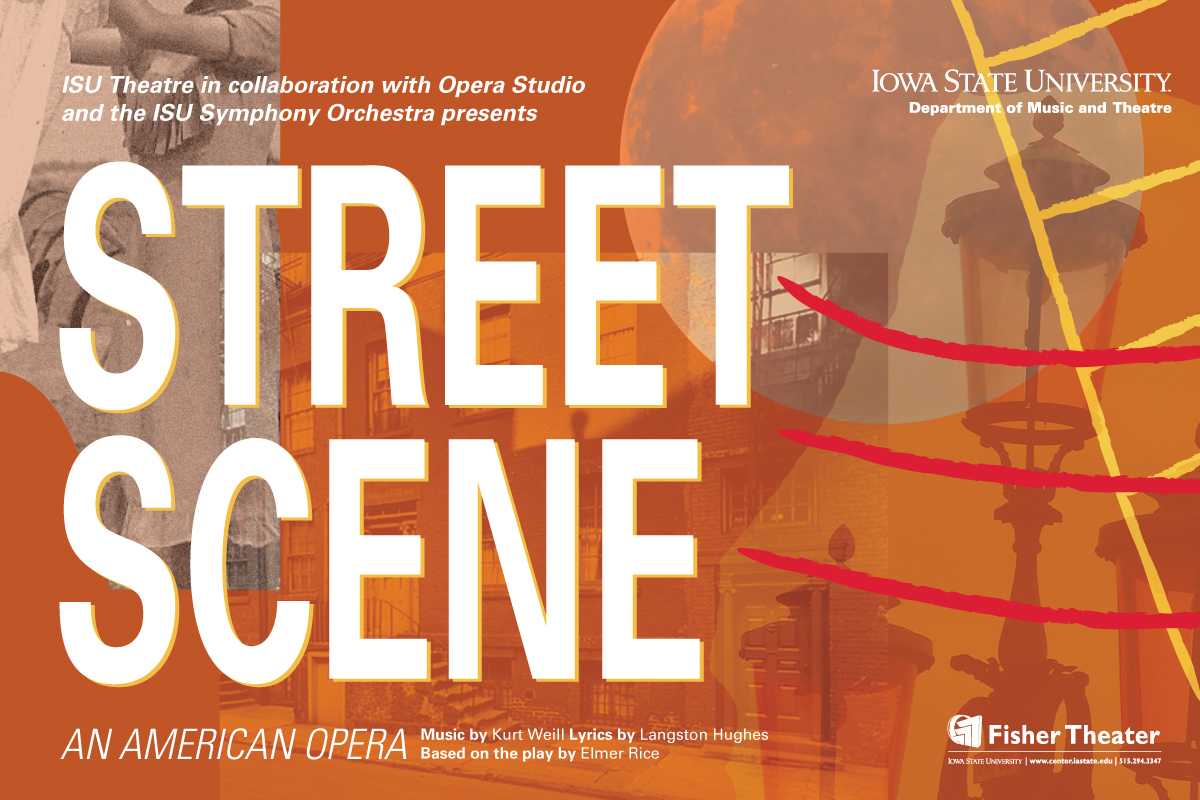 The American opera "Street Scene" is an intimate depiction of a 1940s New York City tenement community during two days of an unbearable heat wave. To bring it to life for audiences, ISU Theatre, in collaboration with Opera Studio and ISU Symphony Orchestra, is mounting one of its biggest operas in years. It includes a cast of 40 students and a three-story apartment set that will rise above the Fisher Theater stage.
"Street Scene" tells a story of youthful desire, forbidden love and brutal vengeance simmering in a largely immigrant community. As the heat of the day builds, a family eruption changes the community forever.
Performances are Nov. 12-13 at 7:30 p.m. and Nov. 14 at 2 p.m. All seating is general admission, and tickets are $25 for adults and free for Iowa State students and youth. They can be purchased at the door, the Iowa State Center ticket office or any Ticketmaster. The show contains adult content and language.
"We always choose our operas based on the educational value for the students," said Chad Sonka, music and theatre assistant teaching professor and co-director of the production. "When we looked at our current students, we said this is the time to do 'Street Scene.' It's pandemic-friendly because it has small ensembles on stage, and many of the topics are current as it relates to social issues.
"Not only will it be engaging intellectually and emotionally for the audience, it's a fine educational tool for our students. Watching them navigate such interesting, real characters has just been a joy."
Blending jazz, blues, Broadway and opera
Based on the Pulitzer Prize-winning drama by Elmer Rice, the "Street Scene" score is written by famed composer Kurt Weill, who fled Nazi Germany for the United States in the 1930s. For Weill, this was the first American show in which he was able to speak to the social and political values that were important to him, said Jodi Goble, music and theatre associate teaching professor and the show's musical director.
"Weill immediately brought on board the poet Langston Hughes as his librettist, and Hughes took him into every corner of New York City for research at the height of the Harlem Renaissance," Goble said. "This show could have only been written when it was written and by the people who wrote it. It's an important part of American history."
The music, an ambitious amalgamation of jazz, blues, Broadway and traditional opera, helps narrate the story, with each character having their own musical motif on stage. ISU Symphony Orchestra, led by conductor Jonathan Govias, will play the music, which won Best Original Score in the inaugural year of the Tony Awards in 1947.
Ordinary lives touched by tragedy and joy
Inspired by a true New York City heat wave, the stifling heat is a catalyst in the show, heightening tensions until they explode into tragedy. But as the human drama escalates, there also is room for everyday joy in the neighborhood.
"There is a celebrated scene where in the middle of this heat wave the neighbors enjoy an ice cream cone together," Goble said. "It's the most incredible, complicated operatic singing, but it's also so accessible. This piece is so recognizably human."
David Bone, senior in software engineering and music, plays the role of charming and cerebral teenage student Sam Kaplan, in love with Rose Maurrant. Bone said he has been inspired by how approachable the story is.
"It is a very realist opera, centering around normal people living normal lives," Bone said. "Nearly every character is flawed in some way, which leads to a much more compelling story. This helps the audience grow more attached to the story and its characters. I think the themes of community are especially important today, when support from those around you has never been more important."
An all-hands undertaking
Opera Studio and ISU Theatre collaborate on a full-scale opera once every three years, and it takes many hands to create a New York City block onstage. The cast and creative team began preparing in August and have collectively put thousands of hours into the production.
Most of the action is set in the windows and on the front stoop of the brownstone building, designed by scenic designer Jay Jagim and technical director Natalie Hining. Kelly Schaefer, music and theatre associate teaching professor, is designing period costumes for 40 people, which will be created by the ISU costume shop, led by supervisor Doris Nash. The team, which chose to set the show in the 1930s, has done extensive research into historical details, right down to the style of trash can used on the city sidewalk. ­­
Understanding community, then and now
As the cast prepares, it has been discussing how the show's themes relate to current social issues and recent movements such as #MeToo and Black Lives Matter.
Robert Wise, senior in software engineering and music, plays antagonist Frank Maurrant and said the show has made him consider how communities communicate, whether on a neighborhood street or online.
"While some of the more obvious societal issues depicted in the play seem resolved in the modern day, I'd encourage audiences to think about how they persist," Wise said. "I've personally been thinking about how our new digital communities have arguably created a large-scale version of the 'Street Scene' community, with some of the problems being exacerbated by our new ways of communicating."