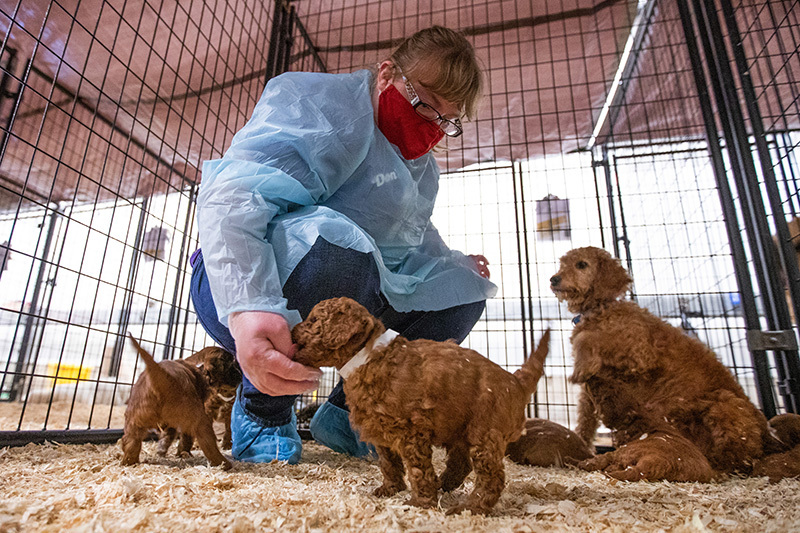 Dogs are man's best friend, and sometimes they need a helping hand. Iowa State Veterinary Medicine and animal science students are volunteering their time to help dogs that were part of a rescue effort that began Oct. 14 in southern Iowa.
More than 500 dogs and puppies were removed from a licensed breeder in Seymour and surrounding areas at the request of the U.S. Department of Justice because of horrific living conditions. ISU received 115 dogs that were brought to the Hansen Agriculture Student Learning Center, one which is in the Lloyd veterinary hospital. The dogs are housed in spacious kennels adjacent to the rodeo ring, where student volunteers were serving them lunch Wednesday afternoon. Most of the dogs had adjusted to the improved conditions and were calm and quiet in their surroundings.
Veterinary students who are assisting administer rabies vaccinations, conduct low-stress handling and do a few procedures. A large group of undergraduate students perform care tasks such as kennel cleaning and preparing food and water, said Suzanne Millman, professor of veterinary diagnostic and production animal medicine.
Some veterinary students also were part of the removal operation, where they worked with U.S. Department of Agriculture inspectors.
"As dogs were coming out of facilities, there was a staging area in Wayne County, and our students were assisting with handling and restraining the dogs, microchipping and doing an inventory of the dogs," Millman said.
Des Moines-based Animal Rescue League of Iowa (ARL) is in charge of the temporary shelter and has a memorandum of understanding with the university that runs through Nov. 12. Three rescue dogs have given birth to a litter of puppies since arriving in Ames.
None of the rescue dogs in Ames currently are available for adoption, but other dogs from the rescue sites can be adopted. Visit the ARL website for more information. Adoption is on a first-come, first-served basis.