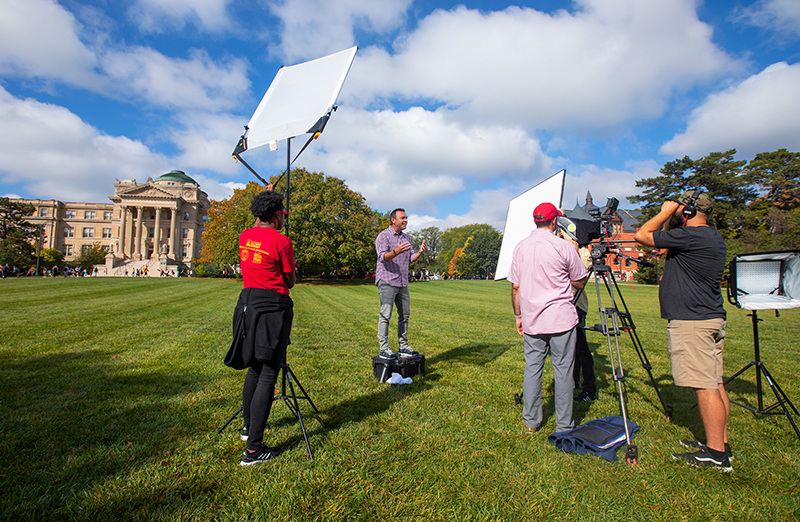 Alex Boylan, host of "The College Tour," visited campus Oct. 5 to film his introductory segments for an upcoming episode about Iowa State. Each 30- to 60-minute program in the television series, which launched last November, is designed to give young people an inside look at what it's like to be a student at a specific college or university. An episode focuses on one school, public or private, and highlights campus life, academics, housing, sports and other student activities, featuring actual students, administrators and faculty.
The 18 Iowa State students selected for segments of the show auditioned with ISU's admissions staff, who coordinated the nine days of filming (Oct. 4-12) with "The College Tour" staff. Director of enrollment marketing Erica Fischer said her team was able to choose topics for the segments and focused on the eight colleges, housing and dining, academics and faculty, wellness, traditions, innovation, athletics, student outcomes, campus beauty and the city of Ames.
Each episode of "The College Tour" airs first on the show's website and app, and Fischer said a launch party will be scheduled when the early spring release date is known for the Iowa State episode. Amazon Prime Video subsequently will release the entire fourth season of the show in late April, she said.
Other universities featured in "The College Tour" include Big 12 Conference members Baylor, TCU and University of Texas, and Land Grant 11 universities of Illinois and California, Davis.
Boylan gained fame by winning CBS's "Amazing Race" reality show in spring 2002, and since then has hosted travel and food shows for PBS, CBS and the Travel Channel.