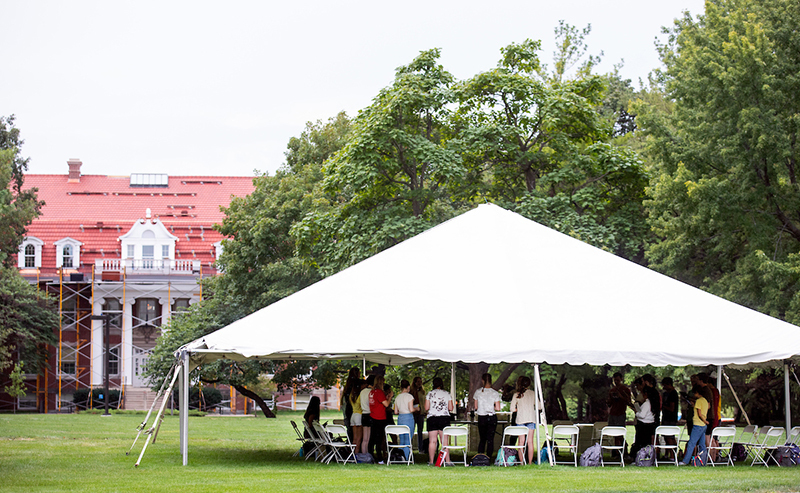 A dozen tents erected on lawns across campus can be used as a safe alternative to indoor activities -- including for classes, tutoring sessions, instructor's office hours and group projects. Student organizations are welcome to use the tents after 5 p.m. for their gatherings. And, as students are finding, a tent also is a convenient study space when a university group hasn't claimed it.
The tents project is a provost's office effort to help assure academic continuity during the pandemic and provide outdoor spaces this fall for instructors and students who feel safer working outdoors. Julie Kieffer, a member of the university response team, has coordinated tent installation with college and university library liaisons. She said the last of the tents -- one near the Gerdin Business Building and two on the west side of the Veterinary Medicine complex -- are going up this week.
Most tents are available on a simple first-come, first-served basis. Some of the colleges and units hosting tents have adopted a reservation process (see table below for details). For example, the Ivy College of Business will use the same reservation system it has for scheduling rooms in the Gerdin Building.
Hosts furnished their tents with either an instructor's table and chairs or a set of picnic tables. Users are asked to follow the scouting tradition and not leave any trash behind when they depart.
Inventory of campus tents for academic uses
| | | | | |
| --- | --- | --- | --- | --- |
| Location | Reserve? | Reservation source | Host | Furniture |
| Southeast of Design | No* | | Design | chairs |
| South of Armory | No* | | Design | chairs |
| West of Marston (large) | Yes | Online form (select "west Marston lawn") | Engineering | picnic tables |
| West of Marston (small) | Yes | Online form (select "west Marston lawn") | Engineering | chairs |
| South of Library | No* | | Library | picnic tables |
| East of Pearson | Yes1 | | Music and theatre | chairs |
| South of MacKay | Yes2 | | Human Sciences | chairs |
| North of Curtiss | No* | | Agriculture and Life Sciences | picnic tables |
| South of Agronomy | No* | | Agriculture and Life Sciences | picnic tables |
| Southwest of Gerdin | Yes | | Business | picnic tables |
| Northwest of Vet Med (2) near volleyball courts | No* | | Veterinary Medicine | picnic tables |
* Available on a first-come, first-served basis
1 M-W-F (10 a.m.-3 p.m.) reserved for music classes
2 M-F (8 a.m.-5 p.m.) reservations accepted; first come, first served evenings and weekends