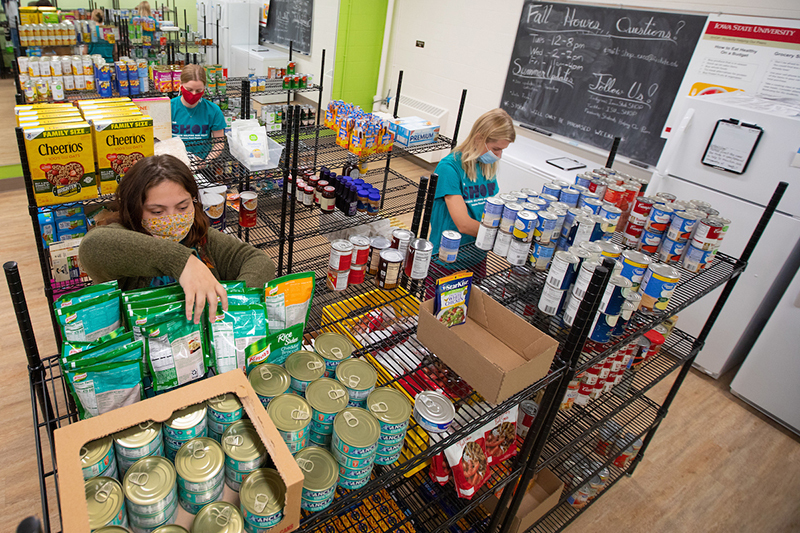 Last August, it relocated to a west campus location three times the size of its initial pantry. This summer, it upgraded that new space and officially became a partner agency of the Food Bank of Iowa network. And last winter it completed its first decade of service to the Iowa State student body. SHOP -- Students Helping Our Peers, the student organization and student food pantry -- will celebrate those milestones during an open house for the campus community Wednesday, Sept. 22 (10:30 a.m.-2 p.m., 1306 Beyer).
The COVID-19 pandemic "pulled back the curtain on food security," making it not only more visible, but more understood, said Breanna Wetzler, marketing specialist in student services for the College of Agriculture and Life Sciences and SHOP's advisor. A greater awareness, coupled with heavy use of a pop-up pantry in the Union Drive Community Center in the summer of 2020, helped move expansion plans for SHOP beyond conversations.
Employees step up
Next week's open house follows SHOP's first-ever summer in operation. On average, it served about 200 students and distributed nearly 2,000 pounds of food each month this summer. Wetzler said employee volunteers made the summer service possible, as well as recently added coverage during winter break and prep and finals weeks.
SHOP fall hours
1306 Beyer
Tuesday, noon-8 p.m.
Wednesday, 2-7 p.m.
Friday, 11 a.m.-4 p.m.
"The student leaders are so excited about the response they've received from university employees to fill in and keep the shop open during those times," she said. "Those volunteers shared that it's an easy way to give an hour or two back to the university and make sure our students have access to food."
Last year, seven members of the 2020-21 Emerging Leaders Academy (ELA) adopted SHOP for their capstone project. During March, the faculty and staff team ran an awareness campaign via social media and mass emails, in tandem with a fundraising campaign on the Iowa State University Foundation's FundISU crowdfunding site. The foundation previously had created a food security fund as part of its "Cyclone Strong" campaign, but the ELA project goal was to raise $4,000 specifically for SHOP infrastructure needs, said team member and student wellness director Brian Vanderheyden. Donors hit that target in seven days, and by the end of the month, the fund stood at $8,802. The ISU Book Store raised another $1,000 during a concurrent "round up" campaign, and the team received a $1,500 gift from student government. The one-month $11,300 effort helped pay for about $15,000 in improvements this summer that created more of a "market" environment at SHOP, including:
New flooring
New wall (created storage area) and electrical work
Walls painted
Entry improvements
New counter and additional shelving
TV monitor for messaging, recipes, etc.
iPads (2)
Food scales
The foundation has maintained a "Food Security for Cyclones" option on the FundISU site, with no plan at this time to close it, said Dana Savagian, associate director for annual and special gifts. Donations will help SHOP purchase food items and cover future infrastructure or maintenance needs.
The need on campus
SHOP is one component of a broader food security focus at Iowa State. Since 2018, the student affairs division has coordinated a task force to study other food sharing strategies, such as ISU Dining's "Give a Swipe" program in which students with meal plans can donate unused meals to other students. Task force members also are investigating the possibility of campus convenience stores accepting federal Supplemental Nutrition Assistance Program benefits.
Results from two 2019 national student surveys indicated about 25% of ISU students may not have reliable access to nutritious, affordable food in sufficient quantities -- the definition of food insecurity. Vanderheyden said the pandemic likely pushed that number even higher. One of the surveys, the National College Health Assessment, will be administered again later this month, with results available before the end of the calendar year.
Looking ahead
Last winter, with a grant from the state Department of Agriculture and Land Stewardship and an earlier donation for pantry infrastructure from alumna Dr. Lynn and her spouse Donald Morris, SHOP purchased two residential refrigerators and a chest freezer. Wetzler said those were a game-changer, allowing SHOP to offer dairy products, eggs, fresh produce and frozen meats. Most of those items disappear the day they arrive, and SHOP leaders already have applied for another grant for grocery-style coolers.
Similar to its role with other student organizations, the foundation provided 501(c)3 nonprofit status to SHOP, making it eligible to join the Food Bank of Iowa this summer. The benefits of that relationship are many: lower prices, larger quantities, high quality, fresh and frozen foods, twice-monthly delivery and some free items, Vanderheyden said. SHOP leaders are able to order food items they know students want.
He said student wellness is tweaking its structure and budget to become a SHOP affiliate, much like the food science and human nutrition department has been. Its dietitian's position was modified to designate 20% of the job to food security, including a SHOP co-advisor role. An eight-member student board leads SHOP, buoyed by more than 100 student volunteers.
Related story: