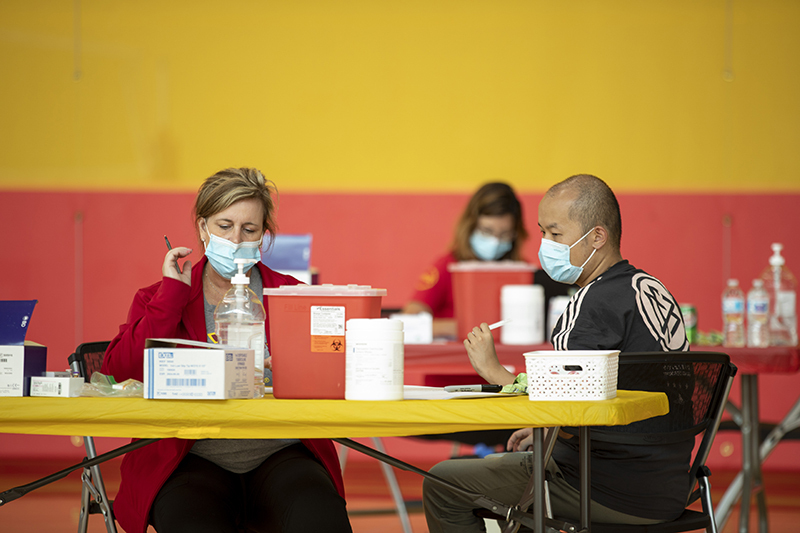 Employees and students are encouraged to get vaccinated, the No. 1 way to protect against COVID-19, and they're also encouraged -- regardless of vaccine status -- to wear face masks indoors when around others, senior leaders announced this week in a campus message about public health measures for the fall.
In addition, people who aren't vaccinated are encouraged to wear a face mask whenever they're around others and to maintain physical distance when possible, according to the Aug. 10 message from President Wendy Wintersteen, senior vice presidents Jonathan Wickert, Toyia Younger and Pam Cain, and associate vice president for student health and wellness Erin Baldwin.
Town hall set for Aug. 19
A virtual town hall for faculty and staff about public health measures this fall will be held via Webex on Aug. 19 (1-2 p.m.), with panelists including senior leaders, Dr. Dan Fulton, infectious disease expert with McFarland Clinic, and Les White, director of Story County Public Health.
What's encouraged is not required. Masks are mandated only in Thielen Student Health Center, Ames Laboratory, CyRide buses, areas of the College of Veterinary Medicine where masks are normally required and research laboratories, at the discretion of the principal investigator or lab supervisor. Students and employees won't be compelled to get vaccinated or disclose their vaccination status, though students will receive a gift card this fall if they choose to get vaccinated at one of the numerous on-campus opportunities -- an incentive meant to emphasize the importance of being vaccinated.
"The best decision you can make is to get vaccinated," campus leaders said in the Aug. 10 message to faculty, staff and students.
The university's free COVID-19 vaccination clinics will begin next week and include 14 days that are open to employees and students, staffed noon-3 p.m. Both the two-shot Pfizer and one-shot Johnson & Johnson vaccines will be available. Appointments can be scheduled online and walk-ins are welcome. Students, faculty and staff should bring their ISU Card with them to the clinic.
COVID-19 vaccination clinics (noon-3 p.m.)
| | |
| --- | --- |
| Location | Dates |
| State Gym south court (use south entrance) | Aug. 17-20 |
| 3560 Memorial Union | Aug. 25, Aug. 27, Sept. 1, Sept. 3, Sept. 10 |
| 140 Parks Library | Sept. 15, Sept. 22, Sept. 29 |
| 1521 Lloyd Veterinary Medical Center | Sept. 2, Sept. 23 |
Student encouragement
A companion message from Wickert released Aug. 10 provides instructors with a syllabus statement they can use to outline university recommendations on face masks, vaccines and physical distancing, guidance provided to all regent institutions by the state Board of Regents. Faculty also can encourage students to wear face masks by wearing one themselves, posting newly approved signage and explaining that wearing a mask is consistent with guidance from the Centers for Disease Control and Prevention (CDC).
Instructors can't require students to wear face masks or disclose their vaccination status, penalize or criticize students who don't wear a mask, reward students who do wear a mask or base classroom seating plans on mask-wearing, Wickert said in the message to faculty.
Classroom and lab spaces no longer have restricted capacities, and physical distancing can't be required, senior leaders said in their campus message.
Other fall plans
The message from senior leaders also detailed several other aspects of the public health plans for the fall:
Symptomatic students should schedule an appointment for a COVID-19 test at Thielen Student Health Center. Employees should arrange tests through their health care provider or pick up a free at-home test at Thielen, the Memorial Union or the Union Drive Community Center.
Students who live on campus and are required to isolate or quarantine will continue to be housed in Linden Hall. ISU's public health team will notify the department of residence about students who test positive for COVID-19.
Faculty won't be notified about students who test positive for COVID-19. They should follow their standard absence policies.
Based on guidance from the Iowa Department of Public Health, Iowa State is no longer conducting case investigation or contract tracing. Individuals should continue to follow CDC quarantine and isolation guidance and make appropriate arrangements with their instructors or supervisors.
The university is no longer operating a public health data website, but detailed county-level statistics are available from the CDC COVID-19 data tracker and the Iowa Department of Public Health COVID-19 dashboard.