Eleven hours per day for 11 days. Forty-four thousand LEGO bricks.
That's what it will take for a team led by Iowa State alumnus Chris Ihle to build a life-sized LEGO version of one of the university's most widely-recognized innovative graduates: George Washington Carver.
The build will take place at this year's ISU exhibit in the Varied Industries building at the Iowa State Fair, Aug. 12-22.
The exhibit's morning theme -- "Ignite Innovation Showcase on the Road" -- is a continuation of the inaugural Ignite Innovation Showcase held virtually last spring, an eight-day event that highlighted Iowa State's innovation programming with performances, competitions, projects and discussions. The state fair exhibit will speak to the culture of innovation and entrepreneurship at Iowa State.
Every morning, an ISU college or unit will demonstrate innovation happening in their areas, tying in to their exhibitions at the Ignite Innovation Showcase. The lineup looks like this:
Aug. 12, Ivy College of Business and Pappajohn Center for Entrepreneurship
Aug. 13, College of Liberal Arts and Sciences
Aug. 14, ISU Extension and Outreach
Aug. 15, University Library
Aug. 16, College of Agriculture and Life Sciences
Aug. 17, Honors Program
Aug. 18, College of Design
Aug. 19, College of Human Sciences
Aug. 20, College of Engineering
Aug. 21 (all day), Ignite LEGO Challenge build-off competition
Aug. 22, College of Veterinary Medicine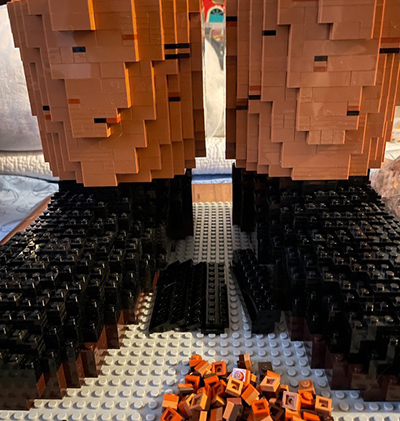 Carver will be built out of LEGO bricks by Ihle, whose company, We Build U, constructs custom life-size sculptures out of LEGO bricks. He will build with three team members.
Carver was the first Black student and faculty member at Iowa State, and this year marks the 125th anniversary of Carver receiving his master's degree here. His innovative research resulted in the creation of more than 300 products from peanuts, more than 100 products from sweet potatoes and hundreds more from a dozen other plants native to the South.
After the state fair ends, the LEGO build of Carver will be on display at a to-be-determined campus location.
Ihle said his business is a testament to the skills he learned at Iowa State. Since launching We Build U three years ago, Ihle has built LEGO sculptures for reality TV show "Million Dollar Listing Los Angeles," the Westminster Kennel Club Dog Show, musician and DJ Steve Aoki, the Ultimate Fighting Championship (UFC) and more -- not to mention his projects in Iowa, including a build of internationally-renowned opera singer Simon Estes for Des Moines Area Community College.
"I think the George Washington Carver build will be my favorite piece when all is said and done," Ihle said. "On my first day of college, my very first class was in Carver Hall and I didn't know where to go. But, I remember the George Washington Carver statue outside the main auditorium."
Afternoon and evening competitions
Featured alongside Ihle's Carver build will be a daily Ignite LEGO Challenge, during which teams of ISU students, faculty, staff and alumni, as well as area high school teams, will create LEGO sculptures that embody innovation at Iowa State. Teams are vying for prizes totaling $9,000.
There will be two rounds of team competitions each day, 1-3 p.m. and 5-7 p.m. Judges will determine daily winners, whose builds will be on display for the remainder of the state fair. Each daily winner will advance to a build-off competition Saturday, Aug. 21, and winners will be announced the final day of the fair, Aug. 22.
Athletics trophies, apparel and souvenirs
Visitors will see Cyclone athletics trophies from the past year and receive football posters and schedule cards at the university's exhibit.
As a health precaution, temporary tattoos will not be applied to visitors as in previous years. Instead, volunteers will hand out a souvenir bag to visitors, which will include a dry temporary tattoo, a special ISU LEGO brick and a QR code leading them to instructions to build the mascot Cy out of LEGO bricks.
The ISU Book Store again will be part of the Iowa State exhibit. Fairgoers can expect a wide variety of Iowa State merchandise, gifts and apparel, including Farm Strong T-shirts and new fall game day gear.
4-H activities throughout the fair
Nearly 3,000 4-H members will exhibit close to 9,000 livestock entries in the livestock buildings. The colleges of Agriculture and Life Sciences and Liberal Arts and Sciences will award scholarships to selected 4-H'ers. Photo frames at Grandfather's Barn, Discovery Garden and outside the 4-H Exhibits Building are reminders of the connection these venues have to Iowa State.
4-H Day on the Grand Concourse will be Aug. 13 in the 4-H Youth Development tent. From 9 a.m. to 5 p.m., fair goers can explore the 4-H priority areas through interactive, hands-on learning experiences. From 11 a.m. to 1 p.m., stop by the tent to receive a cooling towel.
4-H is headquartered at Iowa State and available in all 99 counties. Throughout the fair, look for 4-H activities and exhibits in the Bruce L. Rastetter 4-H Exhibits Building.
ISU veterinarians care for fair animals
Three veterinarians from the College of Veterinary Medicine will oversee the health of all animals at the fair: Rachel Friedrich and Megan Hindman, both clinical assistant professors of veterinary diagnostic and production animal medicine; and Mitch Hiscocks, clinical professor of veterinary diagnostic and production animal medicine.
Assisting the veterinarians will be post-doctoral research associates Michelle Buckley, Lynn Geoffroy and Kris Hayman, as well as fourth-year veterinary medicine students Maddie Herring, Shaine Hoffman, Kelsey Meyer and Andrea Schwartz.