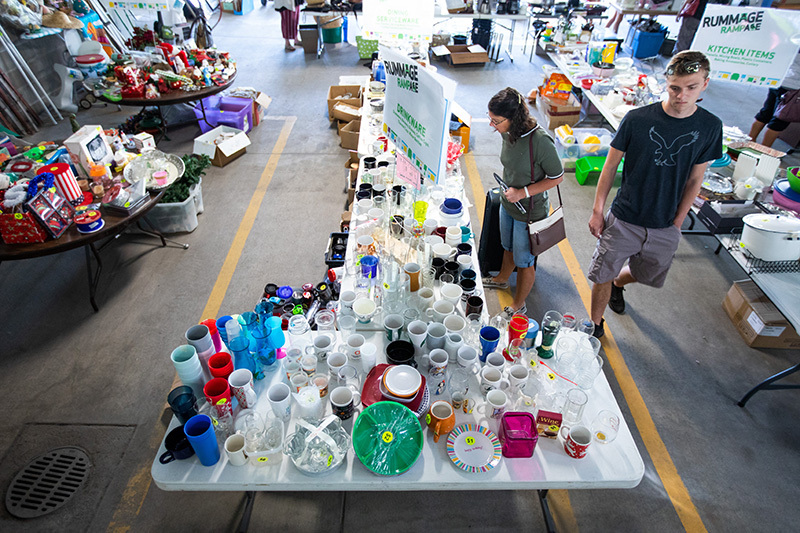 The fifth annual Rummage RAMPage, a community sale designed to keep reusable items out of the waste stream, was once again a record-setting event. The city of Ames and ISU's office of sustainability held the sale July 30-Aug. 7 at the Ames Intermodal Facility.
2021 Rummage RAMPage, by the numbers:
Nine days spanning two weekends for donations and sales

More than 100 couches, 100 upholstered chairs and 250 dining and office chairs found a new home.

More than 30,000 pounds of kitchen utensils, storage items, bath items, luggage and small appliances have a new owner.

More than $40,000 raised (an increase of more than 20% from 2019).

28 local nonprofit groups benefited from funds raised.
"We are so humbled and appreciative of the support the community provides in donating, volunteering and certainly shopping," ISU sustainability director Merry Rankin said. "It is really something our community has embraced."
Most leases in Ames expire at the end of July and some relocating tenants discard items that still may be usable. Rummage RAMPage is a collaborative effort to pair unwanted items with buyers seeking low-cost options for furnishing a home.
Most items are priced between $1-$5. For the second year -- the 2020 event was canceled because of the pandemic -- there was a section of rare and unique finds such as antiques and heirlooms as well as silver and crystal items. There also was a section for items that were good but needed repair -- like a leg on a chair -- to be put back to use.
Not all donated items could be sold. Linens, bedding, clothing, books, unused food and school supplies were distributed to local agencies such as the Ames Animal Shelter, Goodwill and the Ames Public Library.
"This year we pulled out nice and gently-used blankets, and we were able to donate them to shelters for community members," Rankin said. "We had about 15 boxes of blankets that were donated."
In addition to the blankets, 50 cases of hand sanitizer were donated to area shelters and nonprofit organizations.
For the third year, Rankin said they partnered with ROAR -- Rehoming Our Animals Responsibly -- to help individuals who can no longer care for their pet. People were able to drop off their pet to get it into adoption channels.