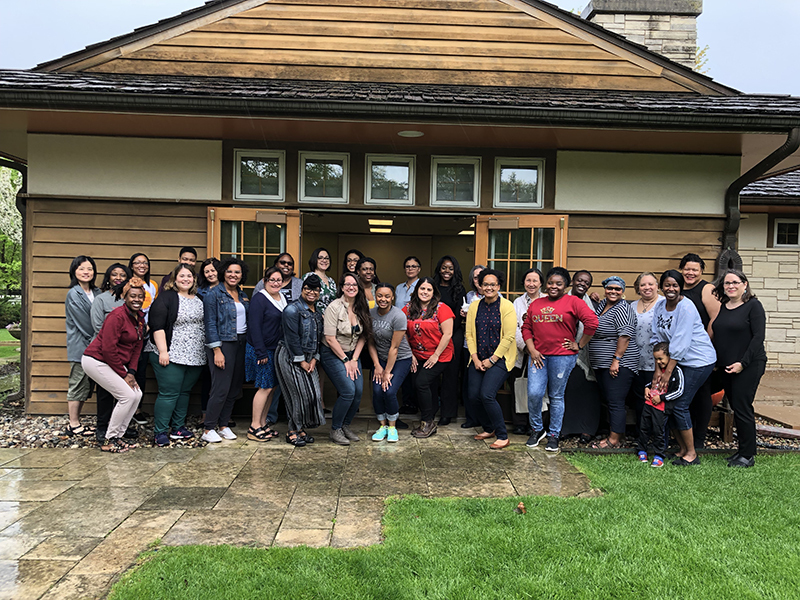 Three years ago, six women in Iowa State's delegation to the National Conference on Race and Ethnicity met for dinner on the last night of the conference in New Orleans.
"We were having the time of our life. It was such an uplifting space and everyone was so jubilant," said Audrey Kennis, retention coordinator for the College of Agriculture and Life Sciences. "But there was also this sadness that came over us. It was hard knowing we weren't going to be doing this again."
That realization gave way to another thought: Why not do it again? Not at the next year's conference, but on a regular basis on campus.
"Just like we try to bring back best practices from the conference, we could bring this organic space we developed, a space for women of color to be together in community," Kennis said.
Creating community
Attempting to recreate in Ames the spirit of that dinner in New Orleans led to Supporting Inclusive Spaces Through Experience and Recognition (SISTER), a group of more than 80 faculty and staff who identify as women of color who gather monthly on campus over the lunch hour. It's a chance to connect and share stories, a too-rare prospect for affirmation and support on a mostly white campus. Many SISTER members are the only women of color in their unit, Kennis said.
"Often, no one is addressing our needs and concerns, so it's important for us to use our agency to create something that speaks to our lived experiences in a way that we don't get in other spaces," she said. "It's important that we're centering women of color. It's important to our well-being and our quality of life to find and see other people who can relate to things we're experiencing in our office spaces."
Meeting locations rotate, as two members volunteer to host each gathering by providing the food and organizing an activity. Sessions can be professionally or personally focused and have included a wide variety of topics -- cooking demonstrations, emergency preparedness, goal-setting, Zumba and the impact of Selena, for instance. Ashley Garrin, assistant director of the Ronald E. McNair Postbaccalaureate Achievement Program, said one of the most powerful presentations was a panel of longtime Iowa State faculty and staff who are women of color.
"The things they said about their resiliency and how things have changed, it was just amazing. People were definitely tuned in," said Garrin, who along with Kennis serves on the group's leadership team.
Many SISTER members are in positions at Iowa State that involve building communities to help students succeed but struggle to find the sustenance of community themselves, Garrin said. The monthly SISTER gatherings offer that missing communal experience, building relationships across campus that benefit members and in many cases their students, too.
"It's almost like coming together as a village. And we're not just helping ourselves, it's helping others, too," she said.
Self-made space
Kennis and Garrin both see SISTER as being valuable for retaining employees who are women of color and possibly as an aspect to note in recruitment.
"I think at this point, it's not about waiting around to figure out how the university is going to retain me," Garrin said. "It's about how can I retain myself in this space. That's part of our approach. We know what we need, and so we're going to make that space and make it work for us instead of suffering through."
The growth of the group in less than three years -- almost entirely on word-of-mouth promotion -- shows how much women of color were yearning for an opportunity like SISTER, Kennis said.
"We don't have to beg people to do this. You'd think you'd have to be asking people to sign up, but everyone is excited to do it," she said. "I think there's a lot of value because people get a chance to share a bit of themselves they normally don't get to share on campus."
Faculty and staff -- or their spouses -- interested in becoming a member of SISTER can contact anyone on the leadership team to join.