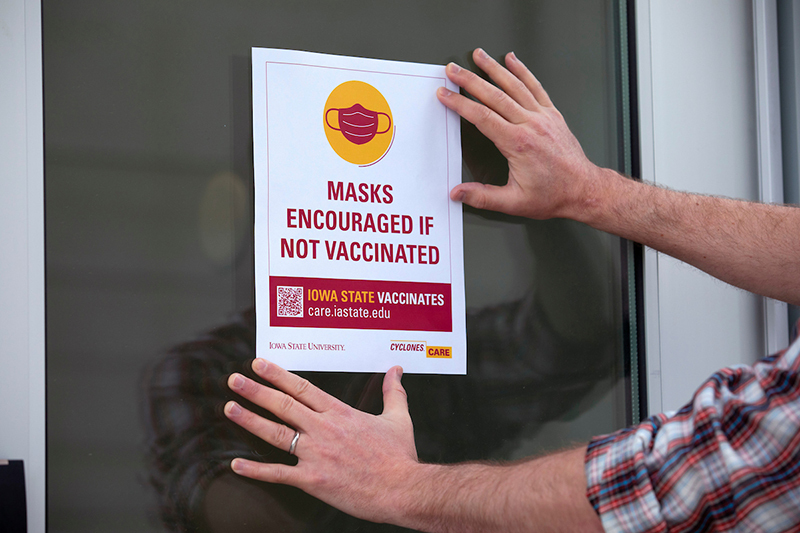 Wearing a face covering on campus is now optional for employees, students and visitors. May 20 guidance from the State Board of Regents lifted a 14-month "state of emergency" on the three public university campuses and eliminated many COVID-19 safety protocols.
In a May 19 memo to the university community, senior leaders strongly encouraged students, faculty and staff who can to get vaccinated since it's one of the most effective ways to mitigate the virus.
It's also "one of the best ways you can show that Cyclones Care," wrote President Wendy Wintersteen and senior vice presidents Pam Cain (operations and finance), Jonathan Wickert (academic affairs) and Toyia Younger (student affairs).
They noted face coverings remain mandatory in health care settings and on CyRide buses. University policy also would have given faculty the option to require face coverings in their classrooms and all employees the flexibility to require face coverings for meetings in their enclosed offices through the end of summer session. However, the regents' guidelines eliminated that flexibility for summer. The regents told Iowa's three public universities that in addition to the face covering and physical distancing changes, they should immediately return to normal room capacity levels in all campus locations, including classrooms.
The board's guidelines include research labs in its short list of facilities where the new rules for face coverings and physical distancing don't apply.
Face coverings remain optional
The university and regent changes come on the heels of new guidance May 13 from the federal Centers for Disease Control and Prevention that relaxed the face covering requirement for vaccinated individuals in many situations, but also deferred to local government and business regulations. According to the Iowa Department of Public Health, 59% of people 16 years and older in Story County are fully vaccinated.
In their memo, senior leaders noted that vaccinated individuals still may opt to wear a face covering, so the presence -- or absence -- of a face covering shouldn't be interpreted as proof of vaccination status.
"We ask all members of the campus community to be respectful and supportive of others' right to wear a face covering, and to not ask others about their vaccination status," they wrote.
New Cyclones Care signage
The Cyclones Care messaging collection has been modified to include a new sign, "Masks Encouraged if Not Vaccinated." It's available for download from the Cyclones Care messaging materials website. Working with their building supervisor (and a central COVID fund), units also can order self-adhesive removable versions (safe for application to walls and doors) from printing services.
Building supervisors were asked to remove by May 24 Cyclones Care signage that requires face coverings or physical distancing and reduces occupancy limits.
Employees who post any Cyclones Care signage in their work areas should use masking tape or painter's tape in order to avoid damage to walls and other surfaces. Don't use clear desk tape or packaging tape.