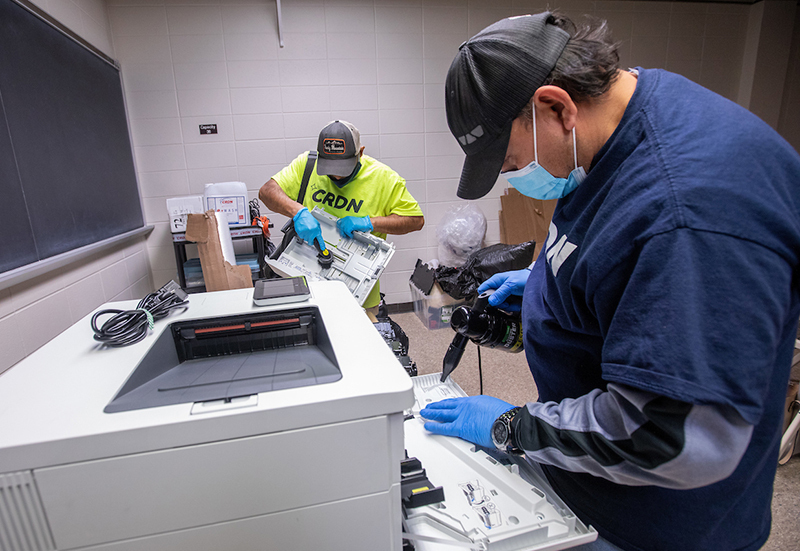 ServiceMaster teams have completed a five-week task of scrubbing down Ross Hall following a Feb. 22 fire in a first floor custodial closet. Two other companies will wrap up their smoke and soot cleaning specialties this month.
Crews from West Des Moines-based Certified Restoration Drycleaning Network are cleaning all electronics and Wi-Fi hotspot devices. Initially, that process was going to take place off campus, but on floors 2-6, teams were able to work in the building, wrapping equipment they have cleaned. CRDN teams also are cleaning office contents such as rugs, tapestries and other textiles. Those processes are expected to wrap up next week.
Polk City-based Clean Air Systems contracted to clean the building's air handling ductwork, and its work is scheduled to continue into the third week of April.
A tentative timeline has Ross Hall occupants back in their offices around July 1. A new fire alarm system must be operational first.
A restorative phase 2
Facilities planning and management is in the design or bid phase for several projects to restore damaged elements of the building. They include a fire alarm system and new ceiling tiles throughout the building. Projects contained to the first floor include:
Install a new ceiling support structure and corridor lighting.
Refinish wood doors.
Repair utility services in the custodial closet (site of fire): electricity, water and sewer.
Finish drywall surfaces where vinyl coverings had to be removed.
Replace display cases in the corridors.
These projects are scheduled to wrap up by late June. Also during June, IT teams will reinstall and complete operational tests on all computers, printers and other electronics.
No summer session classes will meet in Ross Hall, but the building will be in full use this fall.