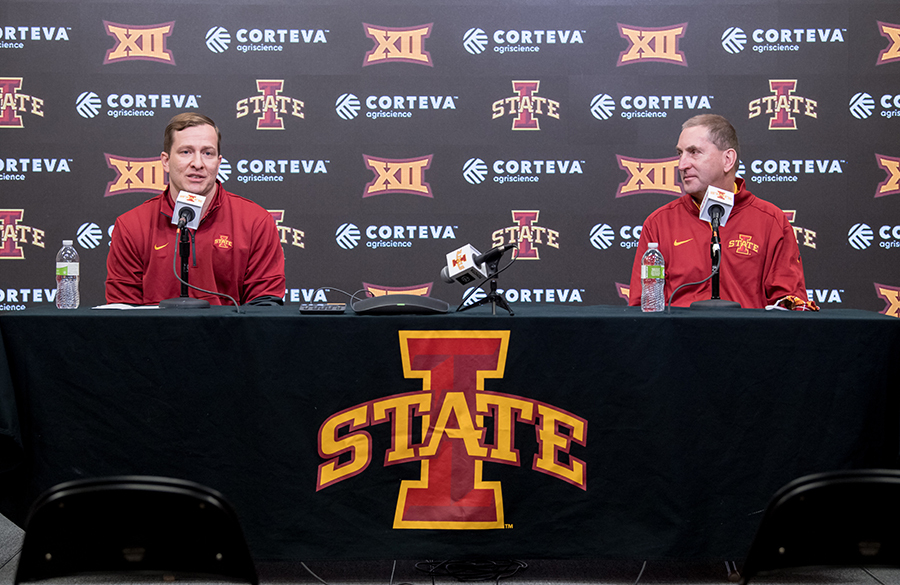 Cyclone athletics director Jamie Pollard (right) introduced new men's head basketball coach TJ Otzelberger during a March 19 virtual media event.
This marks a return to the Cyclone program for Otzelberger, who had assistant roles in two stints with former coaches Greg McDermott, Fred Hoiberg and Steve Prohm. Otzelberger comes to Iowa State after two years as head coach at the University of Nevada, Las Vegas; and three seasons with the South Dakota State Jackrabbits in Brookings. Pollard said Otzelberger is the right fit for the Cyclone program at this time and "is keenly aware of what it takes to be successful at Iowa State."
Otzelberger's spouse, the former Alison Lacey, competed in the women's NCAA tournament all four seasons (2006-10) she played for coach Bill Fennelly's Cyclones.
Otzelberger succeeds Steve Prohm, who coached the Cyclones for six seasons.