Assistant professor of theater Cason Murphy couldn't have planned it better, even if he saw this coming. Murphy is one of many instructors across campus this spring whose online teaching creativity helps hold students' attention and challenge them during a pandemic.
Murphy is redefining how students interact with a webcam, while art and visual culture associate professor April Eisman brings more accountability to asynchronous classes by adding a personal touch. School of Education assistant professor T.J. Stewart spends time on the person before the content to make class successful.
Ready for a close-up
Murphy is teaching Acting for the Camera for the first time and is surprised by the opportunities hybrid instruction presents. Not intentional when the course was approved last year, the webcam has added a different dimension.
"We have been doing a lot of exercises with Zoom, and having students there in relationship with the camera has been more beneficial than if we were in a traditional classroom," he said. "We have been able to do a lot more work immediately due to the fact that we are online."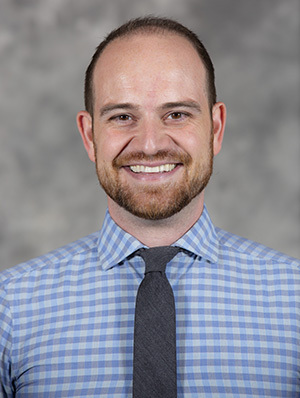 Murphy focuses on making each Zoom session lively with numerous activities. Instead of sending students to different corners of a room, he divides them up into breakout rooms to work scenes before returning to perform for their classmates.
"I try to get them to reimagine their relationship with the webcam, so they realize it doesn't just have to be them sitting there," Murphy said. "What happens if we zoom out or really far in, and what if we take a little bit of control over this experience?"
Students also film a scene from a movie, upload it to CyBox and have it critiqued in class.
"It has been a way to make it feel so much less rote in how we interact with virtual instruction," Murphy said.
He also uses Zoom's chat function to keep communication going and even direct instruction.
"The chat function takes away a little bit of that vulnerability and allows students to throw things in there," Murphy said. "They will provide links that relate to the topic, and we just go with it."
Accountability
Eisman uses several methods to engage her Design students and keep them accountable while teaching asynchronously. She sends out weekly messages to highlight the material and alert students to assignments and due dates. Every few weeks she offers an optional assignment to learn what students like and found beneficial about the last week of class, using it as a chance to check in with them.
"I will ask them about things like COVID and if they feel safe," Eisman said. "I also ask them if they want to hear back from me. They can say 'yes' or just let me know they are sharing what they think. It lets me know who wants or needs that social contact."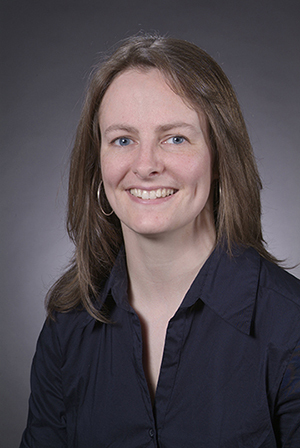 To keep students accountable, Eisman embeds questions within videos she makes (or shares) that account for 25% of their grade. The questions are not difficult, but require students pay attention to be successful. Eisman also has weekly readings and quizzes that are another 25% of students' grades.
To promote an interactive and social reading experience, Eisman is using Perusall for the first time. Available in Canvas, Perusall allows students to highlight information in the text to comment on or talk to one another about.
"At the undergraduate level, I think it really creates an excitement among the students," Eisman said. "Students can like comments or ask questions, and it helps me find out what they are thinking about and questions and misunderstandings they are having."
Questions may not be answered in real time, but it allows students to get feedback from their peers and take some responsibility for their learning. Perusall also assists instructors by tracking how long students are actively reading as opposed to just having the book open.
This spring, Eisman changed the deadline for all assignments from midnight to 10 p.m. after her department talked with student counseling services.
"There are students who are going to wait until the last minute, but there are plenty of 20-year- olds who want to go to bed by 10 p.m.," she said. "I put it on my syllabus and explained I want them to get sleep because it is important."
Caring for the individual
Stewart is teaching a graduate course in advising and helping skills, which prepares students to work in student affairs positions at colleges and universities.
He uses several techniques to push virtual platform boundaries with activities such as speed dialoging and apps in Canvas like Flipgrid.
"We start in the large room of Zoom, I pop up a question and then put them in breakout rooms for the length of a song," he said. "When that song is over, I close the room and we go to a new question."
Flipgrid allows students to send videos back and forth to ask and answer questions to break up the monotony of the virtual environment.
Stewart puts students' emotional well-being at the forefront by adapting activities he does in-person into online classes. He uses chat as a way for students to build relationships with one another.
"I post a statement on the screen that will say, 'Someone I have learned from this semester,' and then students send a private chat to someone that fits that statement for them," he said.
Showing appreciation for others in the virtual format has been successful for Stewart and reflected in near perfect student attendance this semester.
"I don't think you can learn from an empty cup, so until we can find ways to deal with the socioemotional, students are not as energized or primed to get through the content," Stewart said. "It can't only be about the content."
Many of the students also are teaching or in assistantships as part of their graduate program, and Stewart feels it is important to model kind, caring behavior they can apply in their work.
Nonverbal cues
Murphy also teaches a large lecture class, Introduction to the Performing Arts. Identifying nonverbal cues that indicate students are engaged can be difficult in virutal instruction. In addition to the chat function, Murphy uses polls to accomplish it.
"I do a build-your-own-adventure," he said.
Students vote to determine things like the protagonist, the villain and the inciting incident. Improv takes over from there as they build scenes and dialogue.
Stewart uses a variety of ways to gauge students' mindsets at different points during class, ranging from one-word check-ins to selecting a song that speaks to how they are feeling.
"Hearing all those words at the top of a class helps me know how we need to proceed, or if I need to jump in and do some care work," he said.