ISU Theatre's "On the Horizon: Festival of Student-Produced Work" is a show of firsts. First-time writers, first-time designers, first-time stage managers and first-time producers.
More than 38 students collaborated to create 10 original pieces that include scripted scenes, a music video, puppetry, a Zoom play, a song cycle and an animated short film. The show will livestreamed Feb. 25-27 at 7:30 p.m. with a matinee at 2 p.m. Feb. 28. Admission is pay what you will.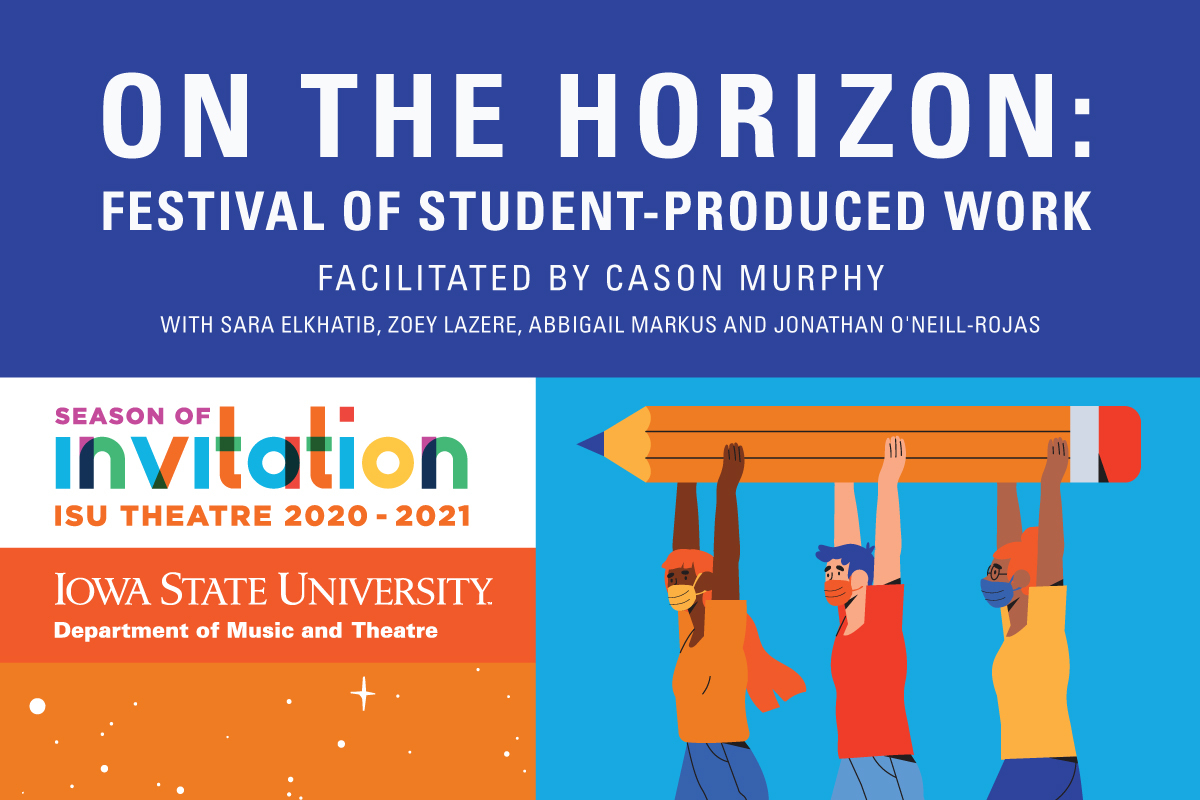 The show is run by students who handle all aspects of production, direction, performance and design. Their stories touch a diversity of topics, such as mental health, friendship, loss and family.
"The sheer variety of theatrical forms on display, and the innovative ways the students are approaching their storytelling duties, are going to delight our audiences," said assistant professor of theatre and facilitating producer Cason Murphy.
Jonathan O'Neill Rojas, senior in management and performing arts and one of the producers, said he appreciates the chance for students to tell their own stories during a year where other opportunities such as internships have vanished.
"All of us are learning as we go," O'Neill Rojas said. "Most of us are trying new areas of our artistry that we hadn't touched before, and that can be scary. I'm a producer for the first time. But throughout these productions I've seen how all of us are committed to getting the work done."
Each piece, produced separately in small teams, required different approaches for virtual and in-person collaboration. Participating students represent 11 majors and minors across campus, and three recent ISU Theatre alumni are involved.
"This has been a tremendous opportunity to celebrate our students as they engage with new skills and uncover new aspects of their creative lives," Murphy said. "My favorite moments have been sitting in rehearsals and watching the students collaborate in creative, dynamic ways to solve problems. I get to see that often in our classrooms, but watching it occur in the festival atmosphere with so many more moving pieces gives me great hope for the future of theater."
And it gives a little hope for today, too.
"After watching this production, I hope that audiences feel the world is with them," said performing arts senior Rachel Ward. "We have lost a lot this past year, but together we need to help each other remember. There is light in this time. There is growth."