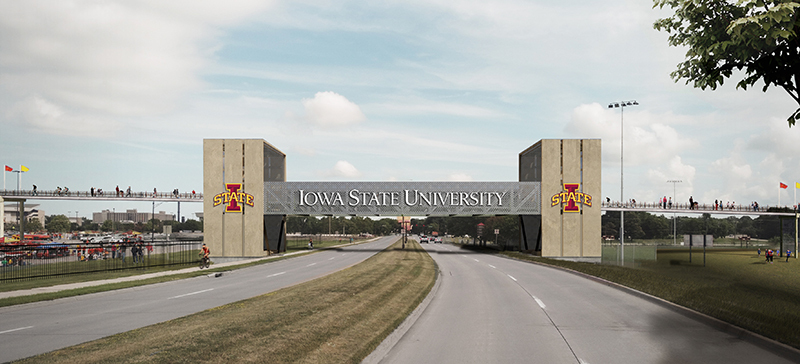 Regent systemwide adoption -- all courses, all universities -- of a syllabus statement on free speech, similar to the one Iowa State faculty started using during winter session, was among 10 recommendations the state Board of Regents approved during its Feb. 24 virtual meeting. A three-regent task force working since November to study best practices in First Amendment protections in higher education proposed the recommendations, many of which will be incorporated into the board's free speech policy adopted in April 2019. (Some of the recommendations are action items to be studied and completed, not policy content.)
As part of the discussion, the three university presidents were asked to share free speech protection highlights from their campuses. President Wendy Wintersteen's presentation included the First Amendment statement added 14 months ago to the campus climate website, faculty and administrator training that accompanied implementation of the syllabus statement, a comprehensive review of some 900-plus student organizations for diversity of expression, university homepage link to the Report It site for many kinds of incidents, and ongoing and annual campus events such as the lectures series, March's ISCORE conference and April's First Amendment Days observance.
Wintersteen emphasized that Iowa State's syllabus statement doesn't represent a change in university policy.
"Its purpose is to highlight and more clearly communicate our existing policy and law that have always protected free expression by students," she said.
University Boulevard gateway
In other business, the athletics department received a final green light from the regents for its proposal to span University Boulevard with an elevated walkway that would link the football stadium's east concourse with proposed gameday parking east of the new recreation fields. The walkway will be approximately a quarter-mile long. It and the ramp at its east end will meet accessibility requirements. Branded for Iowa State, the "gateway bridge" also will serve as a visual welcome to the university. In his Jan. 25 video message to Cyclone fans, athletics director Jamie Pollard said the $10 million project will be paid for by two donors each pledging $5 million.
The project cleared the board's property and facilities committee Feb. 17 and the full board Feb. 24. The university is scheduled to seek construction bids in May, with construction beginning this summer and concluding in early fall 2022.
Parking permit rates hold steady
Iowa State's parking division in the public safety department proposes to hold employee and student parking permit rates at current levels for the fiscal year that begins July 1. The only proposed change is to parking meters and metered lots, where the rate would go from $1/hour to $1.25/hour.
Annual and seasonal permits for the Memorial Union ramp also won't change next year. Hourly ramp rates would go up 25-50 cents/hour, with the maximum daily rate rising $2, to $17. The illegal exit fee and lost ticket fee each would jump $10, to $150 and $40, respectively, as proposed. MU staff manage the ramp.
The board will approve parking rates at its April meeting.
Residence department update
Director Pete Englin told the board the residence department will temporarily close Wallace, Wilson, Oak-Elm and Linden halls for 2021-22 to reduce operating costs. Apartments built in Ames during the 2013-16 window as ISU enrollment climbed now are competing for tenants, which has impacted the demand for on-campus housing. This year, Oak-Elm and Linden served as temporary housing for students who were exposed to or tested positive for COVID-19.
"When we look at future class sizes and our pre-COVID return rates, it's pretty clear that we'll need to operate those halls in the future," he said. "As President Wendy Wintersteen would say, we're looking toward the better normal, not the new normal."
He said the department also is introducing programmatic changes to the residence system to better serve students, including coed housing in three more buildings that formally were single gender, gender-inclusive rooms in Freeman Hall and pet-friendly apartments.
The board will approve proposed housing and dining rates at its April meeting. Englin said many, not all, room rates will go down, which will help offset an across-the-board 2% increase to meal plans that reflects the inflationary cost of food. For example, the paired cost of a standard double non-cooled room and the Cardinal meal plan (unlimited dining center meals, 14 flex meals, $100 dining dollars) would go down $193 (1.1%) next year, as proposed.
The pay-at-the-door rate in dining centers for guests without meal plans also would go up 2%, to $10.81 for breakfast and $13.92 for lunch and dinner, as proposed.
A 3% increase to Schilletter and University Village apartments will fund installation of 1GB internet service in all apartments. Most apartments at Frederiksen Court would see rent decreases.
Englin said the department prioritized student choice and safety last spring in the pandemic, refunding contracts and extending spring move-out to June 7, 2020. The combined financial impact to residence and dining was $14.2 million.
The occupancy projection in this year's budget was 9,464 students and had climbed to around 9,700 by Aug. 1. The residence department maintained a flexible cancelation policy as instruction plans -- and student housing plans with them -- changed for fall classes, to the point that actual occupancy on count day last fall was 8,658 students, the lowest in years, Englin said. That shift, plus higher than normal attrition from fall to spring semesters, has resulted in lost revenue this year of an estimated $6 million.
But the commitment to investing in buildings and programs hasn't wavered, Englin said. The student experience diminishes too much when you don't, he said, as he observed in the 2008-10 lean budget years. Student retention rates similar to fall 2019 (pre-pandemic) and his department's typical 90% capture rate of the incoming class would "position us well moving forward," he said.
More Iowa State business
In other business, the board:
Approved a third budget increase for the new poultry teaching and research facility on south State Avenue, from $6.8 million to $9.2 million. Additional funds will increase the square footage of the not-yet-constructed turkey facility by 30% and purchase additional state-of-the-art equipment for the chicken facility including computerized feeding equipment, automated ventilation and cooling controls and additional biosecurity features such as controlled entrances and lockers. Most of the additional funds ($2.2 million) are private gifts from industry partners; the remainder ($0.2 million) is university funds.
(During the Feb. 17 joint meeting of the academic and campus/student affairs board committees) Received a biennial review report on the 14-year-old Regent Admission Index, which currently counts two -- grade point average and core subject courses completed -- of the original four factors in the index. Class rank was dropped because fewer high schools compute it, and ACT score is suspended because many testing dates were canceled during the pandemic. The board's chief academic officer, Rachel Boon, told board members an inter-institutional team will do an in-depth review of the index to study whether it still serves the state's needs.
Approved a five-year lease agreement between the university and the ISU Foundation, in which Iowa State leases for $1,000/year a property on St. John, Virgin Islands, for the horticulture department's EARTH program. The property owner currently leases directly to the hort department, but intends to donate the property to the foundation for the benefit of the EARTH program.
Approved a five-year lease (with four additional five-year terms) between ISU and US Cellular for "small cell" communication equipment installed initially on 15 light poles at the Iowa State Center, football stadium lots, southeast recreation fields and College of Veterinary Medicine to improve cell phone reception and data speeds. There is no cost to the university.