The university's "Faces of Iowa State" portrait project will expand again next week when Maquoketa artist Rose Frantzen returns to campus to paint the faces of six students. Colleges nominated exceptional students who have shown resilience and positivity during the COVID-19 pandemic, and President Wendy Wintersteen made the final selections.
For three days, March 3, 5 and 6, Frantzen will work in the lower level of the Christian Petersen Art Museum in Morrill Hall. And in a pandemic-tweaked version of Frantzen creating most of the portraits in public, university museums will livestream the portrait sittings on its YouTube channel.
The portrait-sitting schedule is as follows:
Wednesday, March 3
10 a.m., Tessa Mendoza, senior in kinesiology and health
4 p.m., Derrick Kapayou, master's student in sustainable agriculture and anthropology
Friday, March 5 (2020-21 student government presidents)
10 a.m., Eleanor (Ellie) Field, doctoral student in entomology, Graduate and Professional Student Senate
4 p.m., Morgan Fritz, senior in political science, Student Government
Saturday, March 6
10 a.m., Catharine Found, third year DVM, College of Veterinary Medicine
4 p.m., Thierry Habinshuti, senior in civil engineering
As part of university museums' effort to introduce the university community to more of Frantzen's work beyond the portraits, "Perceptions of Identity: Paintings by Rose Frantzen" is on exhibit in the Christian Petersen Art Museum through July.
"The more familiar we are with the artist, the more we learn and understand," explained Lynette Pohlman, director of university museums.
Faces of Iowa State
University museums commissioned Frantzen to paint 19 portraits during the 2016 Iowa State Fair, where she worked amid visitors to the university's main exhibit in the Varied Industries Building. The next spring and following fall, during two campus residencies, she completed 20 more. Following a four-month exhibition in the Brunnier Art Museum, that early portrait set toured the state during 2018.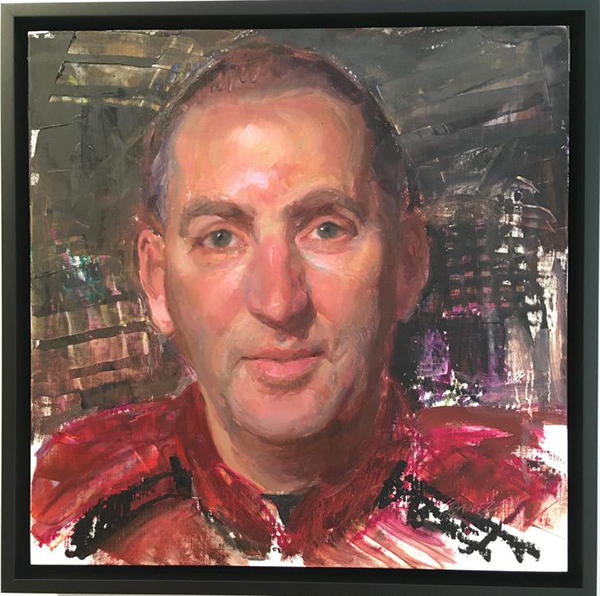 Two more portraits were added last year, athletics director Jamie Pollard and Lynette Pohlman Museum fellowship holder and December 2020 graduate Sarah Bartlett. The set features alumni, faculty, students, staff and friends of the university.
The collection hangs near the main staircase on Parks Library's second floor.
"It's purposeful that the faces we have are exhibited in the library, because that's everyone's territory," Pohlman said. "The library is where we all meet."
She said the latest eight portraits will join the others later this spring.
Iowa State's portrait tradition
University museums holds a formal portrait collection that got its start in the 1930s as part of Iowa State's 75th anniversary and for decades featured deans, vice presidents influential alumni and presidents -- mostly white men. Some of the colleges continue this tradition for their top leaders today, and the collection currently includes more than 200 portraits.
Portraits are more than a record, Pohlman wrote in a 2017 book commemorating the Faces of Iowa State. Portraits "illuminate the intelligence, importance, virtue, beauty, emotion and other qualities of the sitter through the eyes of an artist."
She said the Faces project epitomizes Iowa State's land-grant mission.
"They are the people of Iowa State -- young, old, students, accomplished, less accomplished, our many faces," she said. "The intent is that this also will be a continuing tradition over a long period of time."
Artist's talk
Frantzen is not painting on March 4 because she will discuss her recent studio and public works of art during a public lecture that day, beginning at 4:30 p.m. in the Kingland Hub, 1450 Gerdin. Frantzen also was the artist selected by the Ivy College of Business' public art committee to create a large-scale mural inside the east entrance to the Gerdin building addition, which opened in November. Three 5-foot tall panels that extend for 50 feet will be installed later this year. Preregistration is required and the in-person audience will be limited to respect physical distancing guidelines. A recording of the program will be archived on the museums' YouTube channel.
Frantzen previously worked with the Business college in 2018, when she painted dean David Spalding's university portrait.