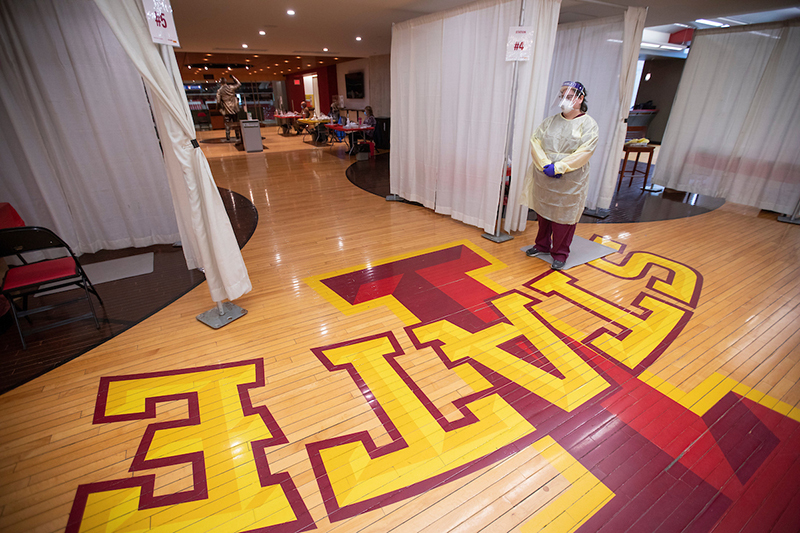 Interest in COVID-19 vaccines is keen right now, but Iowa State also will continue its testing operation as a mitigation strategy during spring semester.
Headquartered at Thielen Student Health Center during the winter break, the COVID-19 testing site reopened at Johnny's in Hilton Coliseum Jan. 11, buffeted with a new staffing plan. Students, faculty and staff experiencing COVID-19 symptoms have access to testing six days a week: 8 a.m.-4 p.m. Monday, Tuesday, Thursday and Friday; 10 a.m.-4 p.m. Wednesday; and 9 a.m.-noon Saturday. To schedule a COVID-19 test, call 515-294-5801 (option 9) or schedule online at cyclonehealth.org/appt. Individuals also need to complete a pretest questionnaire to help determine whether they need to be tested.
By the numbers
Eight slides capture campus efforts last fall to manage the pandemic
Any member of the university community who gets tested off campus should report their results to Iowa State.
The Thielen center will administer COVID-19 tests to ISU students who show symptoms while at the clinic for another purpose.
Testing plans for student move in
As it did in August, the university is requiring COVID-19 testing for new-to-the-residence-system students before they receive their room or apartment keys. They may be tested on campus when they first arrive, or these students can fulfill this requirement by showing the results of a negative COVID-19 test that's less than 72 hours old or a positive test within the past 90 days. Students who test positive will need to isolate for 10 days.
Additionally, the university is requiring COVID-19 testing during the Jan. 11-29 window for a random sampling of approximately 5,000 students who live in a residence hall or are members of a sorority or fraternity.
A statistics faculty team -- first tapped last summer to project the positive test rate during August student move in -- developed the random sampling model being used. Sampling is weighted based on the positivity rate in the county of each student's home zip code to increase the probability that students coming from areas with higher infection rates will be selected in the sample. Student names are not included in any of the data.
In their Jan. 11 memo to the campus community, associate vice president for student health and wellness Erin Baldwin and COVID-19 public health coordinator Kristen Obbink said additional efforts to test asymptomatic individuals this semester will be based on campus trends and needs.
Asymptomatic testing for employees
On Jan. 8, Iowa State participated in a larger test of asymptomatic adults offered through a collaboration between Johnston-based Corteva Agriscience and the Bill and Melinda Gates Foundation. Three campus testing sites were open, at no charge, to asymptomatic adults in Story County. A total of 939 tests were collected, about 60% of which were individuals affiliated with the university. Nineteen of the 577 ISU tests were positive for COVID-19, a positivity rate of 3.3%.
Cyclones still care
The university's Cyclones Care behavior campaign launched last summer remains in place for spring semester. Students, faculty and staff can help prevent the spread of COVID-19 with these four practices:
Wear a face covering
Stay physically distanced from others
Wash or sanitize hands often
Stay home when ill
The behaviors are important everywhere: in the office, classroom or library, on CyRide, in the Ames community and at home.