Iowa State's first round of COVID-19 vaccinations arrived in late December, a small batch limited to campus workers providing health care and COVID-19 testing. While it's an encouraging development, patience and diligence remain essential.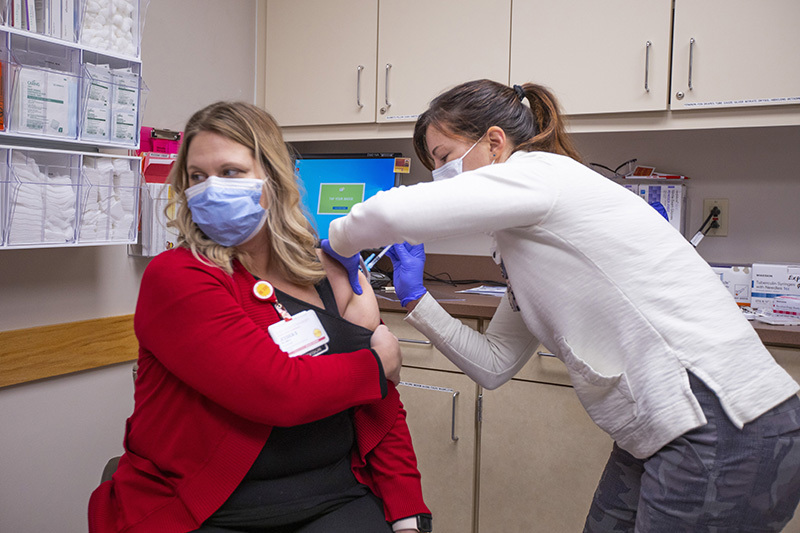 Under the Iowa Department of Public Health's statewide vaccination strategy, which is based on Centers for Disease Control and Prevention guidance, recipients of the state's initial supply of vaccines includes health care workers who have the potential for direct or indirect exposure to COVID-19 patients or infectious materials, said Erin Baldwin, associate vice president for student health and wellness.
At Iowa State, that covered health care staff at the Thielen Student Health Center, staff working at the university testing site and Veterinary Diagnostic Laboratory staff involved in COVID-19 testing, Baldwin said. The first doses were administered Dec. 18, and the follow-up doses, given three weeks later, will be provided in the coming days.
The vaccine's arrival at Thielen Student Health Center was met by a welcoming roar from staff, said Jessica Shannon, the center's assistant director of nursing and patient services.
"There is a little bit of light at the end of the tunnel," she said.
Vaccine town hall set
A virtual town hall Jan. 15 (2-3 p.m., via Webex) will focus on COVID-19 vaccines. A panel will address questions about availability and distribution, including Erin Baldwin, associate vice president for student health and wellness; Kristen Obbink, COVID-19 public health coordinator; David Verhoeven, assistant professor of veterinary microbiology and preventive medicine; and Dan Fulton, McFarland Clinic infectious disease specialist.
ISU's public health team is collaborating closely with Story County Public Health on how the state's phased vaccine plan will be implemented on campus and how Iowa State can support vaccine distribution logistics such as transport and storage, Baldwin said. The university does have low-temperature freezer space set aside suitable for the Pfizer vaccine, which needs to be at temperatures of minus 94 degrees F to be stored longer than 30 days.
It's not clear when vaccines will be widely available to the general public, but it likely will take several months, Baldwin said.
In the meantime, it's important to continue practicing Cyclones Care behaviors such as wearing a face covering when around others, keeping 6 feet apart when possible, washing hands frequently and staying home when ill. And be ready for your turn when the vaccine is offered.
"When it comes your time for your vaccine, I encourage everybody to get theirs so we sometime -- hopefully soon -- can come to a new normal and get back to what we really want," Shannon said.