An estimated 2,171 students are completing Iowa State degrees next week following a pandemic-imbued semester that started a week early, eliminated a fall break and will conclude before Thanksgiving. The university will honor their achievements in two commencement ceremony videos that will be available for viewing at 10 a.m. Saturday, Nov. 28, on the virtual graduation website. Iowa State introduced virtual commencement last May.
The anticipated graduating class includes 1,793 undergraduates, 235 master's candidates and 143 doctoral students. Another 807 students (496, 205 and 106, respectively) who completed their degree programs at the end of summer session also have the option of participating in fall commencement.
The ceremonies, each approximately 40 minutes long, will feature much of the same celebratory content:
Music and theatre department's F. Wendell Miller Distinguished artist in residence Simon Estes singing the national anthem.
Remarks from President Wendy Wintersteen, Regent and Iowa State senior Zack Leist and alumni association director Jeff Johnson.
Special recognition for college student marshals and students graduating with distinction.
The ISU Brass Ensemble performing "Cyclone Fantasia," and the ISU Brass Ensemble and senior vocalist Olivia Hartman performing "The Bells of Iowa State."
Ann Marie Fiore, University Professor, associate chair and director of graduate education for the apparel, events and hospitality management department, will address the graduate student audience. Alumnus David Kingland, the founder, chief innovation officer and chairman of the board of directors of Kingland Systems Corp. and Kingland Companies, will speak to the undergraduate audience.
Guests to the virtual graduation website then may select from eight videos to view the names of graduating students by: doctoral candidates, master's candidates and bachelor's degree recipients in each of the six undergraduate colleges. Arranged in alphabetical order by last name, each graduating student has a slide that contains information such as their name, hometown, degree and graduation distinctions. Undergraduates and master's students were given the option to customize their slide, including submitting a photo, and doctoral candidates had the opportunity to schedule a short hooding video with their presenting professor. For about 60 Ph.D. candidates who made appointments, those clips will follow their slide.
As they have at dozens of in-person ceremonies, Ames-based radio producer Hollis Monroe and landscape architect associate professor Michael Martin read the names of all graduating students as their slide appears.
College convocations
The six undergraduate colleges also prepared convocation videos to celebrate the achievements of their graduating seniors. Those will be available on the college websites, also beginning at 10 a.m. Nov. 28.
| | | |
| --- | --- | --- |
| College | | Scheduled release |
| | Convocation | 10 a.m. Nov. 28 |
| | Convocation | 10 a.m. Nov. 28 |
| | Convocation | 10 a.m. Nov. 28 |
| | Reception with program | 10 a.m. Nov. 28 |
| | Convocation | 10 a.m. Nov. 28 |
| | Convocation | 11 a.m. Nov. 28 |
CY-lebration boxes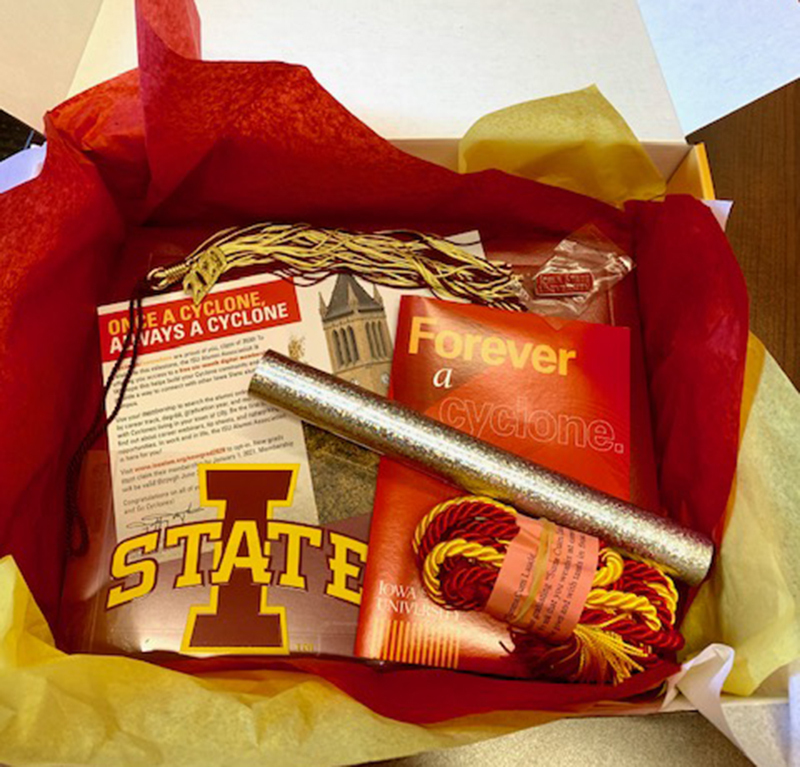 Continuing another practice started last spring, Iowa State prepared graduation day gift boxes for all graduating students. It includes a cardinal-and-gold tassel, musical card from Wintersteen that plays "Pomp and Circumstance," diploma cover, streamer tube, I-State car window decal, Iowa State lapel pin, honor cords if applicable and a free introductory membership to the alumni association. Students in Ames were asked to pick up their CY-lebration box on campus beginning in late October, and boxes will be mailed to graduates who aren't in Ames this fall.