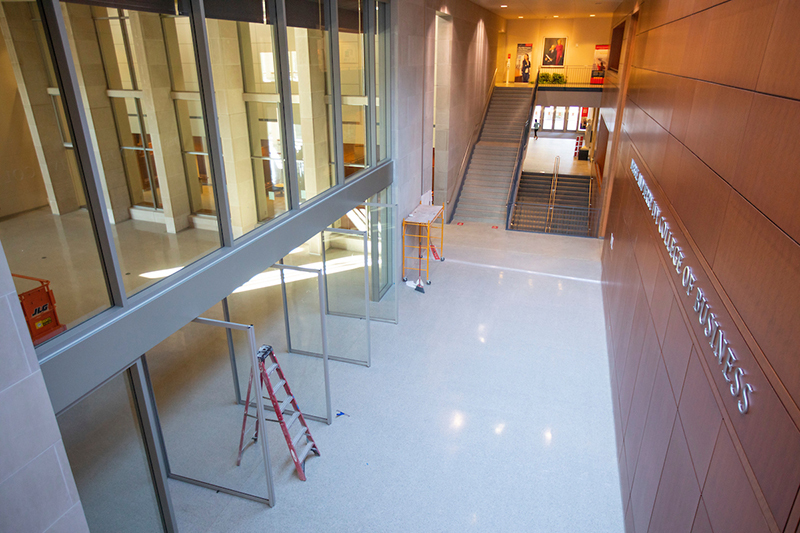 Construction on a four-story, 45,000 square-foot east addition to the Gerdin Business Building, which started in February 2019, is scheduled to be completed by the end of this month. Crews are taking care of final details in electrical, information technology and furniture, and the Gerdin custodial team is getting the new spaces ready this week for the college's Business Week Nov. 9-12.
The $28 million addition enlarges the building by 40% and was designed with students in mind. It includes five classrooms, five team rooms for student collaborations, a central commons area known as the Kingland Hub and a state-of-the-art Houston professional sales suite, a hallmark of a new marketing department program that provides space and technology for sales education and practice. The addition also adds 35 faculty offices, and the process of returning Ivy faculty and staff from temporary offices on the Memorial Union fourth floor will begin later this month.
Students will start using the new team rooms and Kingland Hub this month, and spring semester courses are scheduled in the classrooms. Adjacent to the Gerdin Building, Wallace Road is scheduled to open Thursday morning, Nov. 5.
More than $18 million in private gifts helped fund the expansion, including a $7 million commitment from the Gerdin Charitable Foundation. College ($9 million) and university ($1 million) funds covered the remainder.