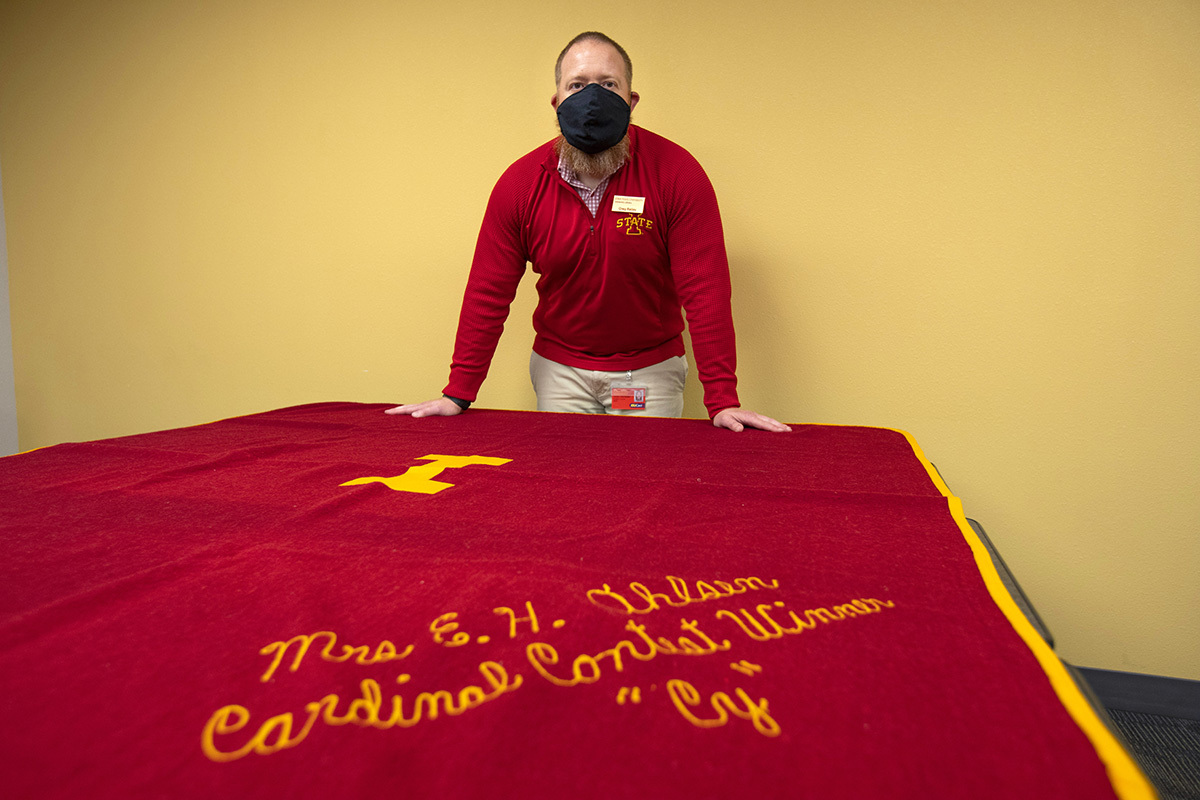 As Brocktober heated up and Breece Hall announced his presence, many Cyclone football fans -- and football fans across the nation -- tuned into ESPN Oct. 3 and saw a feature on Jack Trice.
It focused on a letter the first Black athlete at the university wrote the night before his 1923 football debut against Minnesota -- a game in which he sustained fatal injuries. The letter is one of many interesting and informative things in the library's special collections and university archives.
Here are five more items selected with help from university archivist Greg Bailey and rare books and manuscripts archivist Amy Bishop that may pique your interest to make an appointment to learn more about history connected to Iowa State.
"I" blanket
Cy, Iowa State's mascot, was introduced during Homecoming in 1954, but getting to that point took some effort. The Collegiate Manufacturing Company distributed blankets, jackets, pennants and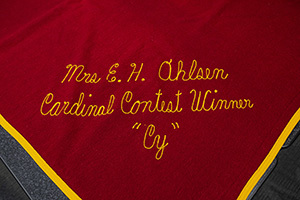 other memorabilia, but was having trouble coming up with a Cyclone design, the team name since 1895. Owner Chev Adams wanted Iowa State to change its name until the Iowa State Prep Council received and approved the suggestion of a cardinal. A national naming contest ensued, and Wilma Beckman Ohlsen was first to suggest Cy. Her prize was a letterwinner's "I" blanket with an inscription honoring her effort.
Drawings of the ABC computer
There is not a lot of documentation that remains from the work done by John Atanasoff and Clifford Berry in the early 1940s to develop the first automatic electronic digital computer. But archives has the original sketches of the exterior of the computer and the report Atanasoff wrote to explain it.
Bonnie and Clyde files
The infamous bank robbers are in three files that are part of Iowa Bankers Association records. The documents detail three robberies in Iowa by the Barrow Gang, of which Bonnie Parker and Clyde Barrow were members. The robberies took place in Knierim, Stuart and Everly in 1934.
The files include the descriptions that were read over the radio after a robbery, pictures of Bonnie and Clyde, and correspondence related to the case. That includes a letter from a bank clerk who was sent photos to help identify any of the individuals responsible for the robbery.
Presentations
Students in the Archives Investigations class will present their final projects online based on primary source research in Iowa State University Special Collections and University Archives on Nov. 11 at 3:30 p.m.
Christian Petersen correspondence
The sculptor completed 12 major campus works of art in 21 years (1934-1955) at Iowa State, including a fountain for the Dairy Industry Building courtyard. Looking for work during the Great Depression, Petersen was recruited to Iowa by Grant Wood through the Public Works of Art Project (PWAP) and to Iowa State by President Raymond Hughes.
It took Wood two tries through documented correspondence to persuade Petersen to come to Iowa as the only professional sculptor in Iowa's PWAP. Petersen would go on to teach some of the most popular classes at ISU.
Serendipity Club meeting minutes
The group, which had 15 original members, was founded in 1936 by women to promote reading and friendship. They were wives of Iowa State College professors and administrators, including Vera Friley, the wife of President Charles Friley.
Each member bought one book and shared it with the club. At each monthly meeting, the discussion was about the author of the book they were reading, but not the book itself.
Books read by club members include "The Grapes of Wrath," "Seven Years in Tibet," "Doctor Zhivago" and "Gone with the Wind."