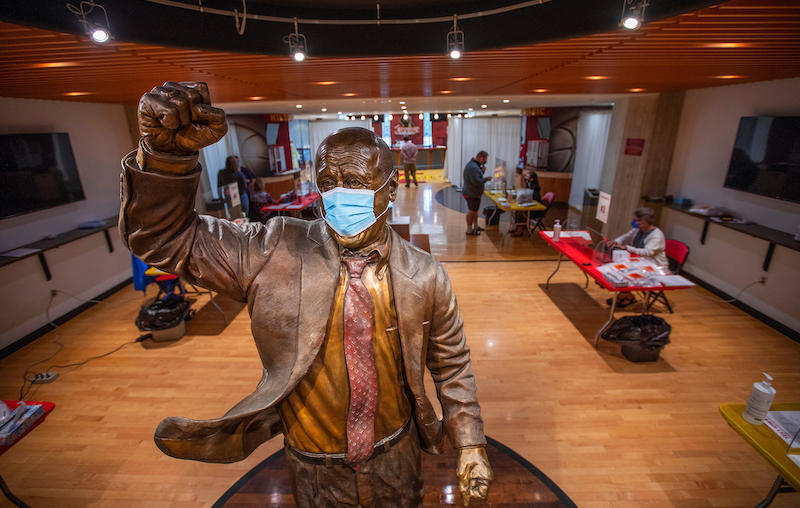 This week, the university's primary COVID-19 testing site for students, faculty and staff moved to Johnny's lounge on the east side of Hilton Coliseum. In addition to expanding testing capacity -- with six registration tables and eight semiprivate testing stations -- the location also provides indoor comfort as the weather changes. Testing this summer at Thielen Student Health Center was in mobile units set up in the north parking lot.
Most ISU patients will have their test done at Johnny's. The exception is student patients at Thielen for whom testing is deemed necessary during an appointment.
Testing hours
Monday-Friday, 10 a.m.-6 p.m.
Saturday, 8 a.m.-noon
Location: Johnny's, Hilton Coliseum
Before you go
Face coverings and appointments are required. Call 515-294-5801 (select option 9) or go to cyclonehealth.org/appt to schedule an appointment. A screening questionnaire needs to be completed prior to arriving at an appointment.
Those being tested should bring their ISUCard and email confirmation that they completed the questionnaire. Greeters will ask to see these at the doors.
Getting there
Those being tested should park on the east side of Hilton Coliseum; no parking passes are needed.
Individuals who are symptomatic should not use CyRide to travel to the testing site. But, for those who do arrive by bus, CyRide's Orange and Plum routes have added drop-off only stops: the south side of Stephens Auditorium on the Orange route and along University Boulevard on the southbound Plum route. Both are by request; these are not scheduled stops.
The Hilton testing site is available only to Iowa State students, faculty and staff. Others in the Ames community may use local health care providers or Test Iowa, which is operating a testing site in the research park three days a week (12:30-7:30 p.m. Monday, Wednesday, Friday).