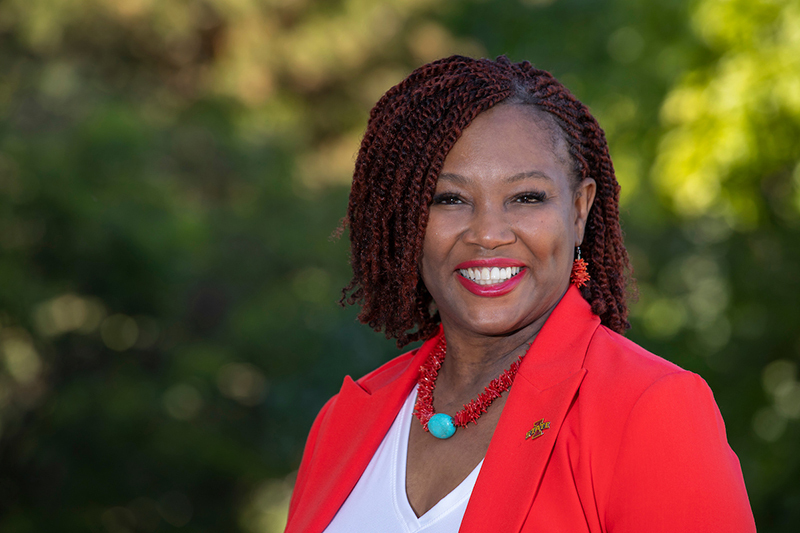 Toyia (TOY-uh) Younger's first day as Iowa State's new senior vice president for student affairs coincided with the first day of fall semester.
The student affairs division includes the dean of students' broad umbrella of programs and services, residence and dining, units supporting student health and wellness, the Memorial Union, NCORE/ISCORE project and the federal TRIO programs serving first-generation or income-eligible students. Student affairs collaborates with the academic affairs division on academic student success and other programs.
Younger comes to Ames from the American Association of State Colleges and Universities, Washington, D.C., where she served since 2016 as vice president for leadership development and partnerships. Previously, she served as associate vice chancellor for student affairs for Minnesota State Colleges and Universities, St. Paul, a system of seven state universities and 30 community and technical colleges (2014-16). She also served at the Association of Public and Land-grant Universities, Washington, D.C., as director of student affairs in its office of academic affairs (2008-10).
Her service at schools includes as assistant provost at Towson University, Maryland (2010-14), where she helped implement an academic strategic plan, developed programs for transfer students, led the commencement committee and helped resolve student conduct cases; assistant director of outreach for the College of Education at the University of Maryland, College Park (2003-07); and director of student life at Montgomery College, Rockville, Maryland (2001-03).
Younger earned a bachelor's degree in social relations from Michigan State University, East Lansing; a master's degree in counseling from Trinity Washington University, Washington, D.C.; and a Ph.D. in education policy from the University of Maryland, College Park.
Younger's office is in 2350 Beardshear. She can be reached by email at tyounger@iastate.edu, by phone at 294-1909.