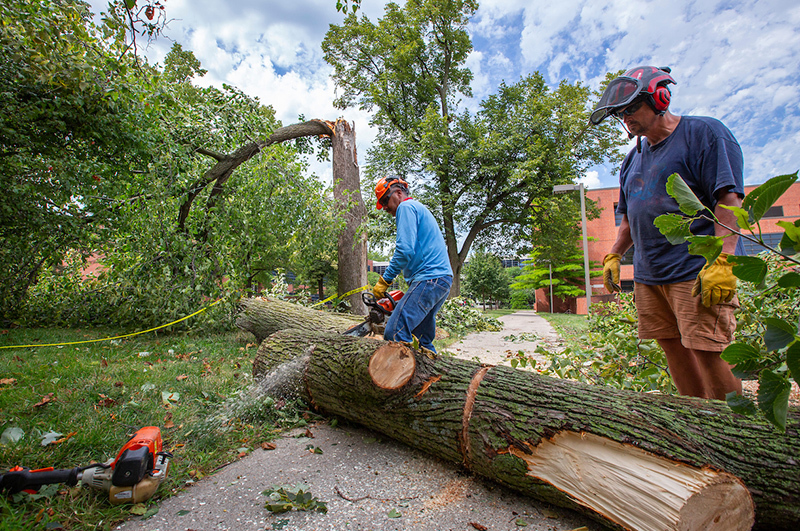 Groundskeeper Efrain Ramirez (left) and arborist Brad Spainhower of campus services work to clear several downed trees south of Agronomy Hall along Farm House Lane after Monday's derecho, which packed winds of around 80 mph.
Campus services manager Barb Steiner said most campus services employees are reassigned to storm cleanup this week, with groundskeepers and equipment operators helping with pruning, raking, chipping and hauling trunk pieces. That frees up the team's tree specialists to work on tree removals and significant pruning.
Steiner said at least 42 campus trees have been or will be removed due to extensive damage. Another 100-plus need pruning -- anything from a few branches to 25% of the tree's volume. The removals range from older trees like the Norway spruce southwest of the Gerdin Business Building and a central campus sugar maple, to younger trees with oddly snapped-off tops.
She said crews still are discovering some of the less-obvious vegetation damage in the process of cleaning up the obvious. The goal, she said, is to have storm debris cleared away by Monday when classes start. Tree work will continue for several weeks.
Pictured below is the storm damage Monday afternoon on the south side of the Farm House Museum north of Ross Hall.