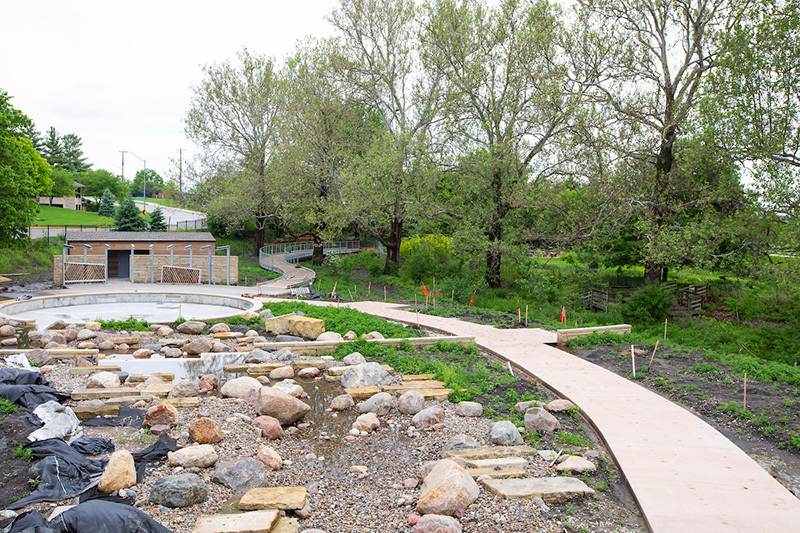 Reiman Gardens will reopen to the public on Monday, June 8, with daily hours of 10 a.m.-6 p.m. Garden members also may visit June 1-7. During June, only outdoor garden spaces and restrooms in the Hunziker House and Mahlstede Building will be available.
Taking advantage of empty grounds during its COVID-19 pandemic closing this spring, the gardens completed two significant improvements initially expected to extend over much of the summer. At the main entrance, the first replaced the cedar facings on the structure and the aggregate sidewalk with concrete. The second completed a two-summer project to replace crushed red aggregate or brick paver pathways in the west half of the gardens with poured concrete walkways (bottom photo). Funded with revenue from the Nature Connects LEGO exhibit rentals, the wider paved pathways improve accessibility for garden visitors, improve winter maintenance and eliminate paths washing out during heavy rains. They also will allow Reiman Gardens to host holiday walk-through light events beginning this winter.
By the end of June, visitors also will be able to enjoy the newest addition to Reiman Gardens, Sycamore Falls in the southwest part of the complex. The three-acre expansion features seven historic sycamore trees (featured in top photo), cascading water with a large basin, a 42-foot tower guests can enter at the base (as did Reiman Gardens director Ed Lyon in the photo below), a perimeter walkway and more than a thousand new plantings.
Garden visitors should enter at the east kiosk (off parking lot S2). Admission is $10 ($9 for seniors ages 65+, $5 for youth ages 2-12 and free for kids under 2) and free for members and ISU students with valid ID.