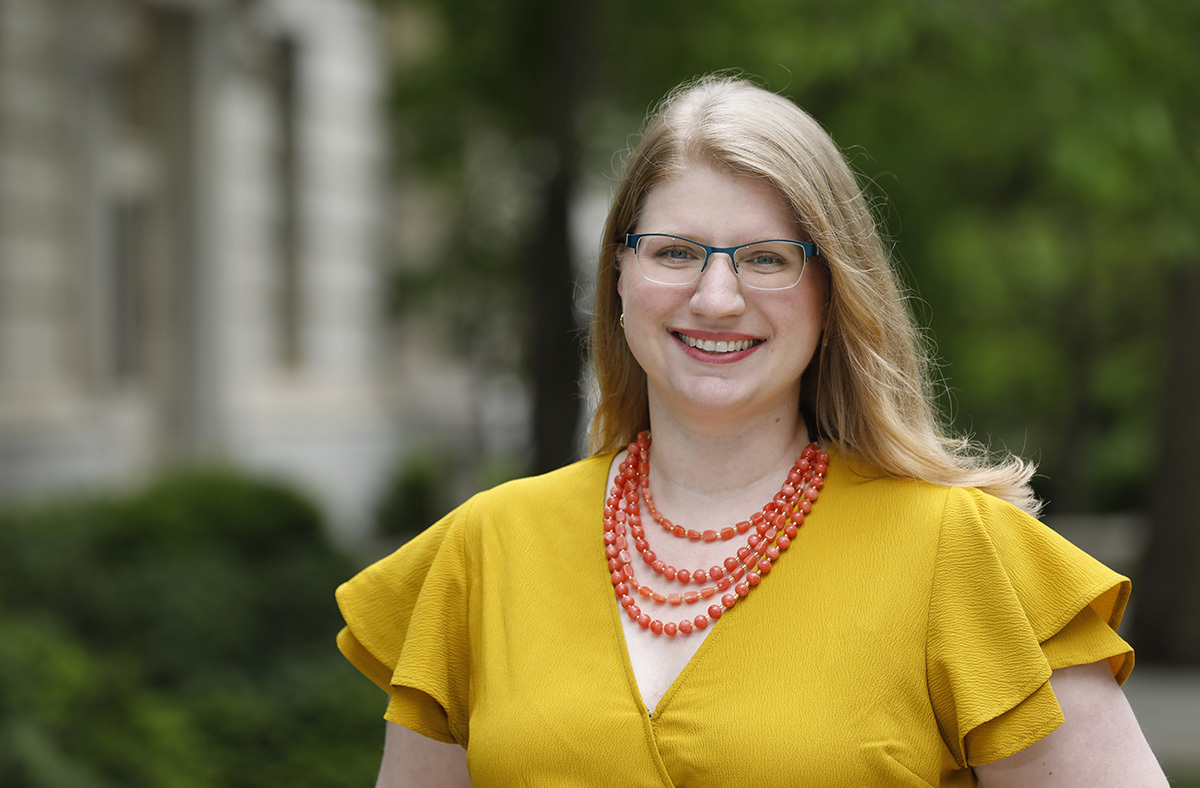 Feelings of anxiety, isolation and uncertainty seem to be common during the COVID-19 pandemic, underscoring the importance of Mental Health Month in May. Leslie Ginder, employee leave and accommodation coordinator for university human resources (UHR), talked to Inside about mental health and the resources available to Iowa State employees.
The basics
Name: Leslie Ginder
Position: Employee leave and accommodation coordinator, university human resources
Years at ISU: Nearly four
What should we know about mental health?
One important distinction is that there's a difference between having a mental health diagnosis -- like depression, anxiety or bipolar disorder -- and feeling anxious or depressed. Mental health conditions and feelings of sadness and anxiety are a normal part of the human experience. It is important to recognize, especially during a time like the COVID-19 pandemic, many people experience mental health conditions and overwhelming feelings. You are not alone.
The American Psychiatric Association (APA) estimates that in any given year, one in five U.S. adults has a diagnosable mental disorder. For our employee population at Iowa State, one in five -- 20 percent -- is at least 1,400 people who may have a diagnosable mental health condition just this year. That does not even include those in our community who are experiencing temporary overwhelming emotions due to the COVID-19 pandemic.
How should we talk about mental health?
I prefer to say someone is "experiencing a mental health condition," not that someone is "suffering from a mental health condition." In an article about how words matter, the APA says to avoid using terms like "suffering" or "victim" when discussing people with mental health challenges. Someone can have a diagnosed mental illness and still be well.
Because mental health conditions display differently in different people, you may not recognize a mental health condition in another person. I prefer not to use "hidden disability" language. Instead use "not apparent."
What resources are available to Iowa State employees?
The EAP (Employee Assistance Plan) program is part of our benefits package, but it's completely separate from the health insurance plan. Employees and their families can call the EAP 24/7 phone number and get connected with mental health counseling services. EAP also provides life coaching, financial and legal support services, and elder care consultation. All EAP counseling services are free and confidential. Our employee health care through Wellmark also provides exceptional coverage for mental health counseling.
For a lot of people, myself included, who experience mental health conditions, stress management is really important for maintaining wellness. The Adventure2 program provides opportunities to connect with our ISU community. And there are cool mindfulness activities ISU WellBeing is facilitating. Mindfulness and exercise have been shown to be effective stress reducers.
The work I do with employee workplace accommodations includes assessing reasonable accommodation requests for mental health conditions. The ADA provides a framework for creativity as it relates to workplace accommodations, which allows me and my team to think outside the box when discussing possible accommodation options. The job accommodation network, www.askjan.org, has information about what kinds of mental health conditions may qualify as a disability and ideas for potential accommodations.
FMLA (Family Medical Leave Act) also is a resource. If an employee is eligible, it provides job-protected leave for care of a serious health condition, including many mental health conditions. Employees may need to provide documentation from a health care provider for FMLA and disability accommodations.
Adventure2 and counseling services through EAP do not require employees to provide medical documentation. All of these resources continue to be available for employees, even if they are currently working remotely.
If employees find themselves experiencing a potential mental health condition, what should they do?
Wellmark has an online resource to find a provider for mental health who accepts our insurance. There is no copay for mental health visits. They can let their supervisor know or connect with their HR service delivery representative regarding resources on leave, reasonable accommodations, EAP and FMLA. If an employee does not feel comfortable reaching out to their supervisor regarding their needs, they can email HR directly and the message will be directed to a qualified HR representative who can help.
Employees do not need to tell supervisors their specific diagnosis or any information about their medical records. All they need to do is request an accommodation or leave through their supervisor or human resources service delivery team representative. The information provided for facilitation of FMLA and disability accommodations is separate from ISU performance and employee records. UHR maintains medical information securely. UHR also has developed supervisor resources about supporting employees through leave of absence and reasonable accommodations requests.
Why is mental health awareness important?
The National Alliance on Mental Illness campaign is "You are Not Alone." As a person who experiences a mental health condition, I want employees to recognize that they are not alone. I want to increase awareness not only about mental health conditions, but the number of people we work with who likely experience mental health conditions.
It's OK to ask for help. If you think about the sheer number of people working at Iowa State and that statistic of 20 percent -- how many people that is. Mental health conditions affect people at different stages of life and different stages of their careers. Understand that if you are experiencing a mental health condition, you may feel very alone, but you're not alone. You have resources to help support you if you're having any challenges with employment-related needs.
Related stories