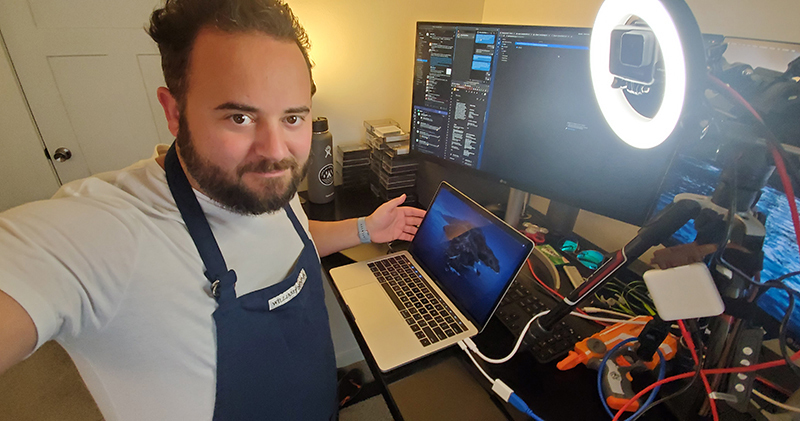 So, you pride yourself on the spirited or clever virtual backgrounds you've discovered during this pandemic. Your web conferences are the better for them, no doubt. Systems support specialist Paul Easker takes it up a notch when he joins his colleagues in the Virtual Reality Applications Center (VRAC) for their weekly staff conferences. Among a group of technically capable professionals, that's no simple task. Easker shows up in a costume to match his background.
For example, back in late March, he decided he wanted to be part of the solution to a national shortage, so he placed himself on the manufacturing line in a toilet paper factory. The next week he pondered local needs and settled on making bread so people could eat. Paul the baker sat in on the next VRAC meeting.
The impetus, he said, really was the isolation he felt after a few days of working at home, with just one roommate to talk to for long stretches.
"It just seemed like it could be a good way to get people smiling and to spread some joy," he said.
Easker checks closets and dressers in his apartment for props and finds an appropriate image on the internet for his background.
He also showed up for meetings as a biker gang member, a beach lounger and a heli-skier about to depart on his descent -- though he confessed the ski gear was too warm to survive the entire staff meeting.
"It's been fun so far. A few staff have told me they look forward to the meetings to see what I am going to do next," he said.
Did you know?
Many Iowa State units have produced Zoom backgrounds employees are welcome to use.