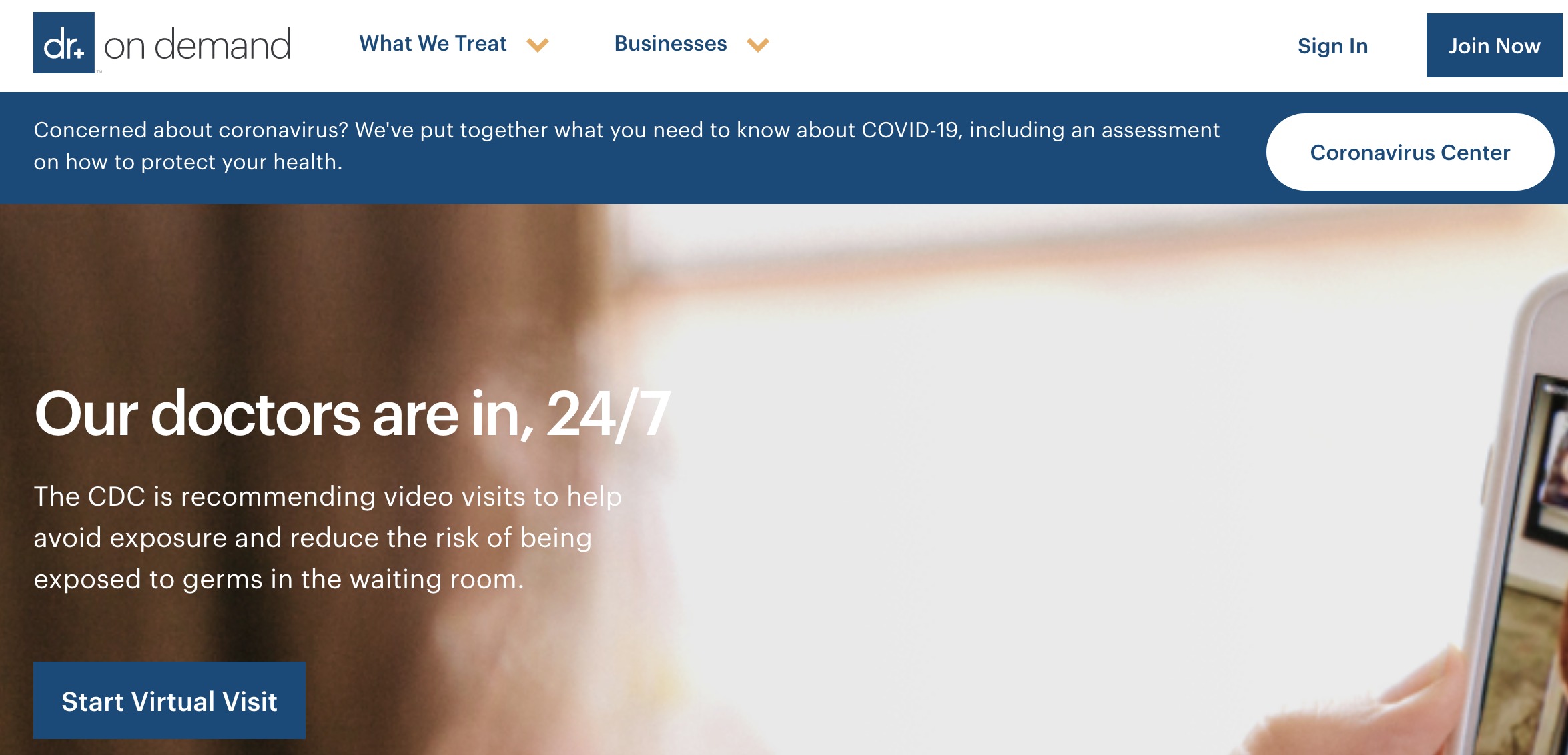 Iowa State employees and their families enrolled in the university's health insurance plan can visit a doctor by video anywhere and anytime thanks to a service that has been newly covered since Jan. 1.
Employee health insurance plans with Wellmark now include virtual visits with Doctor on Demand, making the out-of-pocket cost of using the online telehealth provider the same as a typical in-network office visit. Under the BlueHMO plan, that's a $10 copayment. Under the BluePPO plan, it's a $20 copayment and, in some cases, 10% coinsurance.
But effective March 16, employees temporarily won't pay any out-of-pocket cost-sharing for virtual visits. Cost-sharing is waived for telemedicine through June 16 to help avoid spreading COVID-19.
Expanding availability
Via Doctor on Demand's website or its mobile app on iOS or Android, users connect with board-certified and licensed physicians who examine patients over video calls. Patients can either see the next available doctor or set up an appointment in advance with a provider they choose. Doctors are available 24/7.
Seeing a physician through Doctor on Demand takes about 10 minutes, and the typical wait time for an immediate consultation is five minutes. Doctors take a patient's medical history, perform an examination and recommend treatment. If needed, they can order tests at a local lab or send a prescription to a local pharmacy. Doctors won't prescribe medications considered controlled substances under federal drug laws or in other clinically inappropriate situations.
Patients can allow notes from virtual visits to be shared automatically with their regular primary care provider or receive a doctor's letter for their employer, if needed.
Adding virtual visits doesn't expand the medical services employee health plans cover, but it makes coverage more convenient. It allows for in-network clinic visits while traveling anywhere in the U.S. and provides all-hours access to nonemergency care.
"Offering telemedicine expands the number of providers our employees can access as well as the times this access is possible," said Ed Holland, benefits director for university human resources (UHR).
What it's best for
Consulting with a medical provider without visiting a clinic or hospital has taken on special importance due to the COVID-19 pandemic, which is expected to strain U.S. health systems. Doctor on Demand has a webpage devoted to coronavirus, including an assessment to help determine if you should see a doctor about potential COVID-19 symptoms, which include fever, cough and shortness of breath.
Telemedicine isn't appropriate for every medical concern. Remote diagnosis by video is ideal for coughs, fevers, bronchitis, sore throats, allergies, sinus infections, nausea, skin conditions, pink eye, urinary tract infections and prescriptions refills for chronic conditions. Seek local emergency care for conditions such as broken bones, severe burns and lacerations, chest pain and numbness, loss of consciousness, and vomiting or coughing up blood. Pediatric ear infections are another common concern that must be diagnosed in person.
Mental health treatment is available through Doctors on Demand, including psychological treatment such as therapy. Mental health appointments must be set up in advance, and psychiatry isn't covered.
Users need to create a profile with Doctors on Demand to use the service. Each adult covered by a health plan needs their own profile. Parents use their own profiles to request care for their children. Download the app or go to doctorondemand.com to sign up using member ID number and group number found on your Wellmark insurance card.
For more information, see UHR's health insurance webpage, read Wellmark's FAQ or call Doctors on Demand at 800-997-6196.