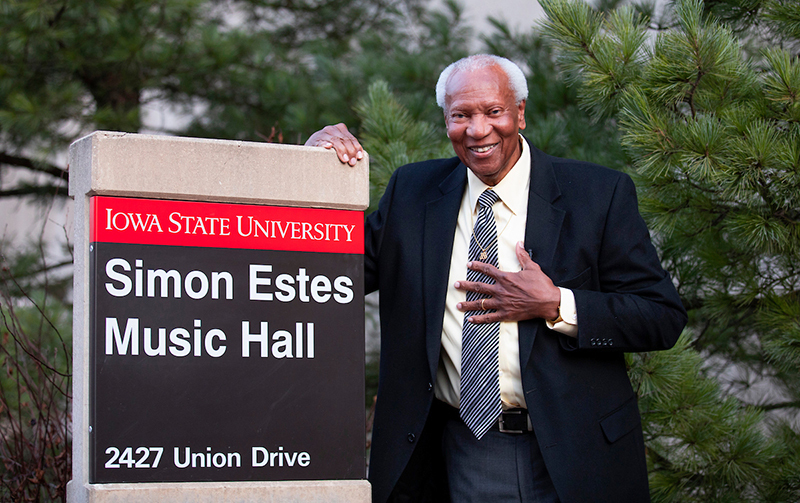 For 40 years, it went by the accurate, if bland "Music Hall." That changed Wednesday afternoon, when the university community celebrated Simon Estes Music Hall, named for the native Iowan, opera legend and long-serving artist-in-residence for the music and theatre department.
"Simon has influenced countless lives in Iowa and around the world, and we are truly blessed to have him as part of the Iowa State family," said President Wendy Wintersteen during a Tye Recital Hall program. "By naming Music Hall in his honor, future Cyclones will have the opportunity to know Simon Estes and to draw inspiration and joy from his musical gifts and from his devotion to making the world a better place."
Estes said his singing talent came from God, but he paid tribute to numerous teachers and choral directors in his hometown of Centerville and at the University of Iowa -- where he went initially to study medicine -- for encouraging and inspiring him.
"Music has enabled me to share this talent God gave to me with people all over the world," he said.
Estes called Iowa State one of the greatest universities in the world and reflected on how touched he was 20 years ago when he was invited to join the faculty.
"I'm deeply honored and humbled they've named this building after me, the grandson of a slave," Estes said. "I hope this building will continue to inspire young people to enjoy education, enjoy music, enjoy life."
Impact, locally and internationally
Estes has performed on six continents, including opera houses in Paris and Barcelona, the Olympic Games in Munich and the World Cup in South Africa. Despite his performance schedule, he makes it a priority every semester to sing at Iowa State's commencement ceremonies.
He has helped attract world-class students to the department and mentored many of them for admission to prestigious music schools following their undergraduate years.
He established the Simon and Ovida Estes Scholarship in Music at ISU in 2010 and is a regular performer at the department's annual Musicale to raise additional support for scholarships.
Hope Metts, vocal performance junior who has studied with Estes for three years, including time at Des Moines Area Community College, said her teacher is "kind and caring with every student, no matter who they are or what their skill level is."
She said Estes taught her to sing from the heart and to stay true to herself and her own voice.
"Your wisdom has touched so many lives, and I will be forever grateful that mine is one of them," she added.
Wintersteen thanked vice president for diversity and inclusion Reg Stewart and College of Liberal Arts and Sciences leaders for developing the proposal to name Music Hall for Estes. She also lauded the university naming committee for recommending it to the state Board of Regents, who gave final approval last month.
Related story