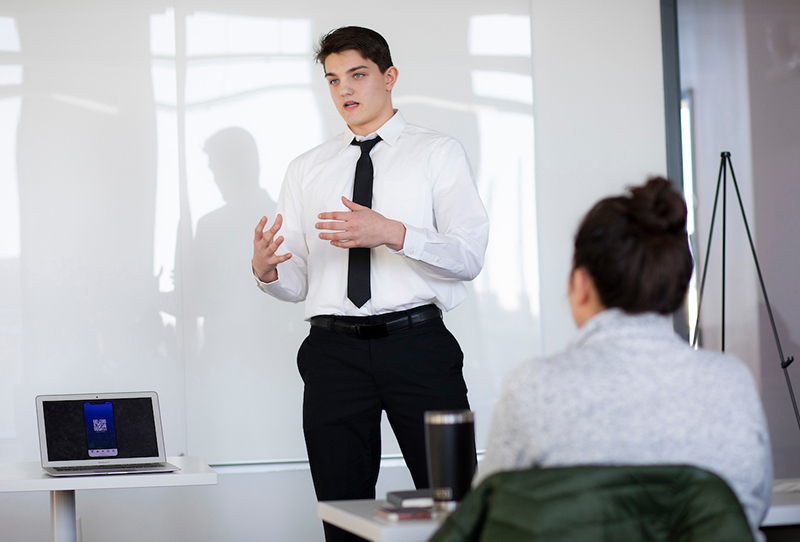 If it's February, it must be college pitch off season at Iowa State. In honor of the third annual entrepreneurial competition for all students -- freshman to doctoral -- the Pappajohn Center for Entrepreneurship is christening a Student Innovation Center fourth-floor classroom for a few hours a day.
Within each college, students use their 90-second pitches to vie for a $500 top prize or $250 runner-up prize in each of two categories: New idea (no prototype or product yet) and existing business (achieved a prototype or even revenue).
The 28 students who emerge from their college events will go head-to-head Thursday, Feb. 27, in the Innovation Pitch competition, where the two top prizes are $5,000 and runners-up will receive $1,000. The contest will be held from 5 to 8:30 p.m. in the Memorial Union Maintenance Shop, and it's open to the public.
Computer science freshman Anthony Oleinik (pictured above) secured a runner-up prize Monday for his app idea that gathers local businesses into a digital directory and, through coupons and rewards, encourages people to shop locally.
In their comments to the College of Liberal Arts and Sciences entrants, judges said they weighed an entrepreneur's conversations with would-be clients or customers as an important piece of learning about the market or the target audience.
College pitch off events yet to come are:
Human Sciences, Feb. 13
Design, Feb. 17
Agriculture and Life Sciences, Feb. 18
Engineering, Feb. 21
Related story
College-level pitch contest draws startup ideas from all corners, March 7, 2019