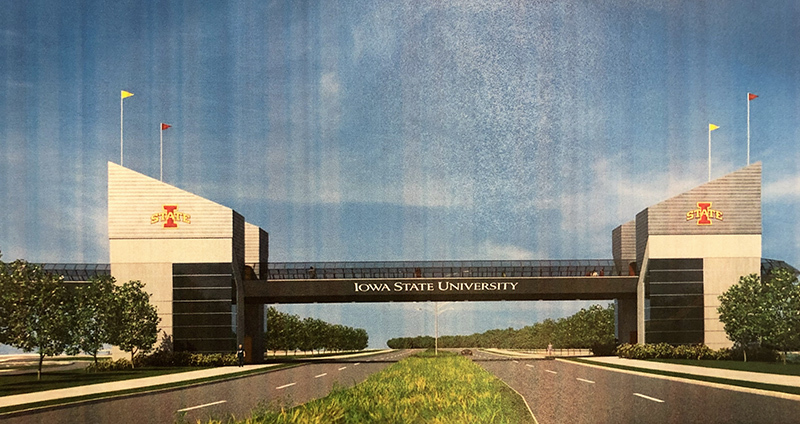 The athletics department will begin planning an estimated $8 million-$12 million pedestrian bridge over University Boulevard east of Jack Trice Stadium following a state Board of Regents initial green light Feb. 5. The meeting was shortened by a protest from members of Iowa Student Action.
The gateway project includes an elevated walkway all the way to the stadium's east concourse to create a safe pedestrian route between the stadium and parking. In addition to its fan safety function, it will be designed to enhance the primary entry to campus from the south. Funding will come from athletics department operating funds and private gifts.
On another project related to the football program, the board approved a sale of $59.9 million in 20-year athletic facilities revenue bonds to construct and equip the five-level sports performance center east of the Bergstrom football facility and a one-story addition on its west side. The project includes a north extension of the stadium concourse and a north plaza on the site of the Olsen Building, which will be demolished.
Simon Estes Music Hall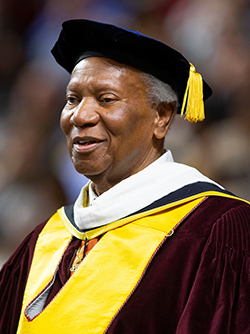 The board approved Iowa State's request to name Music Hall for opera vocalist Simon Estes, the music and theatre department's F. Wendell Miller Distinguished Artist-in-Residence since 2000. Estes, 81, has helped attract world-class students to the department and mentored many of them for admission to prestigious music schools following their undergraduate years. He received an honorary Doctor of Humane Letters degree from Iowa State in 1997.
The board waived its policy that mandates a two-year wait following retirement before a building may be named for a regent university employee. The building's name is Simon Estes Music Hall.
FY21 parking rates
Proposed increases of 3% to 3.3% on employee parking permits in fiscal year 2021 were in the consent agenda and are scheduled for final approval at the board's April meeting. If approved, the increases would be $6 for general staff permits, $17 for reserved permits and $30 for 24-hour reserved spots. Employee motorcycle permits would go up $2 next year. Permits for the Memorial Union ramp would go up about 2.5%, as proposed. The MU changes vary from a $5 increase for a summer permit to a $15 increase for an annual permit.
Hourly parking in the MU ramp would go up 25 cents per hour, as proposed, with the daily maximum rising from $13 to $15. The price of the first hour would rise to $2.25, additional hours 2-5 would rise to $1.75 per hour, and hours 6-8 would rise to $1.50 per hour. Special fees, for example illegal exit or lost ticket charges, will remain at current rates.
In addition to ramp maintenance and equipment replacement, MU leaders will set aside revenue for an assessment of the structure's condition.
July 1: Proposed parking increases
Permit

Proposed
FY21

Current
FY20

24-hour reserved

$1,005

$975

Reserved

$582

$565

General staff*

$186

$180

Departmental

$217

$210

Vendor

$325

$315

Motorcycle (employee)

$62

$60

Memorial Union ramp

Annual

$585

$570

Fall or spring

$256

$250

Winter

$250

$244

Summer

$207

$202
*Includes lots designated for residence department and Ames Lab
Football game day band incident
Board president Michael Richards reported the investigation has concluded into allegations of verbal or physical assaults on University of Iowa marching band members Sept. 14 outside Jack Trice Stadium following the intrastate football game. He said "it was determined there was not enough evidence available to substantiate the pursuit of any charges."
But he said game day safety has to be a priority, and he announced the three university presidents will work together to review and improve the game management policies on each campus before fall semester begins.
"We want to be able to provide a safe environment for everyone, and don't want anyone to feel unsafe at any of our events. We applaud the efforts of all three schools to come together and implement protocols to meet that end," Richards said.
At a Sept. 24 media event, Cyclone athletics director Jamie Pollard said ISU police were investigating five reports of alleged abuse to band individuals or proprerty that had been collected and forwarded to them from University of Iowa police.
Student financial aid update
In their annual report to the board's academic and student affairs committee, the regent universities' three directors of student financial aid said undergraduate aid in the last decade has shifted to a greater dependence on university and private (organizations, companies, foundations) assistance when state funds declined and federal funds cover less of the rising cost of attendance.
Decade comparison: Undergraduate aid at the three regent universities
Source of aid

2008-09
Total: $538.3 million

2018-19
Total: $772.3 million

Federal (student loans)

59.2%

48.4%

State (grants)

1.2%

0.3%

Regent universities (scholarships, grants, employment)

26.0%

35.4%

Other (private, community scholarships, awards)

13.1%

15.9%
University aid to Iowa State undergraduates, which has climbed steadily for the last decade, reached $140 million in 2018-19. That included a record $115 million in scholarships and grants, about 70% of which was awarded based on financial need.
In 2018-19, in-state students graduating from Iowa State with debt (61% of resident undergraduates) had an average debt of $26,304. Average nonresident debt at graduation was $31,510 for those with debt. The national average debt at graduation last year was $29,200.
Cindy Seyfer, University of Iowa director of student financial aid, also talked about institutional assistance to students that doesn't show up on these annual charts -- for example, campus food pantries and emergency grants for rent or a car repair. This assistance is critical to retaining students and helping them complete their degrees, she said.
The board also approved these Iowa State agenda items:
Project description and budget ($16 million) to replace the ISU power plant's central control system. It will occur in 12 phases over eight years in order to maintain steam, chilled water and electricity service to campus throughout the transition. The university's utility repair and utility infrastructure funds will cover the cost.
Project description and budget ($3.8 million) for improvements to four parking lots over two summers (2020-21): 54 and 66 in the Richardson Court residence neighborhood, 18 along Morrill Road on central campus and 74 on Union Drive north of Lake LaVerne. The project also replaces select underground utilities. Funding sources are ISU parking, $2.1 million; ISU utilities, $1.4 million; Institutional Roads Fund (Iowa DOT), $200,000; and university funds, $150,000.
Due to the shortened meeting, the board did not receive student residence and dining rate proposals for next year or the annual report on student retention and graduation.