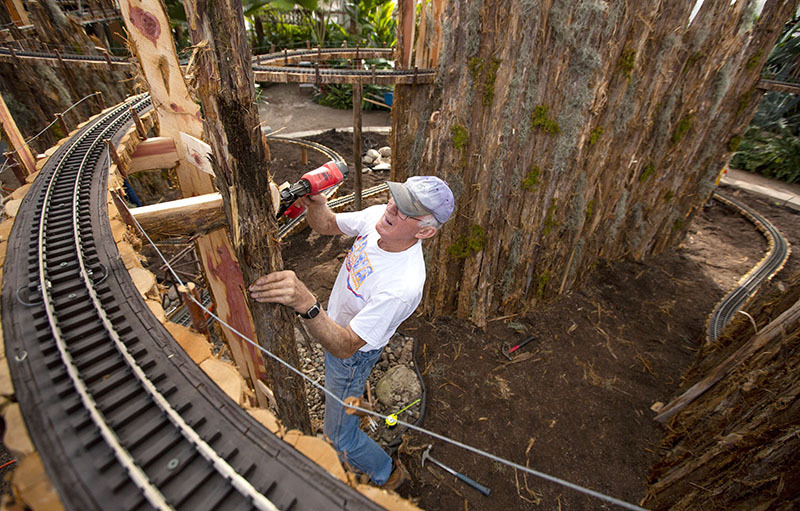 In its fifth year, Reiman Garden's RG Express train display returns to Hughes Conservatory for the holidays. The exhibit, open Nov. 24-Jan. 4, includes upper and lower tracks with G-scale trains winding through an Iowa State-themed landscape.
Miniature reproductions of campus landmarks are included in the exhibit constructed mostly of natural materials. This year's addition is the Christina Reiman butterfly wing, crafted from sticks, bark, driftwood, fungus and dried flora. Small-scale versions of the campanile, Hub (including a working version of the Dinkey train), Marston water tower and Beardshear and Morrill halls also are part of the exhibit. A 2-foot replica of Elwood, Reiman Gardens' giant concrete gnome, is tucked into the display.
Visitors will hear recorded carillon music playing from the campanile and cascading water from falls built into the display. Vegetation in the exhibit ranges from poinsettia varieties to the tropical plants on permanent display in the conservatory.
Admission to Reiman Gardens is $9 for ages 13-64, $8 for seniors, $4.50 for youth and free for members, ISU students and children age 2 and younger. The gardens are open 9 a.m. to 4:30 p.m. daily, with the exception of Thanksgiving Day, Christmas Day and New Year's Day.