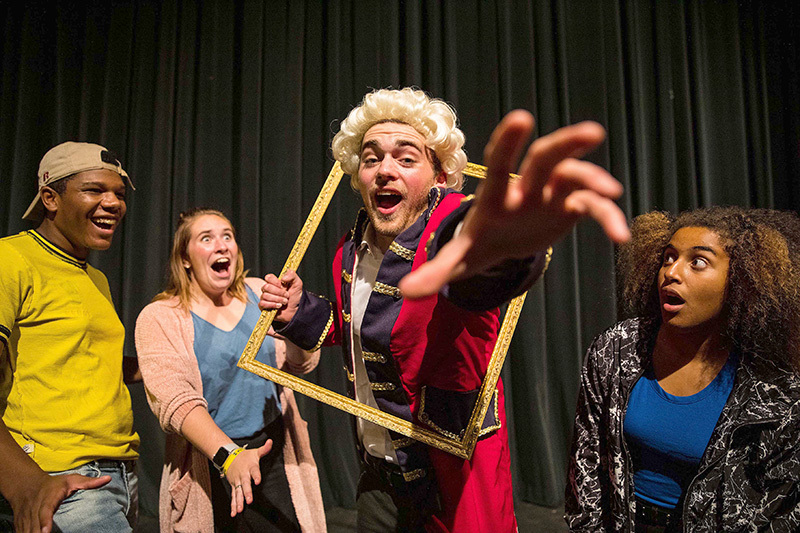 When ISU Theatre's zany, family-friendly musical "Chasing George Washington: A White House Adventure" opens Friday, Oct. 25, in Fisher Theater, expect a madcap trip through American history.
Panel discussion
ISU Theatre will host a panel discussion, "All Created Equal: Teaching Equity, Diversity and Inclusion," on Sunday, Oct. 27 (2:30 p.m., 004 Scheman Building). Community members are invited to engage with scholars and educators on issues of youth and diversity.
"Think of it as a mash-up of 'Hamilton,' 'Bill and Ted's Excellent Adventure' and 'Night at the Museum,'" said Brad Dell, director of ISU Theatre and the production. "This musical shares an inspiring message with a side of utter silliness."
Based on the children's book "Chasing George Washington," the musical opens with a group of diverse students on a White House field trip. When they bump into George Washington's portrait, America's most famous founding father falls out of his frame. He then takes the students on a wild trip through time to discover who belongs in the real portrait of America.
"The musical is about finding out if you belong here," Dell said. "It's about discovering, celebrating and embracing the beautiful diversity of America in places it hasn't always been recognized. It puts a spotlight on the power of the individual, and particularly young people, to make a difference."
With contemporary music styles -- including a 'Hamilton'-esque hip-hop number -- a deconstructed White House and bright, eye-catching costumes, Dell said the production will provide fun intergenerational entertainment.
"In this show, you can expect to meet figures such as President Abraham Lincoln and first lady Jackie Kennedy Onassis," Dell said. "This will be great entertainment for your whole family, especially those with students in elementary school, middle school or high school."
Evening performances are Oct. 25, 26 and 31 and Nov. 1 and 2 at 7:30 p.m. Matinee performances for youth groups will be held Oct. 27 (1 p.m.) and Oct. 31 (10 a.m.). Tickets ($20 for adults, $18 for seniors, $10 for students and $5 for youth) are available through the Stephens Auditorium ticket office, Ticketmaster or the Fisher Theater box office prior to performances.