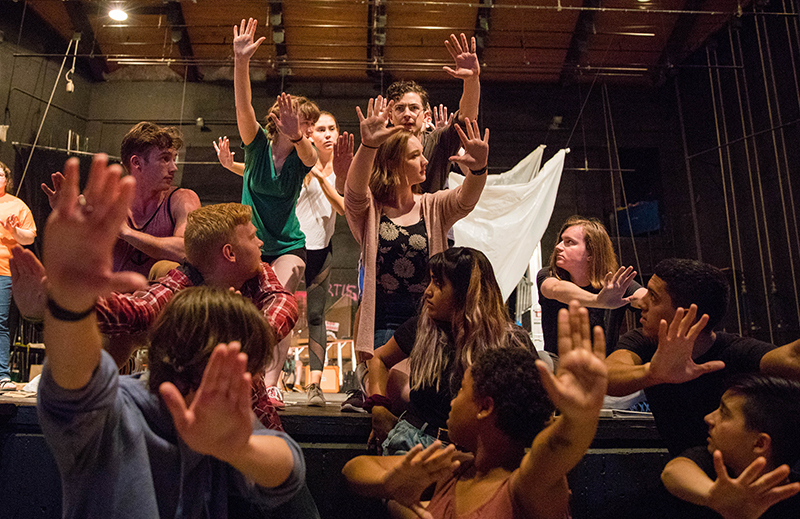 What will a trip to the zoo look like a century from now? That's one of the provocative questions ISU Theatre will explore when it presents "Climate Change Theatre Action: Lighting the Way," opening Friday, Oct. 4. The production performs Oct. 4-6 at Fisher Theater, Oct. 10 outside Parks Library and Oct. 13 at the Ames Public Library. All performances have free admission with general seating.
Founded in 2015, the Climate Change Theatre Action initiative is a worldwide series of readings and performances of short climate change plays. The series is presented biennially to coincide with meetings of the United Nations Climate Change Conference, held this year in Santiago, Chile.
Fifty international playwrights, representing all continents and several cultures and indigenous nations, are commissioned for each series to write short plays about various aspects of climate change. Collaborators then select plays to present at local productions, which can also include work by local artists.
Panel discussion
ISU Theatre will present a panel discussion, "Leading the Way: Women Tell the Stories of Climate Change," on Sunday, Oct. 6 (3:30 p.m., 004 Scheman Building). Community members are invited to engage with scholars and guest artists on climate change and sustainability issues. The discussion is part of ISU Theatre's yearlong symposium series, "HERoic: Gender Equity in the Arts."
ISU Theatre's ensemble cast will tell stories of action, community and hope through 18 imaginative performance pieces by international and local writers. One play is narrated by the last surviving bee in Manhattan. Another invites the audience into an interactive Rube Goldberg-style experiment.
Alumna guest director Vivian Cook said the performances will encourage audience members to reflect on the connections between the environment and humanity, while providing opportunities for them to join climate efforts in their own communities.
"The goal of the international project is to tell the story of climate change and how it connects to humans across the world who come from different places, backgrounds and perspectives," Cook said. "These are stories that are for all of us, that are about all of us, and that are crucial to share today."
Cook, a graduate student in Iowa State's sustainable agriculture and community regional planning programs, also led Climate Change Theatre Action at Iowa State in 2017 as part of her undergraduate Honors project.
Community members can learn how to take local action on climate through a Sustainability Resource Fair during intermission and after each performance, and during an Oct. 6 panel discussion.
Performances
"Climate Change Theatre Action: Lighting the Way" performances are Oct. 4 and 5 at 7:30 p.m. and Oct. 6 at 1 p.m. at Fisher Theater, Oct. 10 at 5:15 p.m. outside of Parks Library (attendees can bring a blanket or chair; rain location under the library overhang), and Oct. 13 at noon at Ames Public Library.