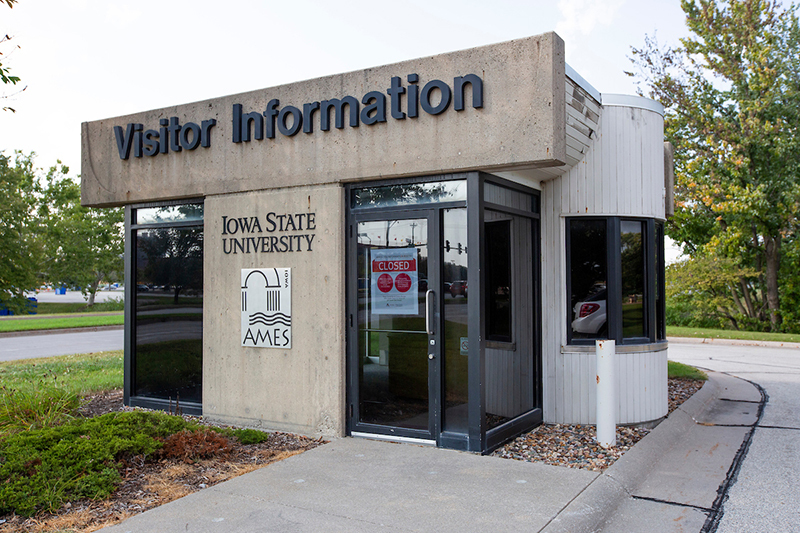 The information booth on University Boulevard, just east of the Iowa State Center parking lots, will be demolished this month and the area returned to green space within the city's Stuart Smith Park. The demolition could begin as soon as Monday, Oct. 7, but will wrap up by Friday, Oct. 25, according to parking division manager Mark Miller. The plan is to complete the demolition project during the three-week window that includes two road games (Oct. 12 and 19) for the Cyclone football squad. Final seeding and landscaping could happen next spring.
The victim of smartphones, GPS and self-sufficient travelers, the information booth just wasn't serving its intended purpose anymore, Miller said.
A friendly stop
University leaders christened the new building in May 1996 as a first point of contact to help visitors navigate their way onto campus. Back then, ISU retirees volunteered to hand out campus maps, guest parking passes and helpful advice. Over time, the Ames Convention and Visitors Bureau (ACVB) added its brochures, event calendars and city maps to the offerings, and in 2010 ACVB employees began staffing the booth.
But the growth of mobile-friendly websites and widespread use of smartphone apps diminished the need for a helpful human in the information booth. Visitors who stopped in mostly were following directions to pick up a free campus parking pass.
Unrelated to the information booth and to curb misuse of visitor passes, in August 2018 the parking division began charging $5 for a daily parking pass and implemented an online process for receiving and paying for it. Vehicles pulling in to the information booth slowed to a trickle up to its December 2018 closing for the winter semester break. The information booth never reopened amid a few months of discussion about its future.