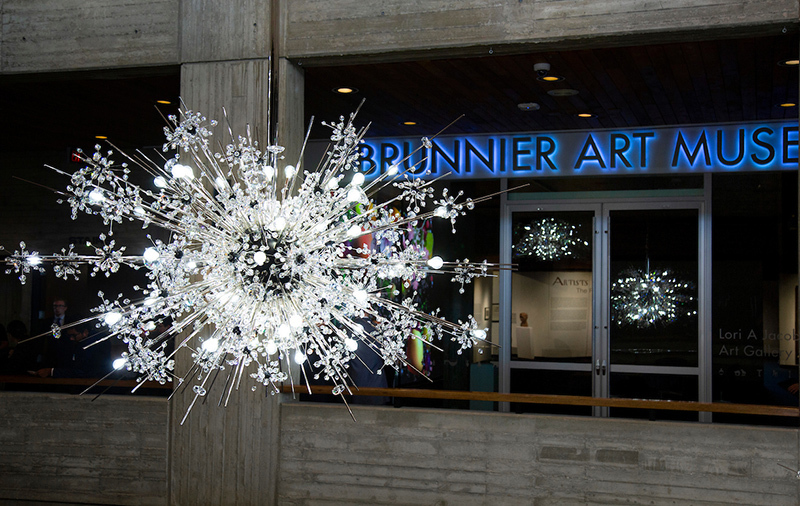 Much of the aesthetic attention at the newly renovated Brunnier Art Museum in the Scheman Building has focused on its floor-to-ceiling glass curtain wall opening to the second floor foyer. But there's also some eye-catching glass just outside that wall. As part of the yearlong renovation of its home base, university museums commissioned and purchased three chandeliers from the Vienna, Austria-based Lobmeyr Werkstatten glass company. The trio is made of aluminum, brass, steel and nearly a thousand Swarovski pearls and crystals.
Open = on
The Lobmeyr chandeliers will be lit when the Brunnier Art Museum is open: weekdays 10 a.m.-4 p.m., weekends 1-4 p.m.
Part of the company's "Met Chandelier" line, the design was introduced to the public in 1966 when 32 chandeliers -- 11 in the lobby and 21 in the auditorium -- were installed in the new Metropolitan Opera House at Lincoln Center in New York City. The chandeliers were a gift to the United States from Austria in gratitude for the European Recovery Program (Marshall Plan) after World War II.
The celestial-themed chandeliers at the Met were designed by Hans Harald Rath (1904-68), a descendant of the Lobmeyr family who owned the company at that time. Mid-century modern in style, university museums selected them to complement the 1970s Brutalist architecture of the Iowa State Center buildings.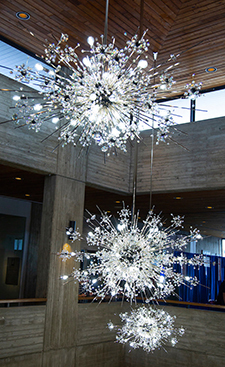 "The Met Chandeliers are the first Lobmeyr chandeliers at a university and were planned to accentuate the existing architecture of the space," said Lynette Pohlman, director and chief curator for university museums. "Our newest public art brings glamour and illumination to the Iowa State Center, home to the visual and performing arts on campus."
The chandeliers are the public art project for the Brunnier renovation and become part of the permanent Art on Campus collection. The purchase was funded by university museums' new Joyce Tomlinson Brewer Fund for Art Acquisitions, established with an estate gift from Brewer, a 1953 alumna who earned a bachelor's degree in applied art.