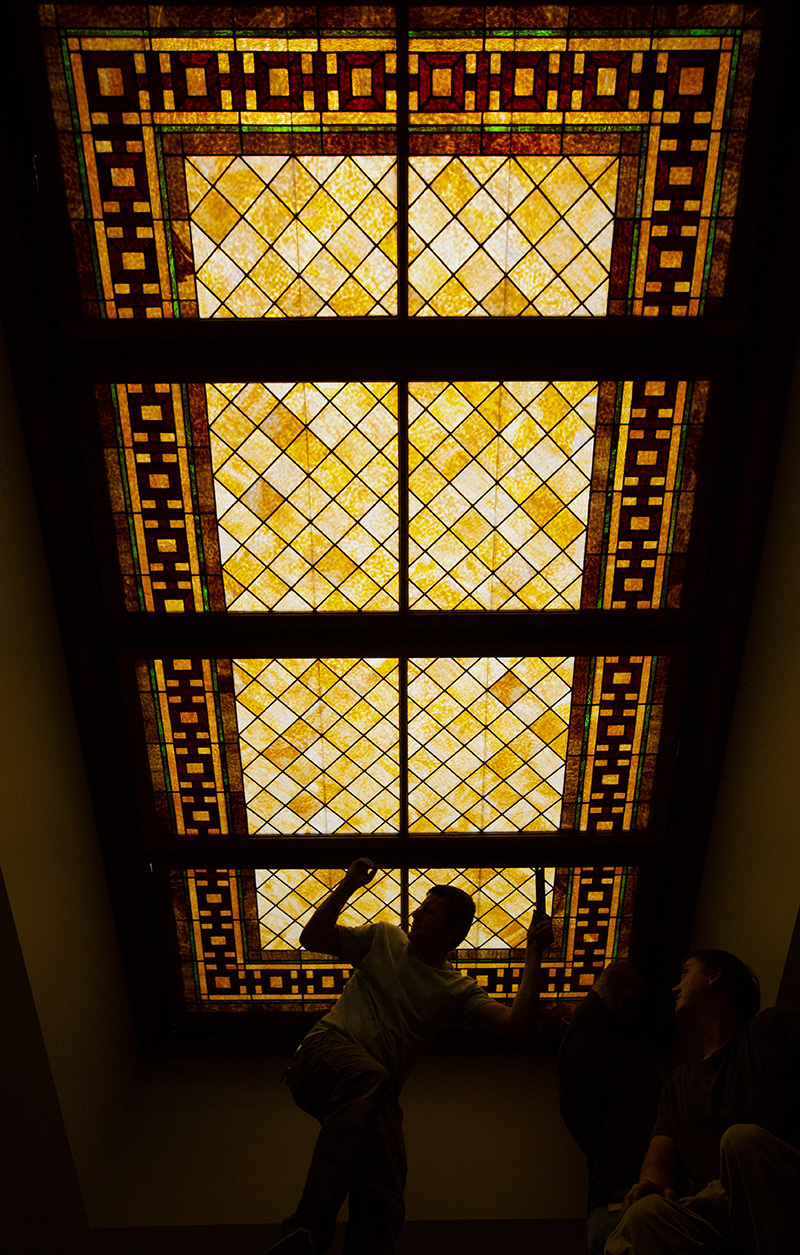 Giving new life to Curtiss Hall's 110-year-old stained-glass skylights, workers reinstalled the eight refurbished panels Aug. 14 as part of the renovation of the building's third floor.
The windows feature the same orangish-brown glass as when construction on Agriculture Hall -- renamed for longtime agriculture dean Charles Curtiss in 1944 -- was finished in 1909, said Kerry Dixon, facilities planning and management project manager. Beardshear Hall is the only other campus building with stained-glass skylights, a decorative touch for ventilating systems no longer used but common at the time in large buildings.
Due to heavy layers of grime on the Curtiss Hall skylights and distracting ceiling lighting, they were an easily overlooked adornment in the building's north and south wings.
"You just didn't get the glory of the windows before," Dixon said.
Removing, refurbishing and reinstalling the skylights was a small part of the $2.3 million third-floor renovation project, which reconstructed much of the floor's hallways and rooms. The skylight work cost less than $50,000, paid in part by the overall project's allocation toward the Art on Campus program, she said. The Stained Glass Store, a Grimes-based company, removed the windows in February to disassemble them, replace the lead linings between glass panes and construct new wooden frames.
Dixon said the restored windows should be much more noticeable.
"They're gorgeous," she said.
The south side of the third-floor project will open next week, including a classroom and open office space for English graduate assistants and lecturers. Offices for College of Agriculture and Life Sciences development, IT and communications staff in the north wing will open shortly after that, Dixon said.